Authority to Transport Students
District Employees who wish to transport students by private vehicle or any District owned/rented vehicle must first apply for the authority to transport students. A secure online application process only accessible while on the District Network, has been established to facilitate this process. A review of your application and your Department of Motor Vehicles driving record will be conducted prior to any authority being granted. Please click here for the Authority to Transport Students Application.
Other than District Employees: Parents and Volunteers wishing to transport students are required to complete the appropriate paperwork provided by the school. The school Principal is responsible for the execution of these trips in accordance with the established school procedures and policies.
Safe Driver Plan II - White Fleet Vehicles
The Safe Driver II Plan is no longer used for Employees transporting students. Those individuals should apply for the Authority to Transport Students above. The School Board believes having a plan that assures we do not hire or allow any person to operate a School Board owned, or rented vehicle for School Board business, which does not have an acceptable driving record, can reduce the potential for injuries and lawsuits. Those vehicles identified as School Board owned or rented is intended to include all vehicles that require registration with the Florida Department of Transportation, Division of Motor Vehicle Records. At the request of their Supervisor, District Employees required to operate a white fleet vehicle may apply for membership into the District Safe Driver II Plan.
Letter to Directors - This letter outlines the Safe Driver II Plan program and sponsorship process.
Safe Driver II Enrollment Packet - White Fleet Only - This enrollment packet is for District Employees to apply to the Safe Driver II program. Instructions for application are included. Please review and complete all of the enclosed materials.
Vehicle Accident Form - In the event of an accident involving a District owned or rented vehicle, this accident form shall be completed and submitted to Transportation Operations Attn: Safe Driver II by the next business day. Transportation Operations should be notified immediately by telephone in the event of any accident or vehicle related issue.
Activity Trailers and Towing Requirements
The District owns numerous trailers that are assigned to schools for the purpose of supporting a number of school related activities. Trailers owned by the District are registered, insured, and maintained by the Transportation department. A District owned trailer can be identified by their yellow license plates and a welded identification number such as "TR##" located on the tongue of the trailer. Anyone moving a trailer is required to complete an Activity Trailer Towing Verification sheet prior to towing any District trailer. The following information will be required to complete the verification worksheet: Activity Trailer Towing Verification Worksheet
Operator's Florida Driver's License
Towing vehicle's registration & insurance card
Towing Vehicle's owner's manual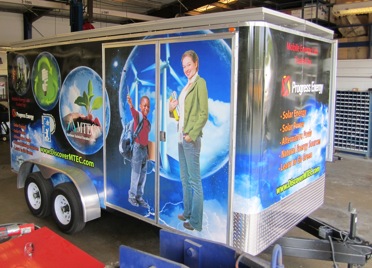 Photo: Marchman Technical Education Center in conjunction with Progress Energy have created this education trailer to be used as a mobile solar power lab for the District's students. The trailer features a solar panel wing as well as panels on the roof to collect sunlight. Additional electrical equipment convert and store the energy in a bank of batteries.