ELL Newcomer Guide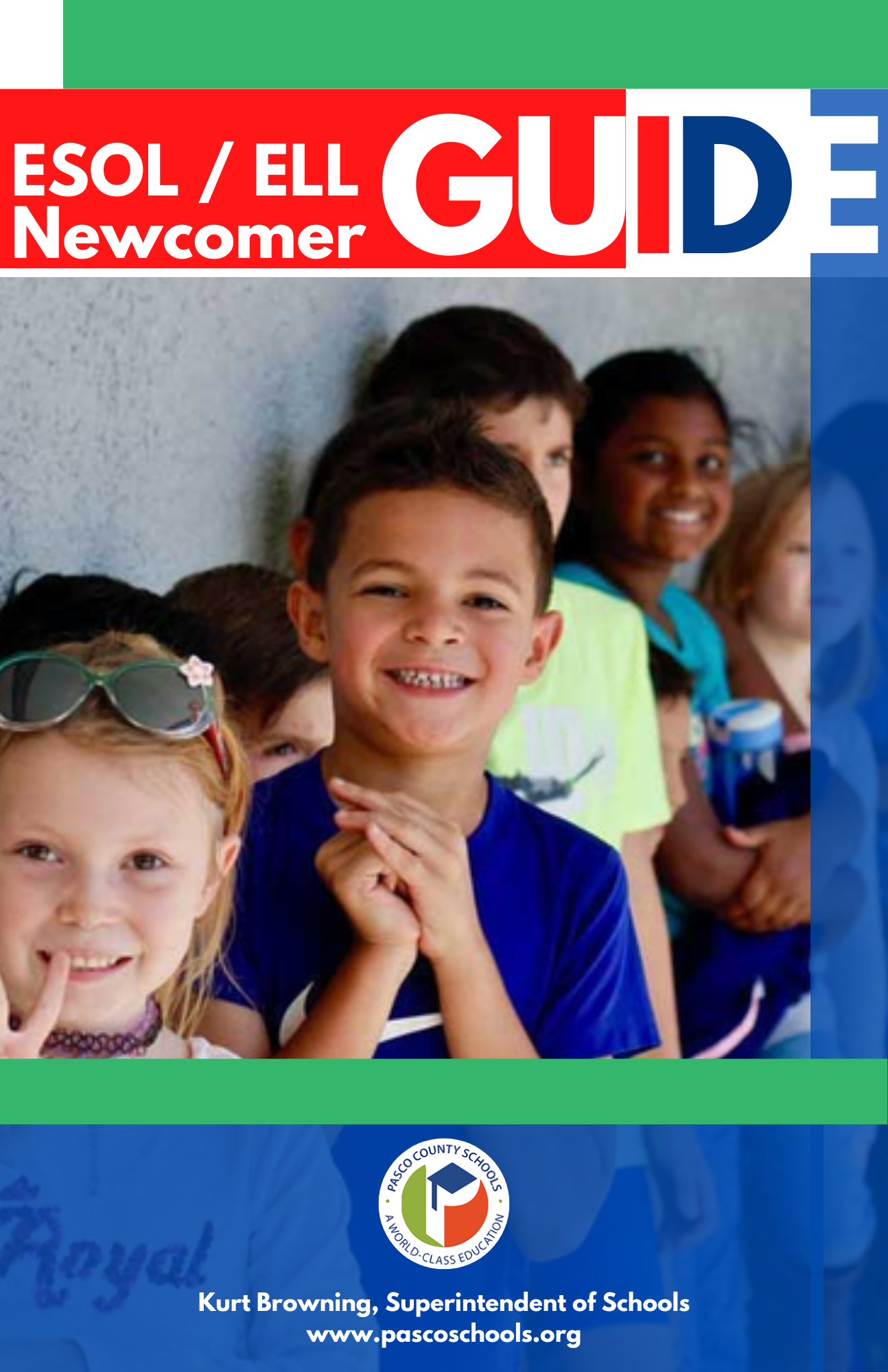 English For Speakers of Other Languages
Welcome to our ESOL Newcomer's Guide. Please refer to the items below to learn more about ESOL in Pasco County Schools.
What is ESOL? Where does ESOL come from?
ESOL, or English for Speakers of Other Languages, is a Florida framework where the Florida Department of Education (FDOE) ensures that all students who are English Language Learners (ELLs) in the state of Florida are accurately identified and provided the services they need to thrive in schools.
This Florida legal framework, also known as the Consent Decree, ensures that every school provides appropriate ESOL services that meet ELL students' specific needs in the areas of English Language learning, academic achievement, and cultural integration. Also, schools must develop English Language Learners' competency in English needed for social interaction, and academic English is needed to succeed in school.
Who's Eligible for ESOL services? What is the process of identification?
Part of the registration process in a Pasco County school is completing a Home Language Survey where families are asked if a different language than English is spoken at home. If any of the questions are answered with a YES, the student will be given an English inventory test as follows:
Process of identification of an ESOL student

| | | | |
| --- | --- | --- | --- |
| Step 1 | Step 2 | Step 3 | Step 4 |
| An Oral test is administered for students in all grade levels: | If the student scores NES or LES: | If the student scores FES in grades 3 and up: | If the student scores NER, LER, NEW, or LEW: |
| listening and speaking. | Then they qualify for ESOL services. | Then the student will take the reading and writing portion of the screener. | Then the student qualifies for ESOL services. |
NES: Non-English speaker NER: Non-English Reader
LES: Limited English Speaker LER: Limited English Reader
FES: Fluent English Speaker NEW: Non-English Writer
LEW: Limited English Writer
Once the student has been identified, the results will be shared with parents and teachers. The student will start receiving services after all communications have been sent.
How does ESOL work?
Depending on the student's proficiency level in the English language, they will receive ESOL services that include but are not limited to:
Instruction that is comprehensible to the student
Teacher and/or instructional assistant support in a classroom setting when available
Classroom and state assessments accommodations
Extra time to complete assignments in class and at home
Use of a word-to-word dictionary in class for assignments and tests
Support building vocabulary in English
Support in any other area of student need
Your Rights as an ESOL parent/guardian
As a parent of an ELL student, you have the right to:
Know the reasons for identifying your child as an ELL student and the need for the child's placement in a language instruction educational program.
Be informed of your child's level of English proficiency, how this level was assessed, and the status of the child's academic achievement.
Be informed of the methods of instruction used in the program your child is or will be participating in and the methods of instruction used in other available programs, including how such programs differ in content and instructional goals.
Obtain information about how programs will specifically help your child learn English and meet grade-level appropriate academic achievement standards for grade promotion and graduation.
Be notified of the exit requirements of the program and the expected rate of graduation from high school (if your student is in a secondary school).
If your student has a disability, you have the right to be informed about how the school will meet the objectives of the individualized educational plan for your student.
Your Role as an ESOL Parent/Guardian
Families play a significant role in their student's academic success. Being involved in their educational journey is as easy as following these three steps:
Ask about the three most important learning goals your student has in reading and math for the school year. Learn what your student should be able to understand and do by the end of the year.
Please communicate with your child's teacher often and learn how well they perform and work towards those learning goals. If there are any gaps, ask how the school is helping your student close those gaps.
Ask your child's teacher(s) what you can do at home to help your student reach those goals. Research shows that reading at home for at least twenty minutes a day translates into a broader vocabulary and reading fluency. Practicing math facts regularly helps students build math fluency as well.
What does it mean to be an ESOL student? How are ESOL services going to change the ESOL student's day at school?
The primary objective of the ESOL program is to help ELLs (or emergent bilinguals) develop proficiency in the English language for social and academic success. Being an ESOL student means that your student will receive accommodation and academic support in school to achieve their learning goals.
Accommodations can be made to how teachers teach and assess their ELL students to ensure understanding of the content being taught.
In other words, Accommodations are changes that can be made based on HOW students learn from their teachers.
Also, when it comes to statewide assessments, District personnel are required to implement ESOL accommodations in a manner that ensures that the test responses are the independent work of the ESOL student.
English Language Learners receive accommodations during statewide assessments (FSA) AND daily instruction, such as:
Flexible Scheduling - ELLs may take a test during several brief periods within one school day; however, each test session must be completed within one school day.
Additional Time - ELLs may be provided additional time; however, each test session must be completed within one school day.
Flexible Setting - ELLs may be offered the opportunity to be tested in a separate room with the English for Speakers of Other Languages (ESOL) or heritage language teacher acting as a test administrator. Parents/guardians must be informed of this option for students not of legal age and shall be allowed to select the preferred method of test administration.
Assistance in Heritage Language - ELLs may be provided limited assistance by an ESOL teacher using the student's heritage language for directions.
Approved Dictionary - ELLs must have access to an English-to-heritage language translation dictionary, such as those made available to ELLs in an instructional setting. However, a dictionary providing definitions written exclusively in the heritage language or in English may not be provided. Electronic translation dictionaries that are standalone devices without the ability to access the Internet may be used.
WIDA ACCESS and how long will students remain part of the ESOL Program.
WIDA ACCESS is a research-based assessment that measures English Language proficiency in students in Grades K-12. Every year, students around the state of Florida take this yearly assessment to measure proficiency in the domains of Listening, Speaking, Reading, and Writing.
Along with FSA scores, school administrators use scores from the WIDA ACCESS assessment to determine if a student should receive ESOL services.
The results from WIDA ACCESS are a critical component of the process of providing ELL students with the services they need. WIDA scores impact the instructional decisions and future educational opportunities of all ELL students.
The results of this test help to:
• Identify a student for services
• Determine when to exit a student for services
• Modify classroom instruction to help Emergent Bilinguals succeed.
For a student to be excited from ESOL services, they must score at least a 4 in the WIDA Composite Score with no less than a score of 4 in the Reading component. In addition, students must score at least a level 3 in the State FSA for Reading. All these scores plus teacher recommendations are required to exit a student from ESOL services.
MAPS assessments
MAP Growth is a computer-adaptive test. If your child answers a question correctly, the next question is more challenging. If they answer incorrectly, the next one is easier. This type of assessment challenges top performers without overwhelming students whose skills are below grade level. Teachers can use the score to inform instruction, personalize learning, and monitor the growth of individual students. More information about MAPS can be found at this link. Also, a MAPS family guide can be found here.
Florida Standards Assessment or FSA
The Florida Standards Assessments or FSA is a state test specialized in English Language Arts (ELA), Mathematics, Science, and end-of-course (EOC) subjects (Algebra 1 and Geometry). FSA measures academic gains and progress. The FSA is offered at the end of the academic year between April and May. Students from third grade and above will need to take the FSA to prove their academic progress. Your child's school may start practicing for the FSA as soon as December. The practice could be provided through the MAPS test, and you as a parent can receive or ask for your students' results. Additional FSA practice is available through this portal.
My ESOL student has functional diversity.
Pasco School County is committed to providing adequate support on academic, social-emotional, physical, and behavioral development to all students. The goal is to meet the needs of a full range of learners.
It is important to know that every child with functional diversity is protected under the Americans with Disability Act, ADA. You can learn more about the offerings our district has at this link. If you suspect your child's learning promise is compromised, your school counselor could lead you in the right direction.
ESE Program and Services: Exceptional Student Education works as an umbrella of services provided to meet the needs of children within a variety of categories. You can find more information about ESE services here.
Migrant Education Program
A migrant education program is an option for families that have moved within the last three years, pursuing a job in the agriculture, fishing, packing, or forestry fields. Pasco School County is aware that children within the migrant community could face language or cultural challenges. There is a wide range of services available for you and your child. Click here for more information about Migrant Services available in Pasco County Schools.
ELL Committee Meetings
ELL Committee Meetings are held to go over an ELL student's academic plan and services. Parents must be invited to attend, along with the school's ESOL administrator, school counselor, and an English Language Arts teacher. Parents have the right to request an ELL Committee Meeting at any time if they have questions about their child's ESOL plan. If you need translation services for this meeting, your school will be able to provide them upon request. Please make sure to let the school know in advance.
YOUR PASCO COUNTY SCHOOL
Find more information about your student's school here. Hours, directions, and who to contact can be found on every school website. If you still have a question regarding your school, please feel free to contact them via phone.
Prepare for Day 1 - Create a Pasco County Parent Portal account
What is a Pasco County Schools Parent Portal account?
The myStudent parent portal is a tool designed to enhance communication and parental involvement. This portal will allow you to monitor your child's progress in school by providing access to academic, attendance, and test history information, as well as teacher communication options.
Where to register or access your parent portal account:
Parents can register to have a parent portal using this link for parents to register.
Once registered, you may find it useful to review the following links for additional information relevant to your child's return to the classroom:
Stay Involved!
It might sound obvious, but parental involvement during the school year is essential to student success. There are numerous programs and services offered, both by the district and third parties, designed to help you maximize your involvement in your child's education. Please review the following links for more information, or call the Office for Student Support Programs and Services. We are always available to help you. Remember, quality education requires a community commitment.
Student Grades - MyStudent portal - How can parents have access to MyStudent?
Parents can have access to their student's grades on MyStudent portal by creating a parent account and adding each child in the household. Please click here for instructions to create a MyStudentPortal.
Resources for Parents and Students
Parent involvement is key to student success. Lots of resources can be found in this link to resources for parents.
Student Code of Conduct
Every year, Pasco County Schools publishes its Student Code of Conduct. Please use this link to find our up-to-date version.
ESOL classes for adults.
Pasco County Schools offers English classes to adults whose English is their second language. Classes are offered on two different campuses.
Pasco Adult Education (PAE) at Wesley Chapel High School. Website Here
Marchman Technical College (MTC) in New Port Richey. Website Here
All new students must take the CASAS test. This test is a requirement prior to attending ESOL classes. It allows schools to see what level the student is at (Beginner, Intermediate, or Advanced). The test takes approximately 2 hours.
Costs:
CASAS test - $31.20 (non refundable)
Tuition - $30.00 per semester.
School Bus Safety Law
Florida Statute 316.0815 states that "vehicles must yield the right-of-way to a publicly owned transit bus traveling in the same direction which has signaled and is reentering the traffic flow from a specifically designated pullout bay". Please use the following infographics as a reference. Fines are associated with violations of this law.
Commonly asked questions from ESOL families.
What is an Early Release Day?
Pasco County Schools has implemented a monthly, two-hour-early release time to allow staff to engage in professional development aligned with student needs and district and school priorities.
Why do we have Early Release Days?
For students – to increase effective instruction and decrease learning disruption on days, a substitute is required.
For staff – to increase the opportunity to learn and grow, built into the work schedule.
For stakeholders - predictable schedule, fewer substitutes, higher quality, and more engaged staff.
What is a Drill?
A "drill" is a practice activity that all students do along with teachers and school staff on how to respond to a specific threatening situation while on school grounds. Possible threatening situations students practice for are fire, severe weather, and unauthorized individuals on campus. These "drills" are performed regularly; some are held once a month, others once every quarter.
What is a Parent-Teacher Association or PTA/PTO?
A PTA/PTO is a group of parents and teachers that advocate for students' rights and opportunities. Some of the PTA's goals are:
To advocate for laws that further the education, physical and mental health, welfare, and safety of children and youth.
To promote the collaboration and engagement of families and educators in the education of children and youth.
To engage the public in united efforts to secure the physical, mental, emotional, spiritual, and social well-being of all children and youth
To advocate for fiscal responsibility regarding public tax dollars in public education funding
If you want to give back to your community contact your school PTA. Be part of the change.
What is a spirit day?
A spirit day is a day of the week when students dress up in school colors or wear a school shirt to support and show their pride in the school.
What is a spirit night?
A spirit night is a school event after school hours. They can range from a variety of activities, such as game nights, curriculum nights, fall and/or spring festivals, etc. These are fundraising events promoted by your school's PTA.
What is a pickup/car line?
At registration, your school will ask how you prefer to pick up your child every day after school. Options are:
Pickup/car line: A pickup line is one of the available options. It consists of a car line that forms during arrival and dismissal times at your school. It could differ from school to school, but it may look like some designated parking spaces with numbers. You may be called to stop at a certain spot and your child will be told to wait for you there.
Walker: a student that walks home
Bike rider: a student that rides their bike home
Bus rider: a student that rides the school bus
Daycare Van: a student that goes to after-school care programs
PLACE: an in-school program afterschool
What are Pasco Pathways and School Choice?
Pasco County Schools offer a variety of learning opportunities for students to attend special programs at specific schools in the county. More information can be found on this page.
What are World Languages and the Foreign Exchange Program?
Pasco County Schools offer the following world languages to students in secondary schools:
American Sign Language
Chinese
French
German
Latin
Spanish K-12
We encourage every student in Pasco County to learn another language and be aware of, and value, diversity amongst all cultures. Students can earn the Florida Seal of Biliteracy Award by attaining proficiency in two or more languages by high school graduation.
The Foreign Exchange Program
The Foreign Exchange visitor program is designed to improve the foreign students' knowledge of American culture and community life. A dual purpose is to foster Pasco County students' knowledge and understanding of a foreign culture through personal interactions. Information about the Foreign Exchange Program can be found here.
What is a Bright Futures Scholarship?
The Florida Bright Futures Scholarship Program rewards students for their academic achievements during high school by providing funding to attend a post-secondary institution in Florida. More information about Bright Futures can be found here.
What language should we keep at home? Should I prioritize English?
This is a personal decision that every family must take individually. Whether you as a family wish to keep your native language or get further support in the transition of the English acquisition, is a personal decision. You may be thinking that moving to a new country means that you need to prioritize English at home, however, educating bilingual children is associated with several advantages.
Some studies have found that children exposed to several languages are more creative and develop problem-solving skills better. Other studies suggest that speaking a second language helps develop cognitive skills to make it easier for the child to learn other languages in the future.
What is a native language?
A native language is a language learned from birth. Also called a first language, dominant language, home language, primary language, and native tongue (although these terms are not necessarily synonymous).
What is it to be bilingual?
Bilingual means understanding and expressing oneself well in two languages and being able to convey thoughts clearly in both languages.
How do I help my child learn English without losing our native language? Or how can I help my child become bilingual?
There are several methods that can help a child to be bilingual. In all of them, it is very important to expose children to both languages in different contexts to help them understand the importance of each language.
What can I do when my child feels different in school because he/she cannot communicate well or does not understand the dominant language?
Giving time is the key to the process. Students that learn English as a second language can take up to three years to fully comprehend and dominate it. It's important to keep in mind that learning a language is a process that takes time. If your child's mental health concerns you, involving the school counselor could be helpful.
What can I do to help my child when he/she is learning a new language?
Your role as a parent is to support your student at home. Make sure your child attends school regularly, attendance is key to academic success and language acquisition. Be available for your child when he/she is doing homework. Follow your teacher's suggestions. Let the school know if you have concerns and feel free to ask for a teacher-parent conference when necessary. It is important for you to understand that more than a parent, you are an advocate for your child's well-being. You may also request an appointment with the school counselor and use an interpreter when needed.
How do I know if my student is making progress?
It is very important that you become involved in your child's education. An involved parent should be able to learn the following from their child's teacher:
1) The three main learning goals in reading and math for the school year,
2) how well your student is performing and working towards those learning goals, and
3) what you can do at home to help your student reach those goals.
As a parent, you have the right to ask for a conference with your child's teacher at any time to discuss test scores, behavior, and educational plans. The school board of Pasco County offers a translation service upon request if you would like to have a translator during the meeting. Please let your child's teacher know that you would like to use this service prior to your meeting, in order to make the necessary arrangements.
Where can I find Scholarship Opportunities?
If your student is considering the pursuit of a degree after high school, there are options available for you. College is expensive and having a plan is imperative. Pasco county has this link where you can find different scholarships available for any student that meets the requirements.
Where can I find high school graduation requirements?
Students in high school must meet certain criteria in order to apply for graduation in their senior year. School counselors are a great resource to learn your child's progress towards meeting graduation requirements. Also, parents can find information here to help their students succeed and graduate from high school.
Why does my child need a lunch number?
Cafeterias in Pasco Schools offer students a variety of healthy meals. Your child will be assigned a student ID number. Through the student portal using your child's student number, you will be able to deposit funds into your child's lunch account.
Where can I find my student lunch number?
Your student's lunch number is their Pasco Schools student ID number.
Free Meals
Please fill out the free meal form here: Please fill out the free meal form using this link.
How can I pay for my student's A La Carte items?
You can pay for your student's A La Carte items in cash or using the following link: How to pay for a student's Lunch
As a parent, how can I help my student thrive academically and socially?
Your school PTA offers various social events, including but not limited to BINGO nights, dance nights, or breakfast buddies. Every activity offers a cultural and social opportunity to bond with the community. This could be the first step towards social success.
Academic nights are provided by the school once or twice a year. Subjects like math and reading curricula can be presented to educate parents regarding standards and academic expectations and to answer parent questions or concerns. Feel free to call your school and request an interpreter if needed. This could make a great difference in your child's success.
There are many ways parents can help their ESOL students at home. Please refer to our ESOL Family Resources at the following link: Resources for ELL Parents.
How can I report an absence?
Every school has an absent phone line you can call to let the school know that your student will be absent for a day or several days. Absences are considered unexcused until the parent/guardian contacts the school or provides absence notes from a doctor's office.
What is Homecoming?
Homecoming is an annual tradition in the United States high schools and colleges. This tradition is usually celebrated in late September or early October and is to welcome students back to the school year. Students participate in daily activities and attend a dance at the end of the week as a culmination of homecoming celebrations.