Staff Contacts/School Bus Compounds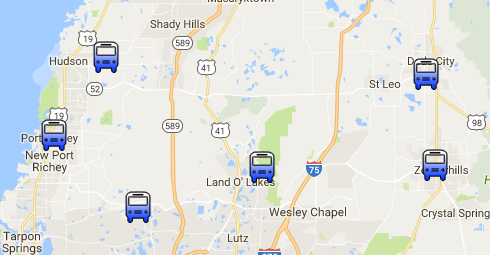 School transportation services are managed through six separate Transportation Bus Compounds across the county. The primary site managers and shop maintenance staff are listed below. Additional site contact information can be found in the Department Contacts section. To better serve you, please direct your compliment, question, or concern to the appropriate compound contact listed below.
Bus Route Number Identification Schema- The first letter of the route indicates which compound the bus is out of.
West Bus Compound
6125 Pinehill Road, Port Richey, FL 34668 Map (727) 774-0400, (813) 794-0400, (352) 524-0400
Northwest Bus Compound
14500 Cobra Way, Hudson, FL 34669 Map (727) 774-0540, (813) 794-0540, (352) 524-0540
Central Bus Compound
5346 Parkway Boulevard, Land O' Lakes, FL 34639 Map (727) 774-0520, (813) 794-0520, (352) 524-0520
East Bus Compound
13135 Fort King Road, Dade City, FL 33525 Map (727) 774-0560, (813) 794-0560, (352) 524-0560
Southeast Bus Compound
37820 13th Avenue, Zephyrhills, FL 33542 Map (727) 774-0501, (813) 794-0501 (352) 524-0501
South Bus Compound
13101 Interlaken Road Odessa, FL 33556 Map (727) 774-4410, (813) 794-4410 (352) 524-4410
Administrative Offices
6807 Madison Street, New Port Richey, FL 34652 Map (727) 774-0450, (813) 794-0450, (352) 524-0450