Transportation Services
School Bus Driver and Transportation Assistant employment opportunities are posted here.
Call Center
The District is operating a call center during the first two weeks of school. Customer Service Reps will be available during the morning and afternoon during regular transportation hours. This staff is equipped to provide you with basic transportation information.
Welcome
The District School Board of Pasco County transports more than 35,000 students to and from school each day for a total of over 8.3 million annually. Transportation services and maintenance are coordinated through five bus compounds located across Pasco's 868 square miles. Our staff of Professional School Bus Operators represent over 2600 years of combined service!

Current School Bus Stops
Bus stop locations and times can change throughout the year to accommodate the community. For up-to-date information, please contact the the appropriate Bus Compound that services your area.
School Hours
You can view the school hours via a link on the Schools page, or using this direct link.
Important Transportation Dates to Remember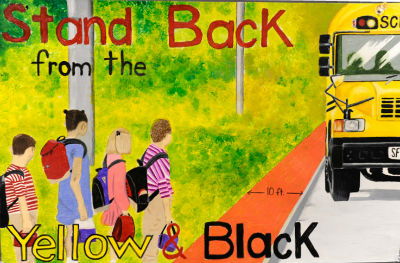 Art by Cesar Davila, NAPT Contest winner, 8th grader from Manzano Middle School in Brownsville, TX
A Walking School Bus and Bike Train?

Did you know that it is estimated that each school bus replaces the need for 36 cars traveling to and from school each day? School buses help to minimize the automobile pollution around our schools, reduces traffic related safety concerns, and provide transportation for students who live further away from school. We can further reduce automobile congestion and pollution around our schools by forming a community based walking school bus or bike train. Parents and students meet at a predetermined time and location to walk or bicycle together to school. Learn more at the National Center for Safe Routes to School
Navigation