Voluntary Retirement Savings
2014 Annual Retirement Employee Education
Authorized Investment Companies
Board Policy and District administrative requirements allow companies which meet certain standards and maintain a minimum number of employee accounts to provide 403(b) TSA accounts to employees. The companies listed below are currently authorized under administrative guidelines to establish 403(b)/403(b)(7), Roth 403(b) and 457(b) accounts for the employees of the Pasco County Schools. All representatives and investment companies are required to abide by solicitation guidelines set forth by the Board.
Authorized Investment Company Representatives
| Company | Phone Number | Toll Free Number | Plans Offered |
| --- | --- | --- | --- |
| Ameriprise | (813) 994-1190 | (877) 994-1190 | 403(b) |
| AXA-Equitable | (813) 282-9088 | (800) 628-6673 | 403(b) Roth 403(b) 457(b) |
| Horace Mann | (404) 894-2101 | (800) 999-1030 | 403(b) Roth 403(b) 457(b) |
| Voya Financial | (813) 281-3762 | | 403(b) Roth 403(b) 457(b) |
| Lincoln Investments | (813) 948-8500 | (800) 771-7732 | 403(b) Roth 403(b) 457(b) |
| Suncoast Schools FCU | (813) 246-5211 | (800) 999-5887 | 403(b) Roth 403(b) 457(b) |
| VALIC | (813) 269-3362 | (888) 569-7055 | 403(b) Roth 403(b) 457(b) |
403(b) Voluntary Retirement Savings Program
As an employee of the District School Board of Pasco County (District), you have a unique opportunity to invest a portion of your income for retirement. Depending on the plan you choose, you do not have to pay income tax on the amount you contribute or any earnings, until you retire or withdraw funds. You can start with as little as $200 annually and increase your contributions up to $17,500 for the 2013 tax year for both 457(b) Deferred Compensation Plan and the 403(b) or Roth 403(b) plans, totaling up to $35,000 annually. Under certain conditions, the maximum may be even greater. The investment options include a wide selection of mutual funds (includes no load options), fixed accounts, and variable annuities managed by authorized investment companies. (authorized representatives)
Upon employment, all regularly scheduled employees are immediately eligible to contribute to a personal retirement savings account through salary reduction. School Board members are not eligible to participate in the 403(b) plan but may elect to participate in the 457(b) plan.
What is the Voluntary Retirement Savings Program? The Voluntary Retirement Savings Program is the District School Board of Pasco County's (District) tax-sheltered annuity (TSA) program that allows eligible employees to save toward retirement through payroll deductions by contributing to either a 403(b), Roth 403(b) or 457(b) plan. Contributions are made solely by the employee through payroll deductions on either a pre-tax or post-tax basis.
A 403(b) plan is a tax-advantaged retirement savings plan for employees of public schools, tax-exempt organizations and ministers. You contribute into a 403(b) plan before you pay income tax on your current salary and contributions grow tax-deferred until you withdraw the money out of the plan.
A Roth 403(b) plan is a tax-advantaged retirement savings plan for employees of public schools and tax-exempt organizations. You contribute into a Roth 403(b) plan after you pay income tax on your current salary. As long as your withdrawals meet qualified distribution rules, you will not be required to pay federal income tax.
A 457(b) plan is a type of tax-advantaged deferred compensation retirement plan that is available for governmental and certain non-governmental employers. You defer portions of your current salary into the 457(b) plan on a pre-tax basis. For the most part, the plan operates similarly to a 403(b) plan. The key difference is that, unlike the 403(b) plan, there is no 10% penalty for withdrawal before age 59 ½. Withdrawals are subject to ordinary income taxation.
You decide the amount of money you want to set aside for retirement through a salary reduction agreement. You must choose from the list of investment companies authorized by the District. Each company provides a selection of investment options where your contributions are invested.
You may establish an account by contacting one of the Board's authorized investment companies. These companies offer a wide range of account options, and you may request additional information concerning the specific provisions of each plan. It is important to select an account and company best suited to your specific needs and goals.
Once you have selected a company, you must meet with a representative and complete a salary reduction agreement. Both the company's authorized representative and you must sign the salary reduction agreement. The representative is responsible for forwarding the signed agreement to Employee Benefits for processing. Please read the agreement carefully before signing. Be sure to retain a copy of the agreement for your records. Remember that all SRA forms must be submitted to the Employee Benefits, Assistance and Risk Management department by the cutoff date for the payroll for which you wish the change to be effective.

Plan Administration
The Internal Revenue Service (IRS) requires that the District be accountable for transactions occurring within the District's 403(b) and 457(b) plan. As a result of IRS requirements, the District hire TSA Consulting Group (TSACG) as the Plan Administrator. TSACG is responsible for making sure that all transaction are in compliance with IRS rules.
Plan Distribution Transactions
Distribution transactiona may included any of the following:
Exchanges
Hardship Distributions
Loans
Rollovers
Transfers
Withdrawal of Funds (Distribution)
Employees/Participants may request these distributions by completing the necessary forms obtained from the provider and plan administrator as required. All completed forms should be submitted to TSACG, the plan administrator, for processing.
As the 403(b) and 457(b) Plan Administrator for the District, TSACG has developed an online system for you to use when requesting loans, rollovers, distributions, and contract exchanges from your account. This system is known as the ART System and will expedite the time required to process your requests.
For additional information about TSACG's role in the District's plan visit TSA Consulting Group.
Related Retirement Topics
BENCOR Special Plan Changing Plans - Is a 2nd Election Right for You? DROP: Deferred Retirement Option Program FRS Online Estimates FRS Resources Keys to Retirement Planning Qualifying for Board-paid Retiree Health Insurance Premiums Helpful Links Volunteer: Pasco County Schools Social Security Administration Center for Medicare and Medicaid Services Veterans Administration (TriCare) America Association of Retired People Florida Retired Educators Association
Navigation
Benefits Mailing List
Enter your email address in the field below to receive important District wellness program updates!
A Message from Patricia Howard
Employee Benefits and Risk Management wants all employees to be healthy, in mind and body, so they can be ready every day to do their best for our students, employees and community.
As you access healthcare services, please remember that the District is self-insured for all medical, pharmacy and behavioral health services. Therefore, spend wisely, whenever you can use generics, see a primary care doctor instead of a specialist. Consider utilizing the services of the onsite Employee and Family Health and Wellness Centers, which includes primary care, lab, x-rays, and generic medications. Co-payments are waived for services provided by the Health and Wellness Centers and generic medications provided at no cost.
Also, visit our wellness page to learn more about the District's Health and Wellness Initiatives (HWI). HWI include programs to help you lose weight, stop smoking, start exercising, maintain proper nutrition and understand your health and medications. This is all good for the mind, body and wallet.
Be Healthy, Be Well
Patricia D. Howard
Pasco County Schools Named 2014 Healthiest 100 Workplaces Award Winner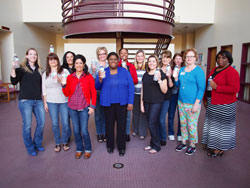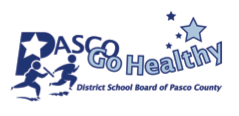 &nbsp
Land O' Lakes (Jan. 24, 2014)—Healthiest Employers, the leader in employee health analytics, best practices and benchmark data, has announced the induction of the District School Board of Pasco County into the 2014 Healthiest 100 Workplaces in America. Every one of these employers has achieved remarkable and sustainable success through a broad range of corporate wellness programs and employee wellness initiatives.
The District School Board of Pasco County attained this recognition as the culmination of a year-long, highly selective two-stage assessment process spanning the United States to include companies of all sizes from all regions and industries.
"One of our priorities is to create a culture of wellness throughout our district that both decreases the risk of disease and enhances the quality of life of our employees. Our wellness program builds upon our continuing efforts to help students reach their highest potential by enhancing the health, happiness, and motivation of our employees and community," said Kurt Browning, Superintendent of Schools, Pasco County, Florida.
These state and national awards recognize employers who have comprehensively incorporated the most effective employee wellness programs and practices. The Healthiest 100 have successfully implemented practical, effective and continuously improving corporate wellness strategies for creating a sustainably healthy workplace.
Rod Reasen II, President of Healthiest Employers, notes that "This highly selective award recognizes employers who demonstrate exceptional leadership in using wellness as a strategy to drive workplace productivity, employee health, and community wellbeing. As these employers demonstrate, every organization has a path to the Healthiest 100, regardless of size, industry or geography."