Retirement Services
FRS New Hire | FRS Reemployment | 403(b)/457(b) Plans | BENCOR Special Pay Plan
Retirement Services are provided by the Employee Benefits and Risk Management Section of the Office for Human Resources and Educator Quality. The purpose of Retirement Services is to assist employees with planning and preparing for a successful transition from an active employee to retirement. Our goal is to provide employees the tools and resources needed to plan and prepare for retirement while employed with Pasco County Schools.
Retirement Estimate
Employees have two options for obtaining a retirement estimate.
1. Contact the Florida Retirement System (FRS)
You should contact FRS 2 to 3 months before your anticipated retirement date and request a retirement estimate. You may request a retirement an estimate based on years of service, retirement age or DROP enrollment. You may contact FRS at 844-377-1888, email retirement@dms.myflorida.com or complete FRS Information Request Form FR-9 (click here to print) to request a retirement estimate.
Once FRS completes your retirement estimate, you will receive a personalized packet that includes your estimate, list of required documents and an FRS retirement application.
2. Your FRS Online Account
When you log in, you will be connected to your custom home page where you can print your current estimate or create an estimate based on a future retirement date or age at retirement. You will need your FRS PIN to access your account. If you do not have your PIN, you may request your PIN through the PIN reminder process at http://www.myfrs.com/changePin.htm.
Retirement Application
Annual Retirement Fair
Each year the Office for Human Resources and Educator Quality hosts an Annual Retirement Planning Fair designed to help employees plan and prepare for retirement. The retirement fair features representatives who are available to answer questions and talk to employees about the Florida Retirement System, BENCOR Special Pay Plan and 403(b) Investment Plans.
Employees within five years of retirement are encouraged to attend the annual retirement fair.
Monthly Workshops – Coming May 2015! Check Back Often for Updates
Retirement Services will host monthly workshops during the school year that are subject oriented and will provided detail retirement information specific to Pasco County Schools. The Workshops will boost your Retirement IQ on the following retirement topics and better prepare you for retirement:
Service Retirement (Pension or Investment Plan)
DROP Enrollment
Retirement Exit
Leave Payout
Retiree Health Benefits
What to Expect from FRS After Retirement
Becoming Medicare Eligible
Book an appointment with Pasco County Schools-HREQ
Appointment Scheduler
Employees needing additional assistance after attending the annual retirement fair or one of the monthly workshops may schedule an appointment to meet one-to-one with a Retirement Services staff member. Employees should complete the following before scheduling an appointment:
1. Obtain his or her FRS retirement estimate.
2. Attend a group retirement session (retirement fair or workshop).

Florida Retirement System (FRS)
The FRS offers valuable support to help you make informed decisions about your personal retirement goals. You can receive free, confidential and unbiased retirement and financial planning services online, by phone or even in person via workshops.
MyFRS Financial Guidance Line: 1-866-446-9377
The free MyFRS Financial Guidance Line is staffed by experienced, unbiased financial planners who are available to discuss any issue you think is important to your financial future. Retirement counselors are also available to discuss Pension Plan issues or questions.
MyFRS.com
The MyFRS.com website is your gateway to a host of tools and information about the FRS Pension Plan and Investment Plan. The user-friendly and easy to navigate website is a place you should visit frequently. The site includes:
Summary Plan Descriptions for both the Investment Plan and the Pension Plan, which outline the provisions of the plan you selected.
Answers to frequently asked questions.
Simple financial calculators that let you estimate savings goals, mortgage and loan payments, inflation impacts and expenses, etc.
Details about some of the free retirement and financial planning workshops sponsored by the FRS.
ADVISOR SERVICE
Free online ADVISOR SERVICE creates a picture of your current financial situation and helps you answer the following questions:
Will I have enough money to retire?
How do I invest my retirement savings?
How do I stay on track to achieve my goals?
Depending on which retirement plan you elected, the ADVISOR SERVICE gives you access to a host of important retirement planning information. Call the toll free MyFRS Financial Guidance Line, select Option 2 and a financial planner will assist you.
For additional FRS resources visit www.MyFRS.com
Voluntary Retirement Savings
The most common reason employees give for not investing or planning for their future is that they do not have any available money. What they fail to realize is that the financial planning process may actually identify ways to free up funds to meet defined goals and objectives. A great way to start this process is to contact one of the Board approved investment companies to schedule an appointment with a representative.
All regularly scheduled employees are eligible to contribute to a 403(b), 457(b) and/or Roth 403(b) plan through payroll deductions. If you participate in a voluntary retirement savings plan, you are fully vested in your contributions and earnings at all times. Once you are ready to establish a 403(b), 457(b) and/or Roth 403(b) account, you should research the authorized investment provider companies and investment products available to you. Choose an investment product(s) that is suitable to help you meet your retirement goals and contact an Investment Provider Representative to open an account. You many only choose from the list of investment provider companies approved the Pasco County Schools.
Current List of Authorized Investment Provider Companies & Representatives
Additional information about Investment Companies and Investment Products

Contact Us
Brooke Miller bemiller@pasco.k12.fl.us Marta Uribe muribe@pasco.k12.fl.us
Navigation
Benefits Mailing List
Enter your email address in the field below to receive important District wellness program updates!
A Message from Patricia Howard
Employee Benefits and Risk Management wants all employees to be healthy, in mind and body, so they can be ready every day to do their best for our students, employees and community.
As you access healthcare services, please remember that the District is self-insured for all medical, pharmacy and behavioral health services. Therefore, spend wisely, whenever you can use generics, see a primary care doctor instead of a specialist. Consider utilizing the services of the onsite Employee and Family Health and Wellness Centers, which includes primary care, lab, x-rays, and generic medications. Co-payments are waived for services provided by the Health and Wellness Centers and generic medications provided at no cost.
Also, visit our wellness page to learn more about the District's Health and Wellness Initiatives (HWI). HWI include programs to help you lose weight, stop smoking, start exercising, maintain proper nutrition and understand your health and medications. This is all good for the mind, body and wallet.
Be Healthy, Be Well
Patricia D. Howard
Pasco County Schools Named 2014 Healthiest 100 Workplaces Award Winner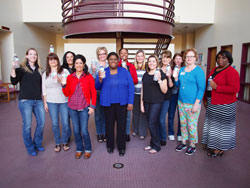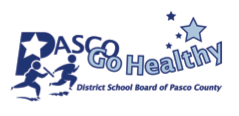 &nbsp
Land O' Lakes (Jan. 24, 2014)—Healthiest Employers, the leader in employee health analytics, best practices and benchmark data, has announced the induction of the District School Board of Pasco County into the 2014 Healthiest 100 Workplaces in America. Every one of these employers has achieved remarkable and sustainable success through a broad range of corporate wellness programs and employee wellness initiatives.
The District School Board of Pasco County attained this recognition as the culmination of a year-long, highly selective two-stage assessment process spanning the United States to include companies of all sizes from all regions and industries.
"One of our priorities is to create a culture of wellness throughout our district that both decreases the risk of disease and enhances the quality of life of our employees. Our wellness program builds upon our continuing efforts to help students reach their highest potential by enhancing the health, happiness, and motivation of our employees and community," said Kurt Browning, Superintendent of Schools, Pasco County, Florida.
These state and national awards recognize employers who have comprehensively incorporated the most effective employee wellness programs and practices. The Healthiest 100 have successfully implemented practical, effective and continuously improving corporate wellness strategies for creating a sustainably healthy workplace.
Rod Reasen II, President of Healthiest Employers, notes that "This highly selective award recognizes employers who demonstrate exceptional leadership in using wellness as a strategy to drive workplace productivity, employee health, and community wellbeing. As these employers demonstrate, every organization has a path to the Healthiest 100, regardless of size, industry or geography."