Welcome Employee Benefits and Risk Management
Employee Benefits and Risk Management
Welcome to the Employee Benefits and Risk Management (EBARM) Web Site. All of our staff members are here to provide service and assistance to employees and their families. We recognize that, in many instances, employees seeking help are experiencing medical treatment and are under considerable stress. Understanding and efficiently using health insurance benefits can be very complex and frustrating. The information on this web site can assist you. More importantly, do not hesitate to call for help either from the specific insurance company or from the EBARM staff.
Mission Statement
Employee Benefits and Risk Management exists as a support system to the Pasco County school district. The office provides services to all staff (including retirees) and their families, ensuring the highest levels of physical, mental and economic health possible. The quality of life for employees and their families has a direct effect on the quality of the educational process for students. Therefore, the ultimate goal of Employee Benefits and Risk Management is to facilitate the continuity and quality of the educational experiences of all students in the district.
Group Health Plan Overview
The District School Board of Pasco County provides all eligible employees a fully paid, comprehensive benefit package that includes group medical, term life insurance, behavioral health services, and employee assistance program. Employees covered by another major medical health plan may waive participation (opt out) in the group health plan and receive a cash benefit (taxable income). In addition to the benefits provided by the District, employees have an opportunity to purchase additional voluntary benefits and coverage for eligible dependents through payroll deductions. Please take a moment to explore the pages of our website and learn more about the benefits available to you through the District's group health plan. Contact The Office for Employee Benefits and Risk Management: Extension 4-2253 | (813) 794-2253 | (727) 774-2253 | (352) 524-2253
Helpful Links CareHere: Health and Wellness Centers | Group Health Plan Providers | Florida Blue: Medical and Behavioral Health | Envision Rx Options: Pharmacy | Delta Dental | Minnesota Life: Basic and Supplemental Life Insurance | Davis Vision | WageWorks: Flexible Spending Account | Authorized 403(b) Investment Companies | TSA Consulting Group: TSA (403b) Plan Administrator | Florida Retirement System | Voluntary Student Accident Insurance | How to File a Student "Athletic" Accident Insurance Claim | Plan Documents
Navigation
Benefits Mailing List
Enter your email address in the field below to receive important District wellness program updates!
A Message from Patricia Howard
Employee Benefits and Risk Management wants all employees to be healthy, in mind and body, so they can be ready every day to do their best for our students, employees and community.
As you access healthcare services, please remember that the District is self-insured for all medical, pharmacy and behavioral health services. Therefore, spend wisely, whenever you can use generics, see a primary care doctor instead of a specialist. Consider utilizing the services of the onsite Employee and Family Health and Wellness Centers, which includes primary care, lab, x-rays, and generic medications. Co-payments are waived for services provided by the Health and Wellness Centers and generic medications provided at no cost.
Also, visit our wellness page to learn more about the District's Health and Wellness Initiatives (HWI). HWI include programs to help you lose weight, stop smoking, start exercising, maintain proper nutrition and understand your health and medications. This is all good for the mind, body and wallet.
Be Healthy, Be Well
Patricia D. Howard
Pasco County Schools Named 2014 Healthiest 100 Workplaces Award Winner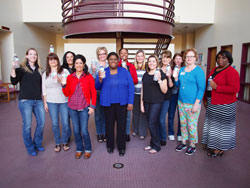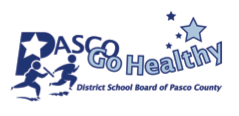 &nbsp
Land O' Lakes (Jan. 24, 2014)—Healthiest Employers, the leader in employee health analytics, best practices and benchmark data, has announced the induction of the District School Board of Pasco County into the 2014 Healthiest 100 Workplaces in America. Every one of these employers has achieved remarkable and sustainable success through a broad range of corporate wellness programs and employee wellness initiatives.
The District School Board of Pasco County attained this recognition as the culmination of a year-long, highly selective two-stage assessment process spanning the United States to include companies of all sizes from all regions and industries.
"One of our priorities is to create a culture of wellness throughout our district that both decreases the risk of disease and enhances the quality of life of our employees. Our wellness program builds upon our continuing efforts to help students reach their highest potential by enhancing the health, happiness, and motivation of our employees and community," said Kurt Browning, Superintendent of Schools, Pasco County, Florida.
These state and national awards recognize employers who have comprehensively incorporated the most effective employee wellness programs and practices. The Healthiest 100 have successfully implemented practical, effective and continuously improving corporate wellness strategies for creating a sustainably healthy workplace.
Rod Reasen II, President of Healthiest Employers, notes that "This highly selective award recognizes employers who demonstrate exceptional leadership in using wellness as a strategy to drive workplace productivity, employee health, and community wellbeing. As these employers demonstrate, every organization has a path to the Healthiest 100, regardless of size, industry or geography."