December 15, 2016
Superintendent's Message
Superintendent's Staff and I have been working over the last several weeks on a reorganizational plan that restructures the area superintendents and the regional teams and the supports they provide to our schools. My plan is to provide an overview of the details to the School Board during their workshop on December 20. Over the next few months, staff will transition into the following positions: Assistant Superintendent for Elementary Schools, Dr. Dave Scanga; Assistant Superintendent for High Schools, Tammy Berryhill; Assistant Superintendent for DA Schools, Dr. Monica Ilse; and, and Kim Poe serving in an executive director position with the specific role of assisting Drs. Ilse and Scanga. The Assistant Superintendent for Middle Schools will be advertised and filled after the Christmas Break. This reorganizational plan does not add any new additional positions to the administrative staff.
Todd Cluff, Area Superintendent for the Northwest Region, has expressed a desire to return to school based leadership. We are continuing to work with Todd to ensure that he is able to use his skill set and leadership in our schools.

I have set the structure and we are working on the details of what the supports will look like for our schools, how they will be delivered, communications and feedback loops and accountability measures for all stakeholders.
Sincerely,
Impact Fees Workshop Tuesday
The School Board is holding a workshop next Tuesday to discuss the current school impact fees on new home construction that help pay for new schools. In Pasco County, an impact fee is assessed on the builder for the construction of every new home with the exception of 55 and older communities. The idea behind an impact fee on new homes is that new growth should pay for itself instead of increasing the tax burden on existing citizens. Repairing and maintaining schools, in addition to building new schools, requires a revenue stream. Impact fees are just one of our ways to collect money for building new schools. The current education impact fee on a single-family dwelling is $4,876.28. The impact fee analysis we commissioned recommends that the impact fee be increased to roughly $9,000. The School Board workshop is the first step in a process we will go through to get the county commission to approve an increase in the school impact fee for new home construction so that we can build much needed schools in the areas where new home construction is taking place. Click here to read a recent Tampa Bay Times article on impact fees.
Congratulations
Employee Recognition Awards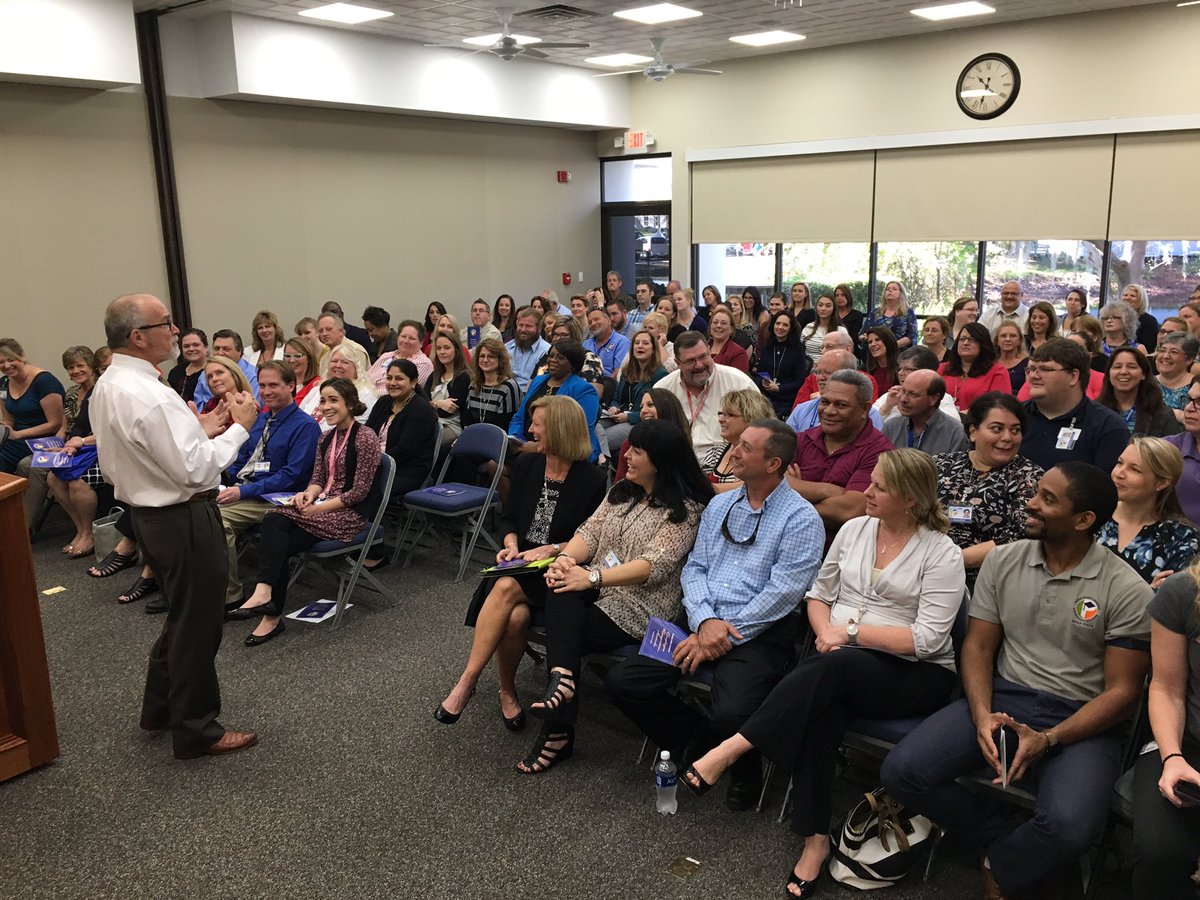 Yesterday, Superintendent Browning presented awards to employees as a part of the District Office Complex's Employee Recognition Awards. Congratulations to all winners and thank you for your hard work and dedication!
Outstanding Customer Services Award Winners: Jennifer Wendel, Kelly Lanigan, Christina Gernhart, John Munday, Vicky Sanders, Steven Duarte, Kendra Gerlits, Rachel Hatten, and Jennifer Kocher
Expemplary Performance Award Winners: Suzanne St. Clair, Wendy Beard, Andy Dunn, Amber Tucker, Sara Langi, Bruce Herrmann, Michelle Andrews, Lori Karpinski, Jennifer Rinck, Melissa Mangino, Debra Hawks, and Barbara Campbell
Excellence in Innovation Award Winners: Leslie Thomas, JoHannah Kolianos, and Sam Messick
Superintendent's Teamwork Award Winners: Communications and Government Relations Team
Land O' Lakes High School Unified Special Olympics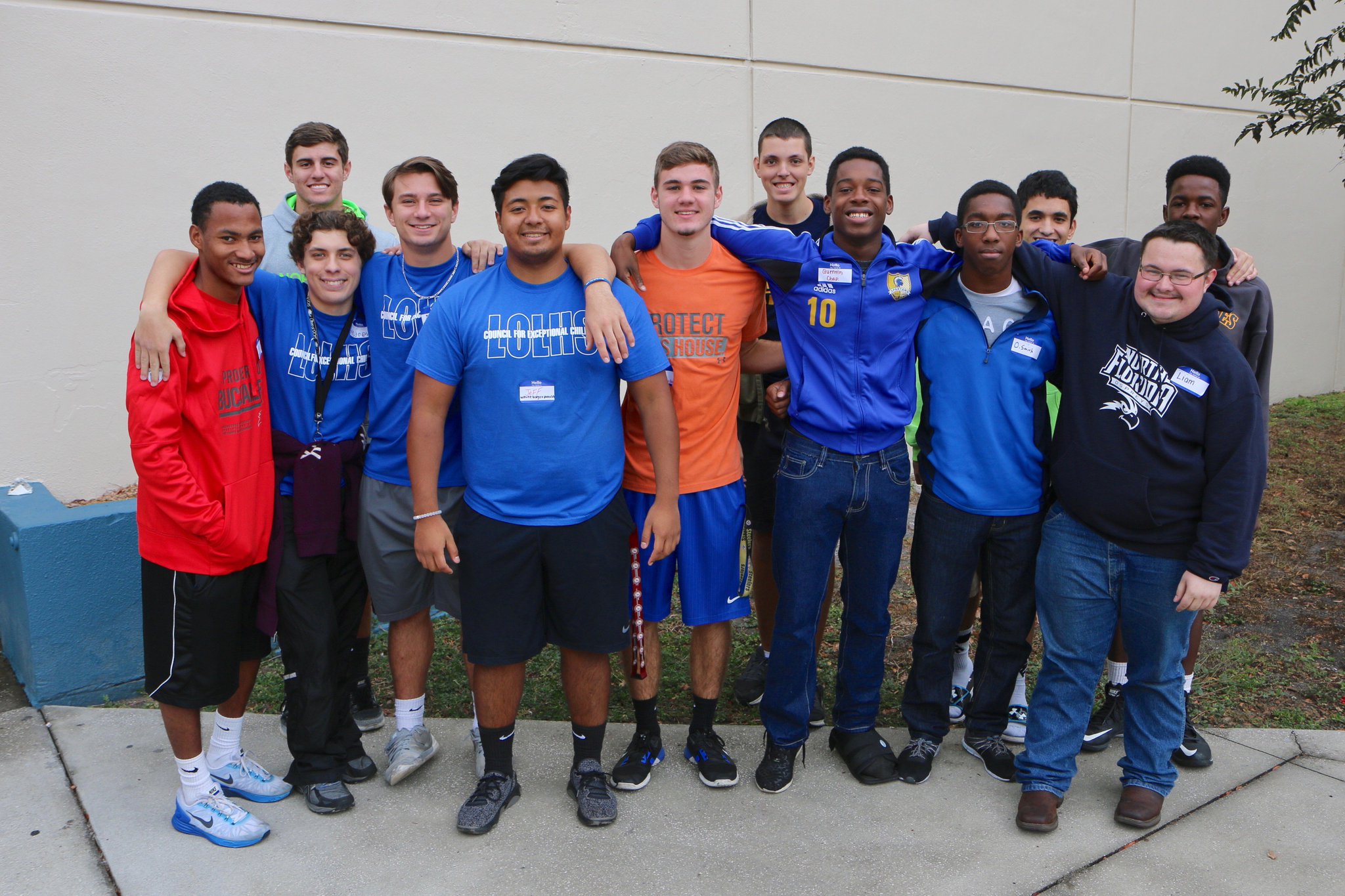 The Land O' Lakes High School Unified Special Olympics Flag Football team has been selected to play in an exhibition game during the NFL Pro Bowl in Orlando.
December Innovators' Summit
Assistant Superintendent for Student Achievement Vanessa Hilton, our partners from St. Leo University, and a district intern visited Washington, D.C. where they were panelists discussing the benets of program-deep and program-wide experiences with educational technology in teacher preparation programs.
College Football Playoff Extra Yard For Teachers
December Extra Yard for Teachers Newsletter
Click here to read a copy of the December edition of the Tampa Bay Sports Commission's Extra Yard for Teachers Newsletter.
Free Saturday
On Saturday, January 7, experience a full day of College Football Playoff National Championship action in Tampa. There are three big events:
Media Day: 9 a.m. at Amalie Arena
Playoff Fan Central: 12 p.m. to 8 p.m. at the Tampa Convention Center
Playoff Playlist Live: 12 p.m. to 11 p.m. at Curtis Hixon Park
Tickets are free to attendees who stop by Media Day at 9 a.m. For more information, please visit tampabay2017.com.
Special Teacher Discount
On Sunday, January 8, the Extra Yard for Teachers 5K will commence at Amalie Arena at 8 a.m. Click here to register. To receive your $10 off teacher/educator discount, enter promo code TEACHER during registration. (Verification of eligibility required.)
Free Playoff Fan Central Tickets
Through our district's partnership with the College Football Playoff, we have received a limited allotment of free tickets to Playoff Fan Central. Playoff Fan Central features appearances from the participating university's bands, cheerleaders, and mascots; pep rallies; activities; games; and special appearances. Tickets are single-use and provide access only for Playoff Fan Central, a ticketed event, for January 6, 7, or 8. If you would like a ticket, please email Laura, provide your office location and address, and the number of tickets you are requesting. She will send them through the courier. Tickets will be distributed on a first-come, first-served basis.
Magnet School Application Period Open
The Pasco County Schools magnet application period opened on December 15, 2016, and ends on Friday, January 20, 2017. Parents who are interested in enrolling their students in one of our specialized magnet programs can find out more information and complete an application at http://www.pascoschools.org/ed_choice/magnet. All properly completed applications will be entered into a lottery. Families will be notified of their acceptance status by mid-February, so that those who are not accepted have time to complete the traditional school choice open enrollment application during the February 1 to March 1 application window. Pasco County Schools magnet options currently include:
Sanders Memorial STEAM Elementary Magnet School, with a focus on science, technology, engineering, arts and math. These subjects are infused throughout the curriculum, which still is based on the Florida State Standards.Centennial STEM Middle
Magnet School, which focuses on science, technology, engineering and math. These subjects are infused throughout the curriculum, which still is based on the Florida State Standards.
Bayonet Point STEM Middle Magnet School, which focuses on science, technology, engineering and math. These subjects are infused throughout the curriculum, which still is based on the Florida State Standards.
Families that don't have computer access can complete applications at their local school or public library.
If you have questions, email magnetschools@pasco.k12.fl.us.
ASE Certification Testing at Fred K. Marchman Technical College
Marchman Technical College is now offering ASE Certification testing as a Prometric Satellite Test Center. ASE certification exams will not only be available for Automotive Service Technology and Automotive Collision and Repair students but also to the automotive professionals in Pasco, Pinellas, Hillsborough & Citrus counties. Prior to scheduling an exam at Marchman's assessment center you must create a MyASE account at http://www.ase.com. After registering and paying for the exams on MyASE, you can schedule your exam here. A state issued ID and an ASE eligibility ID must be presented at the testing center, at the day of your appointment. The current registration window ends on February 24. For more information, contact Michael Andujar, Prometric Test Center Administrator, at 727-774-1861.
School Holiday Events
We want to share our schools' holiday events! The Communications and Government Relations Department photographers are looking for classroom stories to tell through video. If you have an exciting or interesting hands-on event planned, please call the department at 813-794-2717 or email Andy Dunn at least two days in advance and we will make every effort to come to your school. Be sure to send us descriptions, including the days and times, so we can share with media.
2016 New Port Richey Holiday Parade
Transportation Services at the West Bus Garage staff voluntarily decorated a propane school bus and participated in the New Port Richey Holiday Parade. Staff was on-site to distribute beads and talk about new job opportunities.
Canvas Parent App
Canvas now has a new Parent App available. According to Instructure, it is a "first-of-its-kind mobile app for parents." Parents can view assignment descriptions, assignment grades, course grades and course announcements, and set reminders for assignments and alerts for specific grade activity, which they receive as push notifications on their mobile devices. The Canvas Parent app empowers parents to take a greater role in overseeing their children's academic work. It offers peace of mind that students are meeting expectations and insights into what teachers are scheduling in the near future. Finally, the app gives parents the opportunity to view pertinent, real-time data and information on their children's performance and participation in school. Click here for detailed instructions on how to download the Canvas Parent App.
Did You Know?
As a Pasco County Schools employee, you have access to CareHere healthcare centers. You can schedule appointments with a nurse or physician, receive prescription medication, and attain health assessment information, all for free with no co-pay. Click here to learn more and schedule an appointment.
Tomorrow: Farm Share Holiday Food Giveaway
The 22nd annual Farm Share Holiday Food Giveaway will be Friday, Dec. 16, 9-11 a.m., at Faith Baptist Church, 9230 Ridge Road in New Port Richey. All needy families are welcome. For more information, contact Greg Giordano, Assistant Tax Collector for Communications & Special Projects, at 727-847-8179.
Pasco County Government
Volunteer Teaching Opportunity: China, Summer 2017
The Sino-American Bridge for Education and Health (SABEH) is seeking enthusiastic and experienced teachers to participate in a professional development opportunity. Selected educators will participate in several online workshops hosted by Bryant University between March and June. They will travel to China in July for two to four weeks (depending on program site) and share conversational English, student-centric, and multi-modal education methods with Chinese teachers. Upon completion, American teachers will be provided a week of complimentary travel within China. Ideal candidates are teachers who are native English speakers, have at least three years teaching experience, an adventurous spirit and the desire to experience a different culture. Teachers of all subject areas and all grade levels are encouraged to apply. Click here for more information. Applications must be received by January 15, 2017. Jennifer Dixon, a Gulf High School teacher, has traveled to China with SABEH the summers of 2013, 2014, 2015, and 2016. If you have any questions about this volunteer program, you may contact Ms. Dixon at 727-364-1808.
USF Education Specialist Program
The USF College of Education's Educational Specialist Program, with an emphasis in Turnaround School Leadership, prepares educators to become effective school leaders skilled to address turnaround and underperforming school contexts. Click here for more information, or contact Associate Professor William. R. Black, Ph.D., Program Coordinator of Educational Leadership & Policy Studies at the USF College of Education at 813-974-6097.
Weekend Classes at WMU-Cooley Law School Tampa Bay
Western Michigan University (WMU)-Cooley Law School offers classes during the morning, afternoon, evening, and now weekend classes, starting May 2017 at its Tampa Bay campus. Students may take from two to five years to complete their degree. Whether part- or full-time, students will be taught by the same faculty, and meet the same graduation requirements as all other WMU-Cooley students. For more information about WMU-Cooley, click here.
VFW Teacher of the Year Award Contest
The Veterans of Foreign Wars of the United States is accepting nominations for the 2017 VFW Smart/Maher National Citizenship Education Teacher Award. Nominations can be submitted by fellow teachers, supervisors, or other interested individuals. Self nominations are not eligible. The annual award contest recognizes three exceptional teachers for their outstanding commitment to teaching Americanism and patriotism to their students. Each year, a classroom elementary, junior high, and high school teacher whose curriculum focuses on citizenship education topics -for at least half the school day in a classroom environment can be nominated. Winners will receive:
A $1,000 award for professional development expenses
A $1,000 award for his/her school
Two award plaques (one for the teacher and one for his/her school)
An all-expenses-paid trip to a VFW conference to receive their award.
Teachers who promote civic responsibility, flag etiquette, and patriotism are ideal candidates for the award. If you know a teacher who plans field trips to city hall, organizes community volunteer projects or invites local veterans to speak in class, anything to help students develop a better understanding of democratic values and beliefs, this award is for them. For more information, visit the VFW website for complete program guidelines and application instructions. The deadline is February 15, 2017.
Kudos
John Martin, I wanted to let you know how excited [my son] was yesterday with the Blackhawk coming to Sunlake High School! He said the middle school students were lined up too – to see it take off. I can't say enough about how pleased I am with the Academy – he is so enthusiastic about the class, it is the pathway he needs to obtain his goal of attending Embry Riddle, and becoming a pilot. We are so happy that he is a student in this career academy! The fieldtrips that have been held thus far have been incredible, and [my son] shared that they may get to go to Kennedy Space Center next semester. If you are in need of chaperones I would love to attend. The fact that a club has been started too – after school, where he has the opportunity to informally interact with students who share the same interest is awesome. I appreciate the fact that Mr. Martin is giving up his personal time to allow for this to occur! -Andi Walker, Culinary Teacher, John Long Middle School
---
Communications and Government Releations Director Linda Cobbe, A big thank you to the sweet girl, Anna Marquez, who came to take photos. I was in the middle of lunch duty so she had to wait. She was really a nice girl. -Sherrie Price
---
Recently, my daughter, had her first experience with soaked roads. As she was attempting to turn out the WRHS student parking lot in a torrential downpour, the truck decided to show-off and completed a few 360s before landing in the median. When the dust settled and her windshield wipers continued to scrape rhythmically back and forth, she could barely see the cars that passed by her. She sat stranded in the middle of the boulevard with a broken tire wheel, a broken light, and unfortunately, a broken pride. Dad hurried over to help, but the truck was not going anywhere. Thankfully, two WRHS staff members, Ken Bruno and John Pierson, noticed and came to the rescue. Within minutes, they assessed the situation, grabbed the equipment needed, and assisted my husband with getting the wounded little truck back on the road. My family cannot thank these two gentlemen enough for coming out to help. Random acts of kindness make our world a better place. Bull pride makes working at WRHS the best. -Marci Williams
---
Events and Kudos sections are copied verbatim from their submission, with minimal, if any, alteration.
---