June 2, 2016
Superintendent's Message
Statement on 3rd Grade Retention
As superintendent of Pasco County Schools, I want to make it clear that I have no desire to retain third graders who clearly demonstrate that they have mastered state standards. Retaining students not only has questionable long-term benefits for the retained student, it also adds to the cost of educating them.
Pasco County has interpreted the law and State Board Rules to allow schools to compile portfolios for students who do not score a 2 or above on the English Language Arts Standards Assessment. Portfolios consist of standards-aligned classroom work samples and a variety of student performance data to show evidence those students have demonstrated mastery of the standards assessed on the FSA.
After a recent article in the Sarasota Herald-Tribune, I received a call from the Department of Education questioning our practice of allowing the use of good cause portfolios. I gathered my staff on Tuesday and held a conference call with DOE staff, during which we were told that a student who does not have a score of two or higher on the 3rd grade FSA ELA or the DOE-approved alternative assessment (SAT10) must attend summer reading camp and be retained in 3rd grade until the next school year. This was very concerning to me as the Superintendent. A short time later, I received a call back, and after explaining our process again; I was then told that Pasco's process meets the requirements of Florida law in using a good cause portfolio for exemption from this mandatory retention.
We were confident that we were in compliance with the law, and we appreciate the DOE's confirmation that we are.
Congratulations
Pasco Class of 2016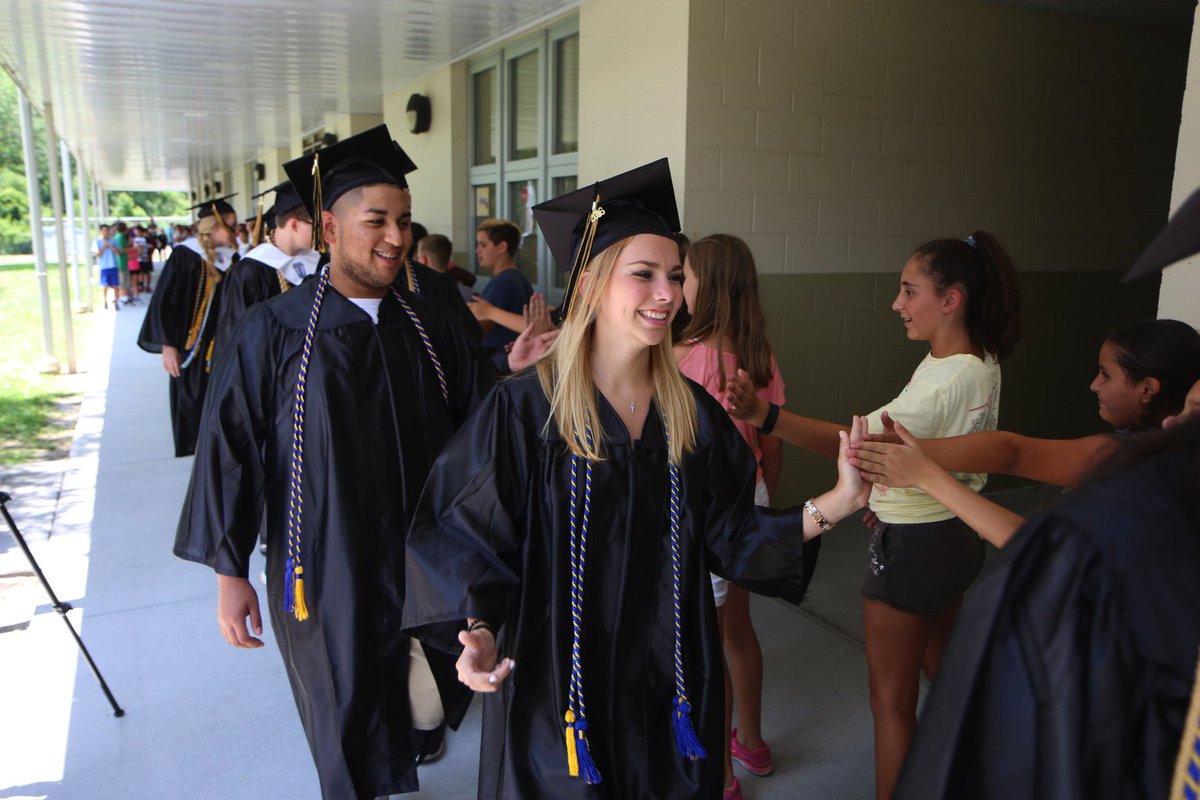 Pasco County Schools will graduate more than 4,300 students who have earned in excess of $23 million in scholarships. Graduation ceremonies will take place Thursday, June 2, through Sunday, June 5, except for Fred K. Marchman Technical College's, which was on Wednesday, May 25. Comlete information regarding Pasco high school graduations including valedictorians, salutatorians, scholarships, and graduation speakers, can be found by clicking here. For a quick reference guide to graduation ceremony information, visit our graduation page.
Outstanding Student
Drew Middleton, a Seven Springs Middle grade 6 student, was recently featured on the Pasco County Animal Services Facebook page. Drew has provided animal shelter donations to the SPCA and Pasco County Animal Services throughout the past few school years. He delivered treats, food, blankets, towels and other needed items to the shelter, and even purchased additional items with his birthday money. Pasco County Animal Services greatly appreciated his contributions.
Special Olympics Trading Cards
TD Bank is supporting Special Olympics by providing trading card packs for each $5 donation to Special Olympics. One of our students, Ordray Smith, is a featured athlete in the 50 card set. Click here for participating Florida locations.
Weather Alert!
There is a broad low pressure system near the Yucatán Peninsula that is expected to move into the southern Gulf of Mexico by early next week. As it moves north northeastward, there is a 30% chance of possible tropical development. While the National Weather Service (NWS) is monitoring the disturbance, it is unable to confidently predict timing at this point, but it has advised that Pasco County will experience at least 3-4" of rain, with the potential for locally heavy rainfall.
Reasonable Use of Force
As a district, we share responsibility for the safety and security of our students and staff. All staff members shall promote and maintain a safe educational environment, and this may include intervening in a student altercation. There are many strategies that staff may employ to assist with this goal. If the use of reasonable physical force becomes a last resort, that force may not be excessive, cruel or unusual in nature, and alternatives to the use of such force should be attempted, time permitting. Any use of reasonable physical force must cease upon the restoration of a safe and orderly environment. Below is a list of expectations and recommendations to ensure the safety of students and staff in a district school building or event.
Be at your assigned duty location on time and for the duration your scheduled duty.
Be aware of key times of the day for possible conflict:

Arrival
Passing
Lunches
Dismissal
School sponsored events

Pay attention to possible inflammatory situations that could lead to altercations:

Are you hearing the volume in the classroom/hallways increase?
Are groups starting to crowd?
Are student conversations escalating?
Are students lingering after school or after an event?

Report possible altercations to Administration immediately.
Call for assistance immediately if you witness a verbal or physical altercation (phone call to front office, send a student, call out for help, etc.)
Use words to verbally de-escalate a situation:

"Stop fighting now"
"Break it up"
"Take your hands off him/her"
"Let go"

If there are bystanders during an altercation, attempt to clear the area with words or motions:

"Go to class"
"We need to clear this area"
"Keep moving"
Use your arms to guide students away from the altercation
Unemployment Compensation and Summer Vacation
Florida law provides that unemployment compensation benefits are not payable to employees of an educational institution during winter/spring break or for summer vacation when the employee has "reasonable assurance" of returning to work at the end of the break or period. If you have been reappointed for the next school year, you have reasonable assurance of returning to work, and are therefore not unemployed. Only employees who have been officially notified, in writing, that you have been laid off, or that your job has been cut, or that you will not be returning to the same job next year, and have not been placed or have not accepted another position with the District, may file for unemployment compensation benefits for the summer.Employees who have received written notice of layoff and have not been recalled for the 2016-2017 year may file a claim effective after their last workday of the 2015-2016 school year. If you have specific questions or need more information, please do not hesitate to contact the Office for Employee Relations at 813-794-2322.
myStudent Voluntary Training Sessions
Pasco County Schools is pleased to announce the newest of our local instructional improvement tools, myStudent. This system will replace our current gradebook and attendance system, eSembler, as well as our current student information system, TERMS. Use of myStudent will be begin August 8 for all staff.
Trainings for this transition have started for various school and district staff, and teachers can expect support with this platform as school begins in August. Additionally, we have developed voluntary evening sessions where staff can preview the new system. To learn more about the sessions, see the attached flyer for information regarding specific times, dates, and locations of the voluntary evening sessions. To register for a session in myPGS, look for Course #765. For questions regarding the sessions, click here to email for assistance.
Attention: 198-day Employees
An alert employee noticed that the calendar posted on the Calendar website included incorrect information about 2016-2017 pre-planning days for 198-day employees. Pre-planning is August 8 to 12, and students return to school on August 15.
Free Meals for Students
Bus Drivers Needed
If you know someone who would be interested in driving for Pasco County Schools, please let them know that we are accepting applications.
Submit Your Story Ideas
The Communications and Government Relations Department is always looking for story ideas to pitch to reporters, so they created an online form to make it easy for teachers, staff, and administrators to send in items of interest. Click here to access the form.
Kudos
Superintendent Browning, we all know how stressful testing can be. I wanted you to know that Terry Yohn has worked very hard at Seven Springs Middle School to organize and run our testing schedule all year. She has put the right people in place to help her succeed and it made a huge difference at our school. -Kevin Smith, Beyond Social Studies Blended Learning Instructor, Seven Springs Middle School
---
I would like to take this opportunity to recognize Jessica Williams, Department of Juvenile Justice and Drop Out Prevention Counselor, and Krystle Whoehlk, Juvenile Justice Transition Specialist, because they recently went above and beyond to help a foster care child who has many, many challenges. Our foster care students often have many obstacles that they must overcome and having staff who are willing to take all their needs into consideration when developing an educational plan can make the difference between success and failure. Ms. Whoelk and Ms. Williams' warmth, flexibility and commitment to help one of our most vulnerable students is a true reflection of their character and dedication to the profession. -Kelly Davey, Ed.D., Counselor to Students in Foster Care, Pasco County Schools in Partnership with Eckerd Community Alternatives
---
Communications and Government Relations Director Linda Cobbe, Gulf Middle School Principal Jason Joens and the entire GMS staff have been very welcoming and accommodating to the AES staff, students and families during the renovation project to the AES campus this school year. On behalf of the Anclote Elementary staff, I would like to express our gratitude to Mr. Joens and the staff of GMS for sharing their campus with Anclote Elementary this school year! SRO Wade also assisted our school on numerous occasions and his assistance and support was appreciated! Thank you GMS! -Barbara Kleinsorge, Anclote Elementary School Principal
---
Events and Kudos sections are copied verbatim from their submission, with minimal, if any, alteration.
---