December 22, 2016
WE ARE CLOSED FOR WINTER BREAK FROM DECEMBER 24, 2016 THROUGH JANUARY 8, 2017.
Superintendent's Message
Happy Holidays
Our district office and schools are closed for winter break from December 23, 2016 until January 9, 2017. It's important that you spend time with your families and friends during the holiday season. It's also a time to relax, wind down from our hectic lives, and recharge for the coming year.
I hope everyone has a safe, happy, healthy break, a merry Christmas, happy Hanukah, and happy New Year!
Congratulations
2016 Creative Teaching Grant Recipients
Congratulations to this year's Pasco Education Foundation Creative Teaching Grant recipients! Every teacher has creative and innovative ideas to help their students engage in learning. Each year, the Foundation's classroom grant program provides teachers across Pasco County with additional financial resources to foster greater student achievement.
Outstanding Senior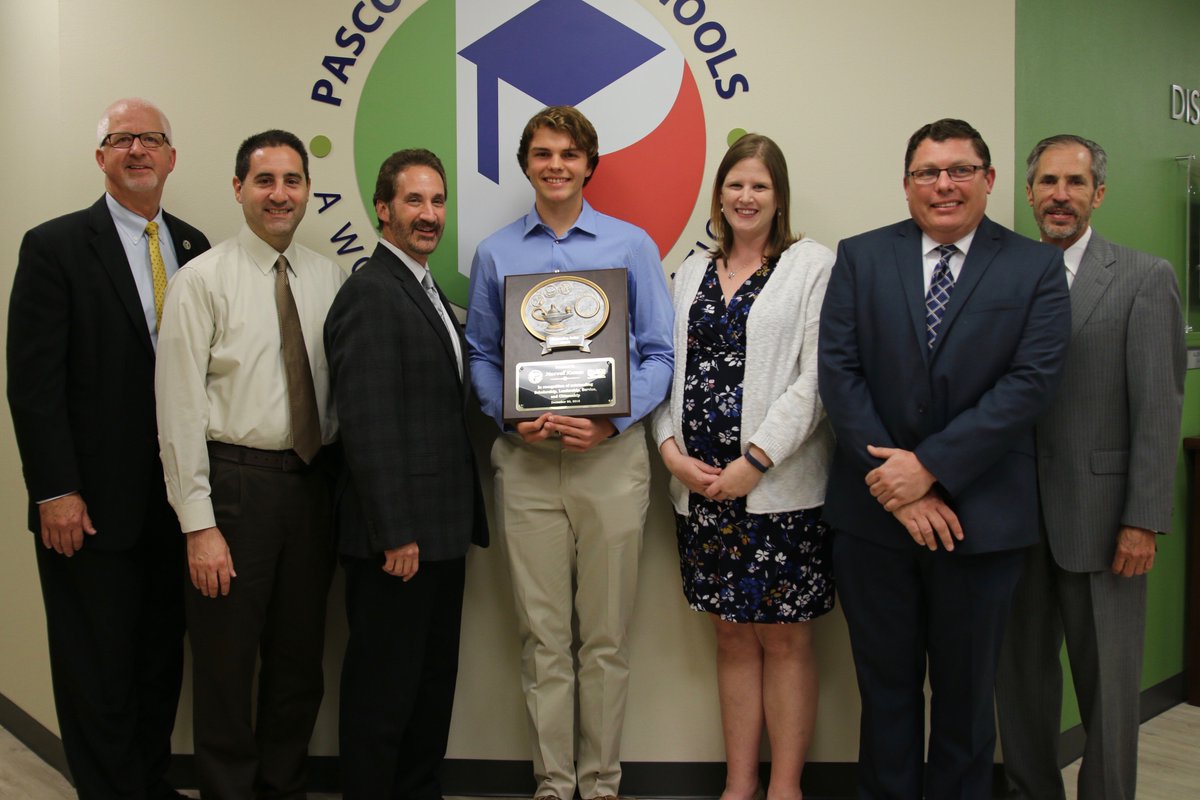 Congratulations to Pasco County School's Outstanding Senior, Maxwell Keenan, of Land O' Lakes High School! Keep up the good work!
Heroic Students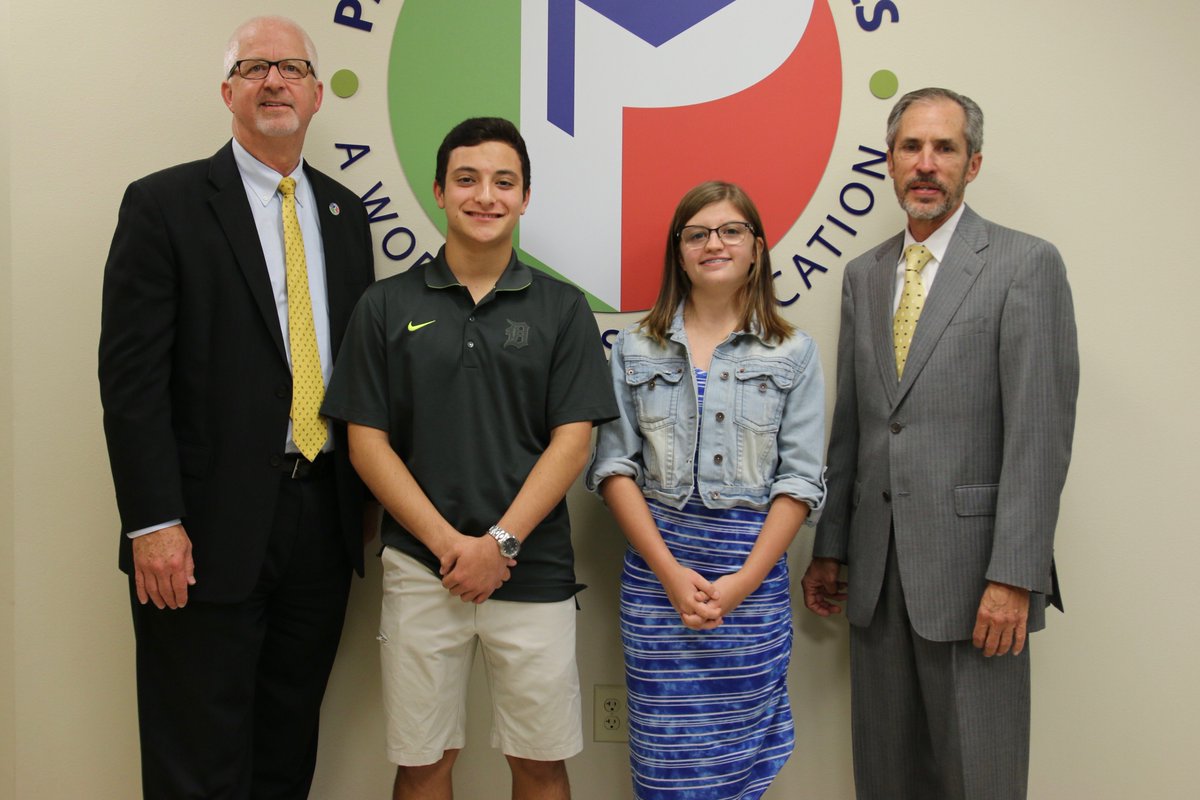 These Wiregrass Ranch High School students helped out their bus driver when they noticed something wasn't right. Thank you for your efforts that day. Click here to learn more.
Thank you, WREC!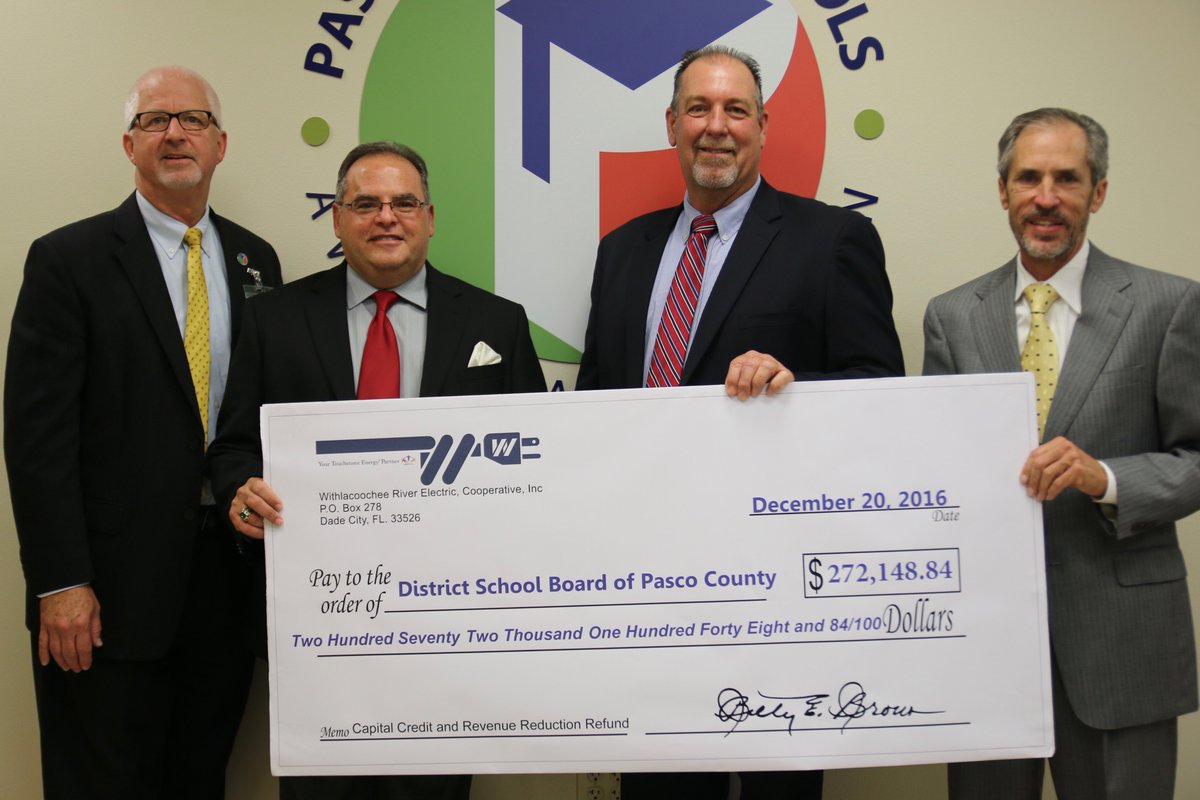 Thank you, Withlacoochee River Electric Cooperative, Inc., for your generous contribution towards education.
New Principals
Congratulations, Carin Hetzler-Nettles, for being appointed Cypress Creek Middle-High School principal, and Vicki Wolin, for being appointed Bexley Elementary School principal.
Important Reminders Before Winter Break
Pre-Break Prep
As you prepare for break, please remember the importance of completely shutting down all facilities during the entire break period. Our budget includes projected savings that will come from non-use during this break. In support of our conservation efforts, please turn off or unplug all non-essential office equipment such as printers, copiers, computers and monitors. Please also unplug small appliances, like coffee pots, microwaves, etc. These little steps really do add up to substantial savings.
If you have voice mail, please record it to reflect that your office is closed for the Winter Break, stating the to and from dates and when you'll return. We'd also like to remind staff to remove any personal food items from the shared refrigerators. We hope that you enjoy a well deserved period of rest and relaxation over the break! Thank you and Happy Holidays.
Activating Out of Office Assistant-Auto Reply for Emails
All employees should activate an auto-reply for email.
Apple Users:
In Outlook see (Left hand side; below the send/receive and above E-mail, New and the Delete basket) you will see tabs: Home, Organize, Tools
Click on Tools. In the ribbon, next to My Day, click on Out of Office.
A window will open up. In the top box click the button Send Out of Office messages. This will allow you to type your email reply into the box. This information is what any sender will receive when they send you an email over the Winter Break. (You may go ahead and type this in and once done click the button on the do not send out of office messages, click OK.) Minutes before you leave for break, you'll repeat the opening process. Go back in this window and click on the Send Out Office Message and click OK . You may wish to type the same message in the lower window and check Send replies outside my company to: click on "Any one outside my company" click OK.
Example: Our District schools and offices are closed for Winter Break December 26, 2016 through January 6, 2017. I will be back to work on January 9 and will reply to received emails at that time. Thank you and Happy Holidays.
PC users:
Click on file, then click on automatic replies. Click on the button to "Send automatic replies;" the click the box for "only send during this time range." Choose the dates you want. Type the example in the windows for both "Inside my organization" and "outside my organization." Then click OK.
Upcoming Pay Date Information
Please note that December 30, 2016, pay information has been posted in Employee Self-Service. The funds HAVE NOT been deposited into your account, and WILL NOT be until December 30, 2016. If you have any questions, please contact Payroll.
College Football Playoff Extra Yard For Teachers
December Extra Yard for Teachers Newsletter
Click here to read a copy of the December edition of the Tampa Bay Sports Commission's Extra Yard for Teachers Newsletter.
Free Saturday
On Saturday, January 7, experience a full day of College Football Playoff National Championship action in Tampa. There are three big events:
Media Day: 9 a.m. at Amalie Arena
Playoff Fan Central*: 12 p.m. to 8 p.m. at the Tampa Convention Center
Playoff Playlist Live: 12 p.m. to 11 p.m. at Curtis Hixon Park
*Tickets are free to attendees who stop by Media Day at 9 a.m. For more information, please visit http://www.tampabay2017.com
.
Special Teacher Discount
On Sunday, January 8, the Extra Yard for Teachers 5K will commence at Amalie Arena at 8 a.m. Click here to register. To receive your $10 off teacher/educator discount, enter promo code TEACHER during registration. (Verification of eligibility required.)
Magnet School Application Period Open
The Pasco County Schools magnet application period opened on December 15, 2016, and ends on Friday, January 20, 2017. Parents who are interested in enrolling their students in one of our specialized magnet programs can find out more information and complete an application here. All properly completed applications will be entered into a lottery. Families will be notified of their acceptance status by mid-February, so that those who are not accepted have time to complete the traditional school choice open enrollment application during the February 1 to March 1 application window. Pasco County Schools magnet options currently include:
Sanders Memorial STEAM Elementary Magnet School, with a focus on science, technology, engineering, arts and math. These subjects are infused throughout the curriculum, which still is based on the Florida State Standards.Centennial STEM Middle
Magnet School, which focuses on science, technology, engineering and math. These subjects are infused throughout the curriculum, which still is based on the Florida State Standards.
Bayonet Point STEM Middle Magnet School, which focuses on science, technology, engineering and math. These subjects are infused throughout the curriculum, which still is based on the Florida State Standards.
Families that don't have computer access can complete applications at their local school or public library.
If you have questions, email magnetschools@pasco.k12.fl.us.
In the Business of Recycling
Each Pasco County high school has an on-the-job training (OJT) program. These programs are designed to prepare students with disabilities for success in life when they leave the school system. The full collaboration of the student, family, educators and community service providers is needed for successful transition. The planning process helps to ensure that the students participate in making decisions related to education, health, employment, social interactions, and daily living needs.
Job placement/transition specialists identify job placement sites, place participants at job sites, and monitor students' progress in the job preparation program. But sometimes they have the opportunity to create that "job site" right there at school.
Wesley Chapel High School's OJT program has done just that, with the added bonus of the job being recycling. This amazing group of OJT students has turned the school recycling program at WCHS into a business (of sorts). This has taught the students not just the responsibility of running a business but, also given them a passion for their environment and the planet.
The students are divided into sections based on abilities and take it upon themselves to gather the recyclable materials from the classrooms and common areas and deliver them to the appropriate holding area for our district distribution material handlers to pick up the following day.
Their combined efforts have made Wesley Chapel High School's recycling rate number one at the high school level for our county schools.
Happy Holidays from Countryside Montessori Charter School
Pasco County Government
VFW Teacher of the Year Award Contest
The Veterans of Foreign Wars of the United States is accepting nominations for the 2017 VFW Smart/Maher National Citizenship Education Teacher Award. Nominations can be submitted by fellow teachers, supervisors, or other interested individuals. Self nominations are not eligible. The annual award contest recognizes three exceptional teachers for their outstanding commitment to teaching Americanism and patriotism to their students. Each year, a classroom elementary, junior high, and high school teacher whose curriculum focuses on citizenship education topics -for at least half the school day in a classroom environment can be nominated. Winners will receive:
A $1,000 award for professional development expenses
A $1,000 award for his/her school
Two award plaques (one for the teacher and one for his/her school)
An all-expenses-paid trip to a VFW conference to receive their award.
Teachers who promote civic responsibility, flag etiquette, and patriotism are ideal candidates for the award. If you know a teacher who plans field trips to city hall, organizes community volunteer projects or invites local veterans to speak in class, anything to help students develop a better understanding of democratic values and beliefs, this award is for them. For more information, visit the VFW website for complete program guidelines and application instructions. The deadline is February 15, 2017.
Kudos
Pasco County Clerk and Comptroller Paula O'Neil sent Tom Viking a letter for his efforts to display student artwork in the West Pasco Judicial Center. Click here to read her message.
---
All School Nurses, There are moments in our school nursing career that make it to that invisible, but very important list. The "Why am I a School Nurse" list. Today, I had one of those moments and wanted to share. In September, I did a hearing screening for student at CSRMS who's mother requested an evaluation for SLD. He failed in both ears. He could not hear one sound. Over the next few months, I worked with mom to get her son tested, and tested, and tested again, all to find out that he has significant hearing deficits. During this time, I had the pleasure of meeting with the student several times. He was very upset with the diagnosis and the fact that he has to get hearing aides. He didn't want them because people would make fun of him. Well today, we had the ISS with his mom. She shared the moment when he put on his hearing aids last week and they turned them on. He started to cry. He could not believe all the sounds he was hearing, doors opening and closing, the sound of him snapping his fingers, all of it. Of course, I cried. Then after the meeting I saw him in the hall. He stopped and looked at me and said, "I love them, I really love them." My heart melted. All this time this kid has been struggling because he could not hear. Just proves that what we do, even a simple screening, has HUGE impact on a child's education. Thank you, nurses, for working hard each and everyday to do what is best for students. Many times we feel invisible, but know that you are a shining light to our students. I hope that you have a wonderful and restful winter break. Merry Christmas and Happy New Year! -Kelley Huelle, RN, BSN, School Nurse at Sunlake High School, Charles S. Rushe Middle School, and Achieve Center of Pasco
---
Sergeant Arthur Morrison, I was recently made aware of a student that was in need of services regarding Christmas related items. Fred K. Marchman Technical College staff reported to an School Resource Officer (SRO) that a special needs student and her family (mom and sister) were going to have to go without a Christmas tree, holiday meal, and Christmas gifts this year due to financial hardship. The SRO partnered with Margo Brandon of the Salvation Army, Home Depot, and River Ridge High School to help provide some of these items. The Fred K. Marchman Technical College staff provided a holiday meal gift basket from their food pantry (previously donated by the Salvation Army), the SRO contacted Home Depot who in turn donated a very nice Christmas tree, and RRHS donated a computer "tablet" as a gift for the student. The tree was delivered and set up/ decorated by an MTC staff member. The MTC ABC committee will provide additional assistance to the family in the form of gift cards for additional food items and presents. This was a last minute project and all aforementioned persons came together quickly to provide assistance to a community member in need. -Corporal Kevin Stevenson, Youth Services Section, School Resource Officer
---
We'd like to recognize and thank the administration (JoAnne Glenn, Lori Wiggins, and Pam Willoughby) and leadership team of Pasco eSchool for modeling best practices. They have been creating interactive and fun activities to keep us engaged and focused during faculty meetings, PLCs, and professional development. These activities include group games and challenges, "escape rooms," and more, all while driving home the educational topics that will help us grow as educators. They have created a team-based structure that builds rapport and friendly competition. They listen to our needs and allow us time to connect with our colleagues, something that can be challenging when we work from multiple locations as online teachers. They set the tone of our faculty as a true team--all administrators roll up their sleeves and participate; they won't ask us for anything they wouldn't do. This year's faculty and PLC meetings have been fun and engaging, and we appreciate their dedication, creativity, and modeling of best practices. -Tara Wood, Maria Pote, and Stacey Kennon
---
Events and Kudos sections are copied verbatim from their submission, with minimal, if any, alteration.
---