March 17, 2016
Superintendent's Message
Multiple district departments are embarking on critical planning for the 2016-2017 school year. In order to create the very best supports for our teachers and leaders, we hosted several feedback sessions this week. On Monday, we welcomed teachers from secondary and elementary schools and asked for complete transparency as they shared with us what was working well and what could use refinement in our curriculum and assessment resources, PD offerings and overall accessibility of information. Administrators joined us on Thursday to tackle these issues, as well as a few more, and offer their observations of how departments should plan forward. Many additional teachers and leaders also took the opportunity to respond in an online forum. This is incredibly valuable input that will help us in our quest to become better as a system. Thank you to all who offered their time and voice!
Next week is spring break! I hope everyone has a fun, relaxing week off from work.
Pasco School Board Names New Elementary School
The District School Board of Pasco County named the new elementary school under construction in Wesley Chapel "Wiregrass Elementary School" at the last School Board meeting. Board Member Cynthia Armstrong made the motion to name the school, and the Board voted unanimously for approval. Wiregrass Elementary School will be abbreviated "WRES." For more information, click here.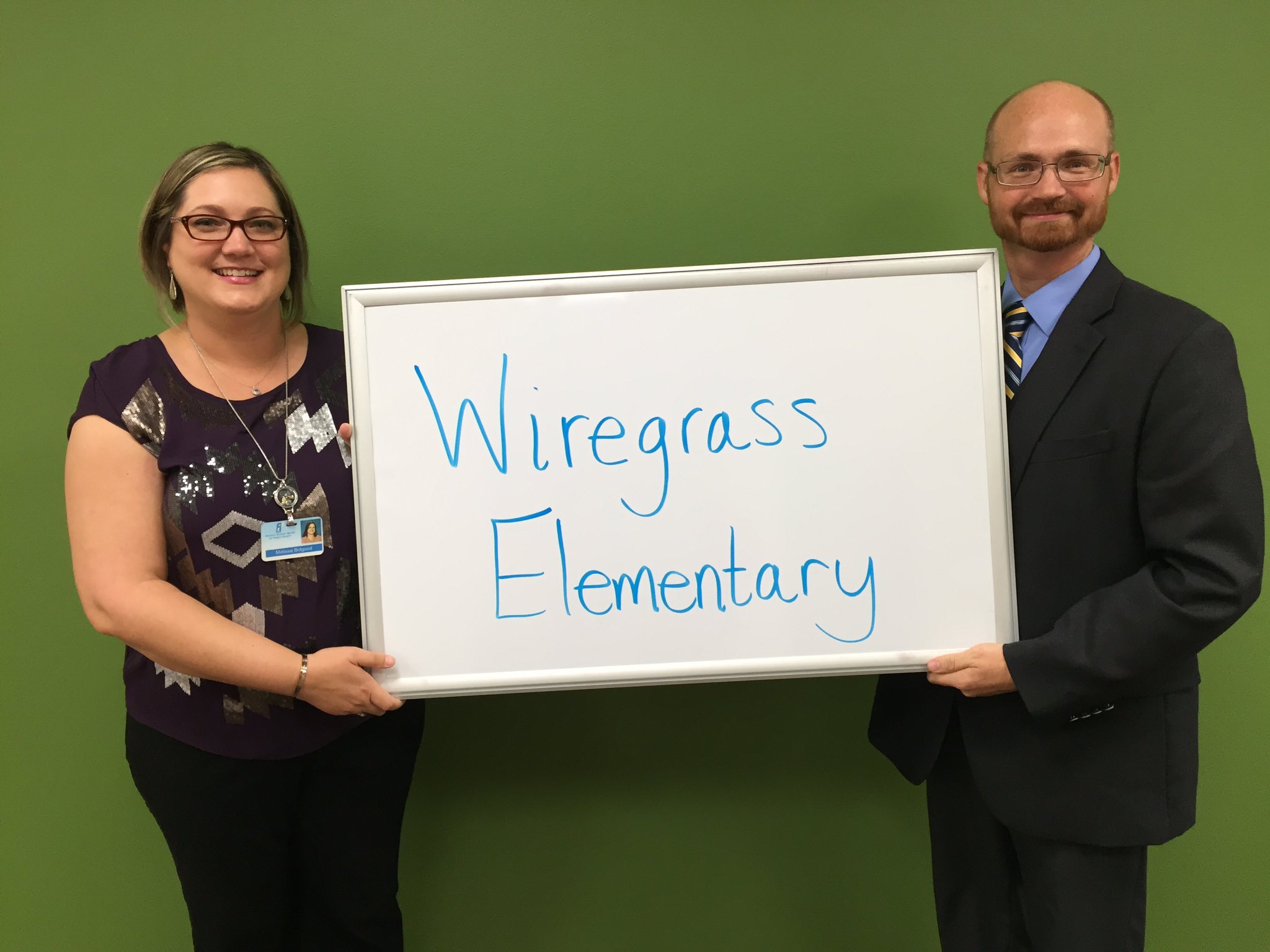 Congratulations!
Pasco Regional Science and Engineering Fair

The 2016 Pasco Regional Science and Engineering Fair was held recently at River Ridge High School. The following students were selected to attend the State Science and Engineering Fair at The Lakeland Center in March. Congratulations to them all for representing exceptional work in their various categories:
International Participants - May 8-13 in Phoenix, Arizona
Viraj Patel- JWMHS
Pranav Warman- AATL
State Participants - March 29-31 in Lakeland, Florida
AHS - Samantha Williams
CSRMS - Sarah Menard, and Drew Burgess
GMS - Derek Kaplan
JLMS - Sara Barlow, Achyudhan Kutuva, Stanley Moonjelli, and Payton Hardy
JWMHS - Viraj Patel, Stretin Dedic, Alexandra Morena, Dren Acedo, Zoe White, and Adis Kukuljac
SSMS - Riya Choksi
CLMS - Charles Reedy
CENMS - Alyssa Perez
WRHS - Neto Coulbaly
BLCS - Madeline Murch
AATL - Roshan Warman, Pranav Warman, Anmol Warman, Regan McCormick, Katie McCormick, and Kanishka Ekanayake
2016 Sunshine State Spirit Showdown
From the FHSAA: The FHSAA announced River Ridge High School as the winner of the third annual Sunshine State Spirit Showdown. The competition is designed to promote a community-wide feel of enthusiasm while showcasing sportsmanship and school spirit. The contest featured eight finalists with the Purple Posse being crowned the 2016 champions.
2016 FLDVIPN Symposium
At the 2016 FLDVIPN Symposium, the following Pasco eSchool Ninjas were recognized for outstanding achievement within the program and across the state.
Missy Radle - District Gem
Lori Wiggins - New Administrator Survivor (statewide)
Principal JoAnne Glenn - Best Practices Administrator (statewide)
Trendsetter nominees included Desire Mosser, Sheila Blue, Stephanie Carter, Rebecca Podany, Tara Wood, Amy Kelly, Jeannie McDougall, Tina Wooles, and Paola Sanchez.
Summer Work Hours for District Staff
In line with our continuous energy conservation efforts, the District will once again be operating on a four-day work schedule for several weeks during the summer. We will be closed on the following non-work days:
June 24
July 1
July 4* (Monday)
July 15
July 22
July 29
*The District will operate on extended hours from Tuesday through Friday, July 5-8.
Extended Hours During Four Day Work Weeks:
The general operating hours for the District Office Complex will be 7:30 a.m. - 5:30 p.m., Monday through Wednesday and from 7:30 a.m. – 5 p.m. on Thursday (except for the week of July 4 when extended hours will be in effect Tuesday through Friday). To best serve the public, departments must ensure adequate coverage during these hours.
Claim Your Future with a Degree From Saint Leo University
Register for an information session to find out more about earning your bachelor's, master's, or specialist degree. The application fee will be waived for attending the following information session:
Saturday, March 19 • 10 a.m.
Saint Leo University
University Campus 33701 State Rd. 52, Saint Leo, FL
To RSVP or learn more, please click here.
ISTE on Nearpod Contest
Tara Adams is a mathematics teacher at SLHS and is a finalist to attend ISTE! Please show your support by voting for Tara!
Bay Pines VA to Commemorate Vietnam War
The Bay Pines VA Healthcare System (VAHCS) will commemorate the 50th Anniversary of the Vietnam War and recognize the service and sacrifice of Vietnam Veterans and their families during a ceremony on Tuesday, April 5, 2016 from 10:00 a.m. to 11:00 a.m. The event will take place in the courtyard located buildings 2 and 37 on the C.W. Bill Young VA Medical Center campus. The event is open to all Veterans, their family and friends, and the general public. Click here for more information.
"I'm Ready to Retire: What's Next?"
Pasco County Schools will host its Annual Retirement Planning Workshop at 5:30 pm on April 6, 2016 at Land O' Lakes High. Employees who are considering retirement within the next five years should plan to attend. Employees who RSVP by Thursday, March 31, will receive a personalized FRS retirement estimate at the workshop. If you are married, to receive for a more complete estimate, please include your spouse first name and date of birth when you RSVP. RSVP to Melanie Parham at and provide the number of attendees that are accompanying you.
Special Olympics 5K Fun Run
The Special Olympics 5K Fun Run will be held on Saturday, April 9, at the New Port Richey Recreation and Aquatic Center. Here is the event over:
Friday, April 8

Packet Pickup: 5:30-7 p.m.

Saturday, April 9

5K: 8 a.m.

Adult Fees: $25 Early, $30 after March 22
Student (22U) Fees: $15 Early, $20 after March 22

1 Mile Walk: 8:45 a.m.

Fees: $5.00/person or $10/family (max 5)
Waivers will be available at pre-registration or day of the race. Make all checks payable to Special Olympics Florida-Pasco County. For more information, please contact Val Lundin.
10th Annual Long Run at the Ranch
Dr. John Long Middle and Wiregrass Ranch High are hosting the 10th Annual Long Run at the Ranch 10K, 5K & 1 Mile Family Fun Run & Walk on Saturday, April 9. The Long Run at the Ranch will be held at Dr. John Long Middle School beginning at 8:30 a.m. Please click here to register online or visit the Long Run at the Ranch website for a downloadable entry form. All proceeds benefit the athletic departments of both schools.
Kudos
I called certification yesterday afternoon and spoke to Barbara Bull. She answered the phone with an enthusiasm that I have not experienced in quite some time! I had several questions pertaining to ASD certification, and she answered all of my questions with much interest and insight. When a question came up that she did not know the answer to, she asked a colleague for the answer rather than just saying she did not know or giving me an incorrect answer. It is employees like that which help all of us at the school based level to do our jobs to the best of our abilities and make informed decisions. She also brought up several scenarios I did not even think about that might affect my decision making. I am very appreciative of the job Barbara did for me yesterday. I will not hesitate to call again in the future! Thanks so much! -Jack Payne, VE Support Facilitation, Zephyrhills High School
---
I work at Sand Pine Elementary and although we have PHENOMENAL teachers here this kudos goes out to Mrs. Kim Danon of Dr. John Long Middle School. My daughter is in her Math class and NOW loves math because of her. Ms. Danon makes sure all her parents knows what is going on at the school and in her class. She ALWAYS goes above and beyond for her kids. She loves her job and it shows in her students. Thank you Kim for everything! -Darleen Pascullo, Data Entry, Sand Pine Elementary
---
While the certification team normally plays a "behind the scenes" role in ensuring Pasco County has the best teachers for our students, the ladies on this HREQ team should be publicly recognized for the awesome job they do. Michelle Andrews, Sarah Apsey, Sally Barclay, Barbara Bull, Tricia Graham and Carla Lied are all dedicated to providing excellent service to our district's current and future employees. At our recent job fair, the team pulled together to advise hundreds of potential teachers on the steps to earn teacher certification. They carried out this task with compassion and enthusiasm, imparting knowledge to MANY grateful applicants (even after they began losing their voices!). I'm so proud to work with this team and feel grateful to have them serving our teachers and schools everyday! -Kara Deschenes, Manager, Human Resources & Educator Quality
---