Dance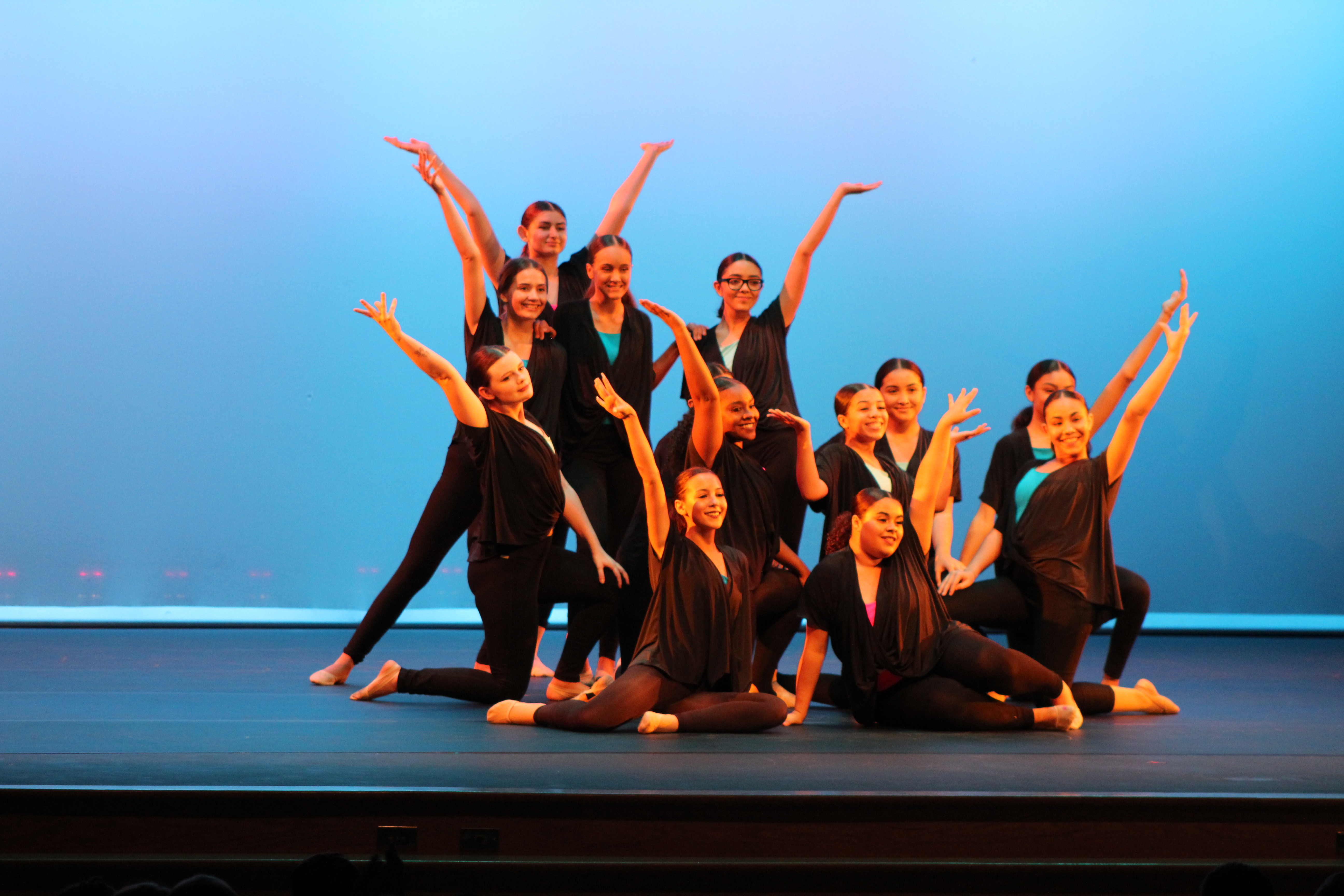 Importance of Education in the Art of Dance….
Education in the art of dance engages the artistic processes of creating, performing and critical analysis. These processes require students to read symbol systems, use critical thinking skills, excel in nonverbal reasoning and communication, exchange ideas, work cooperatively and collaboratively with others, and interact within a multicultural society. More comprehensively, education in the art of dance develops kinesthetic and spatial learning as well as intra- and interpersonal knowledge of self and others.
Pasco County Schools offer a wide variety of fine arts courses. Course offerings may differ from one school to another.
Achieve Center at Richey

Achieve Center at Wesley Chapel

Anclote Elementary

Bexley Elementary

Calusa Elementary

Centennial Elementary

Chasco Elementary

Chester W. Taylor Elementary

Connerton Elementary

Cotee River Elementary

Cypress Elementary

Deer Park Elementary

Denham Oaks Elementary

Double Branch Elementary

Fox Hollow Elementary

Gulf Highlands Elementary

Gulf Trace Elementary

Gulfside Elementary

Hudson Academy

Hudson Primary Academy

James M. Marlowe Elementary

Lacoochee Elementary

Lake Myrtle Elementary

Longleaf Elementary

Mary Giella Elementary

Mittye P. Locke Early Learning Academy

Moon Lake Elementary

New River Elementary

Oakstead Elementary

Odessa Elementary

Pasco Elementary

Pasco eSchool

Pineview Elementary

Quail Hollow Elementary

Richey Elementary

Rodney B. Cox Elementary

San Antonio Elementary

Sand Pine Elementary

Sanders Memorial Elementary

Schrader Elementary

Seven Oaks Elementary

Seven Springs Elementary

Shady Hills Elementary

Starkey Ranch K-8 School

Sunray Elementary

Trinity Elementary

Trinity Oaks Elementary

Veterans Elementary

Watergrass Elementary

Wesley Chapel Elementary

West Zephyrhills Elementary

Wiregrass Elementary

Woodland Elementary
Angeline Academy of Innovation

Bayonet Point Middle

Centennial Middle

Charles S. Rushe Middle

Chasco Middle

Crews Lake Middle

Gulf Middle School

Hudson Academy

John Long Middle

Pasco eSchool

Pasco Middle

Paul R. Smith Middle

Pine View Middle

R. B. Stewart Middle

Seven Springs Middle

Starkey Ranch K-8 School

Thomas E. Weightman Middle
Anclote High

Angeline Academy of Innovation

East Pasco Education Academy

Fivay High

Gulf High

Hudson High

J. W. Mitchell High

Kirkland Ranch Academy of Innovation

Land O' Lakes High

Pasco eSchool

Pasco High

Sunlake High

Wendell Krinn Technical High

West Pasco Education Academy

Wiregrass Ranch High

Zephyrhills High
Achieve Center at Richey

Achieve Center at Wesley Chapel

Anclote Elementary

Bexley Elementary

Calusa Elementary

Centennial Elementary

Chasco Elementary

Chester W. Taylor Elementary

Connerton Elementary

Cotee River Elementary

Cypress Elementary

Deer Park Elementary

Denham Oaks Elementary

Double Branch Elementary

Fox Hollow Elementary

Gulf Highlands Elementary

Gulf Trace Elementary

Gulfside Elementary

Hudson Academy

Hudson Primary Academy

James M. Marlowe Elementary

Lacoochee Elementary

Lake Myrtle Elementary

Longleaf Elementary

Mary Giella Elementary

Mittye P. Locke Early Learning Academy

Moon Lake Elementary

New River Elementary

Oakstead Elementary

Odessa Elementary

Pasco Elementary

Pasco eSchool

Pineview Elementary

Quail Hollow Elementary

Richey Elementary

Rodney B. Cox Elementary

San Antonio Elementary

Sand Pine Elementary

Sanders Memorial Elementary

Schrader Elementary

Seven Oaks Elementary

Seven Springs Elementary

Shady Hills Elementary

Starkey Ranch K-8 School

Sunray Elementary

Trinity Elementary

Trinity Oaks Elementary

Veterans Elementary

Watergrass Elementary

Wesley Chapel Elementary

West Zephyrhills Elementary

Wiregrass Elementary

Woodland Elementary
Angeline Academy of Innovation

Bayonet Point Middle

Centennial Middle

Charles S. Rushe Middle

Chasco Middle

Crews Lake Middle

Gulf Middle School

Hudson Academy

John Long Middle

Pasco eSchool

Pasco Middle

Paul R. Smith Middle

Pine View Middle

R. B. Stewart Middle

Seven Springs Middle

Starkey Ranch K-8 School

Thomas E. Weightman Middle
Anclote High

Angeline Academy of Innovation

East Pasco Education Academy

Fivay High

Gulf High

Hudson High

J. W. Mitchell High

Kirkland Ranch Academy of Innovation

Land O' Lakes High

Pasco eSchool

Pasco High

Sunlake High

Wendell Krinn Technical High

West Pasco Education Academy

Wiregrass Ranch High

Zephyrhills High