Fine Arts
Thank you for visiting our Fine Arts page.
For information regarding arts offerings, please contact the office! We will be happy to assist.
Thomas Viking, Program Coordinator, Fine Arts
tviking@pasco.k12.fl.us
727-774-2585
813-794-2585
352-524-2585
Our Fine Arts Programs Include...
Dance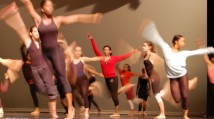 Education in the art of dance develops the knowledge and skills required to create, perform, and understand movement as a means of artistic communication. A comprehensive education includes improvisation, technique, choreography, performance, observation and analysis. Exposure to dance history and cultures, kinesiology and anatomy, and movement theories further enriches the dance educational experience.
Importance of Education in the Art of Dance….
Education in the art of dance engages the artistic processes of creating, performing and critical analysis. These processes require students to read symbol systems, use critical thinking skills, excel in nonverbal reasoning and communication, exchange ideas, work cooperatively and collaboratively with others, and interact within a multicultural society. More comprehensively, education in the art of dance develops kinesthetic and spatial learning as well as intra- and interpersonal knowledge of self and others.
Arts research shows that students who study dance are more
* Self-motivated, disciplined and focused in their everyday lives.
* Expressive in their communication of emotions, thoughts and feelings.
* Creative and imaginative.
* Able to critically analyze their own work and the work of others.
Courtesy of Mesa Community College (Karen Battaglini)
Individuals who study the artistic processes in dance become part of the Imagine Nation of the USA. They are catalysts for innovation, engagement, collaboration, respect and tolerance—values that will shape our 21st century society, global economy, and world cultures.
Music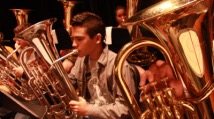 Music training has been linked to spatial-temporal reasoning skills. (I.e. ability to read a map, put puzzles together, form mental images, transform/visualize things in space that unfold over time, and recognize relationships between objects. These skills are often helpful in science, math, and chess.)
Musical symbols, structure, and rhythmic training utilize fractions, ratios, and proportions, which are all important in mathematical study.
Increases problem finding/solving, logic and thinking skills like analysis, evaluation and the linkage/organization of ideas
Optimizes brain neuron development & circuitry
Assists motor development especially coordination of hands, eyes and body
Expands multiple intelligences and helps students' transfer study, cognitive and communication skills from subject to subject in any syllabus
Group orchestra or ensemble activities help promote cooperation, social harmony and teach kids discipline while working together toward a common goal.
Music augments memory. For example, most people learn their ABC's by singing them. Repeating a tune in a predictable rhythmic song structure makes memorization easier.
Singing is a great way to aid/improve reading ability and instruction. Karaoke is a perfect example. Children may learn a song by ear (auditory) but words on a TV or computer screen provide a simultaneous visual anchor.
In vocal music learning rhythm, phrasing, and pitch greatly enhances language, pronunciation, grammar, and vocabulary skills. This is especially noticeable when using songs in first and second language study.
Improves critical reading and writing
Raises test scores, decreases performance anxiety, and teaches kids how to handle/manage stress during standardized exams
Helps children channel unexpressed and/or negative emotions in a positive way
Boosts creative thinking
Reading music and performing memorized pieces help children to think ahead
Improvisation helps people to "think on their feet"
Solo performance is connected to self-esteem & self-efficacy. (concept of self capacity) Children learn to reach for their very best.
When kids prepare and consistently practice for recital or performance, they work to sing/play without errors. They generally apply similar determination and perseverance to many future endeavors academic or otherwise.
Improves understanding of homework and enables a higher levels of concentration
Children who study music usually have a better attitude, are more motivated and are less intimidated by learning new things
Visual Arts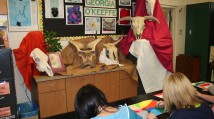 Why Visual Arts Education?
The arts teach children to make good judgments about qualitative relationships. Unlike much of the curriculum in which correct answers and rules prevail, in the arts, it is judgment rather than rules that prevail.
The arts teach children that problems can have more than one solution and that questions can have more than one answer.
The arts celebrate multiple perspectives. One of their large lessons is that there are many ways to see and interpret the world.
The arts teach children that in complex forms of problem solving purposes are seldom fixed, but change with circumstance and opportunity. Learning in the arts requires the ability and a willingness to surrender to the unanticipated possibilities of the work as it unfolds.
The arts make vivid the fact that neither words in their literal form nor numbers exhaust what we can know. The limits of our language do not define the limits of our cognition.
The arts teach students that small differences can have large effects. The arts traffic in subtleties.
The arts teach students to think through and within a material. All art forms employ some means through which images become real.
The arts help children learn to say what cannot be said. When children are invited to disclose what a work of art helps them feel, they must reach into their poetic capacities to find the words that will do the job.
The arts enable us to have experience we can have from no other sourceand through such experience to discover the range and variety of what we are capable of feeling.
The arts' position in the school curriculum symbolizes to the young what adults believe is important.
SOURCE: Eisner, E. (2002). The Arts and the Creation of Mind, In Chapter 4, What the Arts Teach and How It Shows. (pp. 70-92). Yale University Press. Available from NAEA Publications. NAEA grants reprint permission for this excerpt from Ten Lessons with proper acknowledgment of its source and NAEA.
Theater
Drama Education in Pasco County - The Importance of Theatrical Opportunities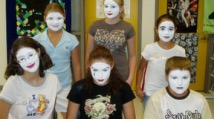 Dramatic Arts education is an important means of stimulating CREATIVITY IN PROBLEM SOLVING. It can CHALLENGE STUDENTS' PERCEPTIONS about their world and about themselves. Dramatic exploration can provide students with an outlet for emotions, thoughts, and dreams that they might not otherwise have means to express. A student can, if only for a few moments, BECOME ANOTHER, explore a new role, try out and experiment with various personal choices and solutions to very real problems-problems from their own life, or problems faced by characters in literature or historical figures. This can happen in a SAFE ATMOSPHERE, where actions and consequences can be examined, discussed, and in a very real sense EXPERIENCED without the dangers and pitfalls that such experimentation would obviously lead to in the "real" world. This is perhaps the most important reason for Dramatic Arts in schools.
Still, there is far more that Drama can do. At the center of all Drama is COMMUNICATION. Like all the arts, Drama allows students to communicate with and understand others in new ways. Drama also provides training in the very PRACTICAL aspects of communication so necessary in today's increasingly information-centered world. Students who have participated in Dramatic activities are less likely to have difficulty SPEAKING IN PUBLIC, will be more PERSUASIVE in their communications, both written and oral, will be better able to put themselves into others' shoes and relate to them, and will have a more POSITIVE, CONFIDENT SELF IMAGE. Participation in Dramatic activity requires SELF CONTROL and DISCIPLINE that will serve the student well in all aspects of life. Students in Drama will learn to WORK TOGETHER, to cooperate, to find the best way for each member of a group to contribute, and to listen to and accept the viewpoints and contributions of others.
In addition to its intrinsic educational value, Drama can REINFORCE the rest of the school curriculum. Since communication and empathy are central to Drama, a student who has explored like in the Drama classroom will be better able to UNDERSTAND IDEAS in History and Current Events. He will be able to put himself into the shoes of figures in history and literature, to UNDERSTAND THE WAY HUMAN BEINGS INTERACT. The link between Dramatic Arts and subjects such as English, History, Social Studies, and related areas is obvious. The study of literature would be impossible without Drama. There are important periods of our collective literary history in which virtually all of the surviving literature is dramatic. More importantly, Drama can be used to promote ACTIVE LEARNING in any subject-to give students a KINESTHETIC and EMPATHETIC understanding as well as an intellectual understanding of a topic. Studies have shown again and again that this approach yields greater DEPTH OF UNDERSTANDING and a marked improvement in retention.
Theater is not just for the outgoing. There are many ways for children to participate even if they aren't interested in the spotlight. Your child can play an ensemble role – a face in the crowd or a voice in chorus – which gives him stage time without the pressure. If she/he never, ever wants to be on stage, find out about backstage crew positions – building the sets, controlling the lights, managing the costumes. At many schools, there are tons of would-be actors, but never enough crew members, and without the crew, the actors would be lost!