< Previous | Contents | Next >
GENERAL FUND
The General Fund serves as the primary operating fund for the District. It includes all annual local, state and federal funding, as well as the District's required reserve funding. All general tax revenues and other receipts that are not allocated by law or by contractual agreement to another fund are accounted for in this fund. Daily operating costs such as personnel salaries and benefits, transportation, utilities, materials and supplies are reflected in this fund.
The 2021-2022 General Fund budget is $734,596,775, a $30.2 million increase from the 2020-2021 General Fund budget. This represents a 4.29% increase from last year.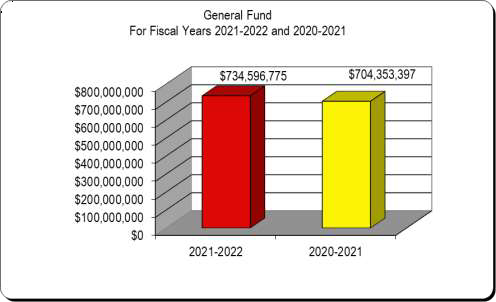 Over the past year, the District faced extraordinary challenges due the COVID 19 pandemic. The school year began with approximately 70% students attending brick and mortar schools and the remaining students attending classes virtually through mySchool Online or Pasco eSchool. The District fell short of its enrollment projections by over 1,600 students but despite all of our challenges the District ended the year with a positive fund balance.
This school year, all of our students will return to our brick and mortar schools or Pasco eSchool and and we will open our first K-8 grade school, Starkey Ranch K-8 School. Northwest Elementary and Hudson Middle School will open as Hudson Primary Academy as a PK-3rd grade school and Hudson Academy as a 4th-8th grade school, respectively. In addition, James Irvine Education Center and Schwettman Education Center will open as East Pasco Education Academy and West Pasco Education Academy, respectively.
The District's unassigned fund balance is in a strong position and it is projected to exceed the State 3% minimum requirement. In addition, the District's financial stewardship is also evidenced by an "A+" rating by Fitch, an "A1" rating by Moody's and an "A" rating by Standard & Poor's on the District's bonds. This is a feat that is difficult for government entities to achieve.
In addition to providing a high quality education to every child, the District has a variety of state and federal mandates that it must adhere to. Some of these requirements extend beyond the District's primary mission of education; however, they are vital to the District's role as a valued community partner. For example, the District is required to provide facilities and staff members for emergency shelters, operate the Head Start Program, work with other governmental entities to ensure appropriate community planning, feed children during the summer and contribute to the work of combating homelessness in the community. Even with limited resources, the District will continue to meet these obligations while prioritizing the needs of students as it works to streamline operations for maximum efficiency.