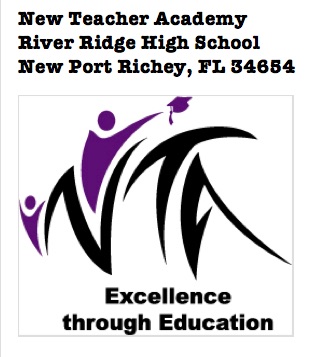 What is the New Teacher Academy?
The New Teacher Academy is offered at River Ridge High School, Wiregrass Ranch High School, and Zephyrhills High School. Students who enter their first class learn quickly that clinical experience working with kids, coupled with giving back to the Pasco community, is the catalyst for success within the NTA. The Florida Department of Education (FLDOE) Career and Technical Frameworks provide standards for the program, but it is through the true focus of the program is experiential learning. Developing future teachers while serving the community provides a powerful platform upon which to build the next generation of Pasco County teachers. Students enroll in the teaching classes because of their curiosity, but they stay because of the philanthropic approach unique to the academy. Students in their second and third years identify educational issues and create solutions, in the form of their creative philanthropy projects. Working individually or in teams, NTA students market their projects, create logos, acquire funding, schedule appointments, purchase t-shirts, and raise community awareness, all while learning the attributes of being an excellent educator. Upon high school graduation, students will be offered a conditional offer of employment to return to Pasco County to teach after the student graduates from college and obtains a teaching certificate. Students who complete the New Teacher Academy will also be provided with a mentor from Pasco County Schools to work with them throughout their college years to provide support. Incentives will be provided to students who return to Pasco County to complete their final internship and join our team as a new teacher!
How can I become part of the New Teacher Academy?
Students who live within the attendance boundary of River Ridge High School, Wiregrass Ranch High School and Zephyrhills High School have the opportunity to be a part of the program. High school students zoned for any of these high schools who are interested in the New Teacher Academy should contact the school's administration for information on enrollment. Applicants from outside of zone who are interested in being part of an NTA program should complete the Pasco Pathways School Choice application. Applicants will be reviewed for a 2.0 GPA for any middle or high school courses taken as well as any required prerequisites for the grade level for which they are applying. All students that meet eligibility criteria will be sent for the lottery, even if this number exceeds the total number of available seats. Preferences established in the Controlled Open Enrollment Plan will be followed when the number of eligible applicants exceeds the number of seats open. Students residing in the district will be given preference, followed by students outside the district. Applicants are randomized and seats are filled by the number of open opportunities designated during the seat setting process. Students not placed during the lottery process will be placed on a randomized waitlist. Students who accept their invitation to enroll from out of zone will not receive transportation.
Sign up to receive more info via email and get a friendly reminder once the Pasco Pathways school choice application window opens later this school year.