Overview
As the District continues its efforts to prioritize employee salary increases, there continues to be general consensus that we have to look beyond state funding increases if we want to position Pasco as a leader in employee salaries among surrounding and like-sized districts.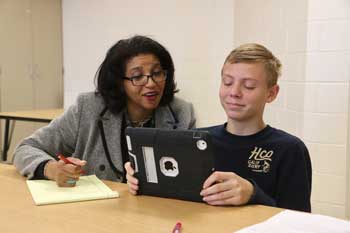 To that end, the District has offered a two-year salary funding plan to the Board that calls for approximately $43 million for employee salaries. Funding for this plan would come primarily from new state funds received each year, with the goal of directing approximately $27.3 million of those new funds to employee salaries over the next two years. The remaining $15.7 million would come from re-visiting the schedules of secondary classroom teachers with the objective of increasing their student contact from five periods to six periods each day starting in the 2020-2021 school year. Included in the resources below is the initial School Board workshop presentation on this concept.
While the distribution of any identified funding is largely a subject for collective bargaining with USEP, the proposed amounts would be sufficient to increase employee salaries by an average of 8 to 12 percent over the next two years. This amount would also be sufficient to increase the starting teacher salary in Pasco to at least $42,000. Without implementation of the six-period instructional workday at the middle and high school levels, there will not be additional funds to reach either the 8 to 12 percent salary increase or the $42,000 average starting teacher salary. Salary increases will continue to be based primarily on state legislative funding increases if/when they occur.
Steps have already been taken to engage teachers, administrators, and USEP to develop the specifics around how this plan would change the classroom teacher workday at the secondary level and how the District could fully implement a six-period instructional workday for secondary teachers for 2020-2021. District leadership understands that this would be a significant shift for secondary classroom teachers, and we want to have all stakeholders, including USEP, at the table to analyze the pros, cons, and barriers that might exist with implementation.
We received some very important feedback when this idea was brought forward last year, and we have done our best to identify ways to address many of the concerns that were raised by teachers at that time. We are no longer proposing to increase the workday from 7.5 to 8 hours, and we have taken care to develop a plan that would compensate secondary teachers at a rate that meets or exceeds the value of the current .2 additional period supplement that is offered to teachers who voluntarily take on an additional period each day.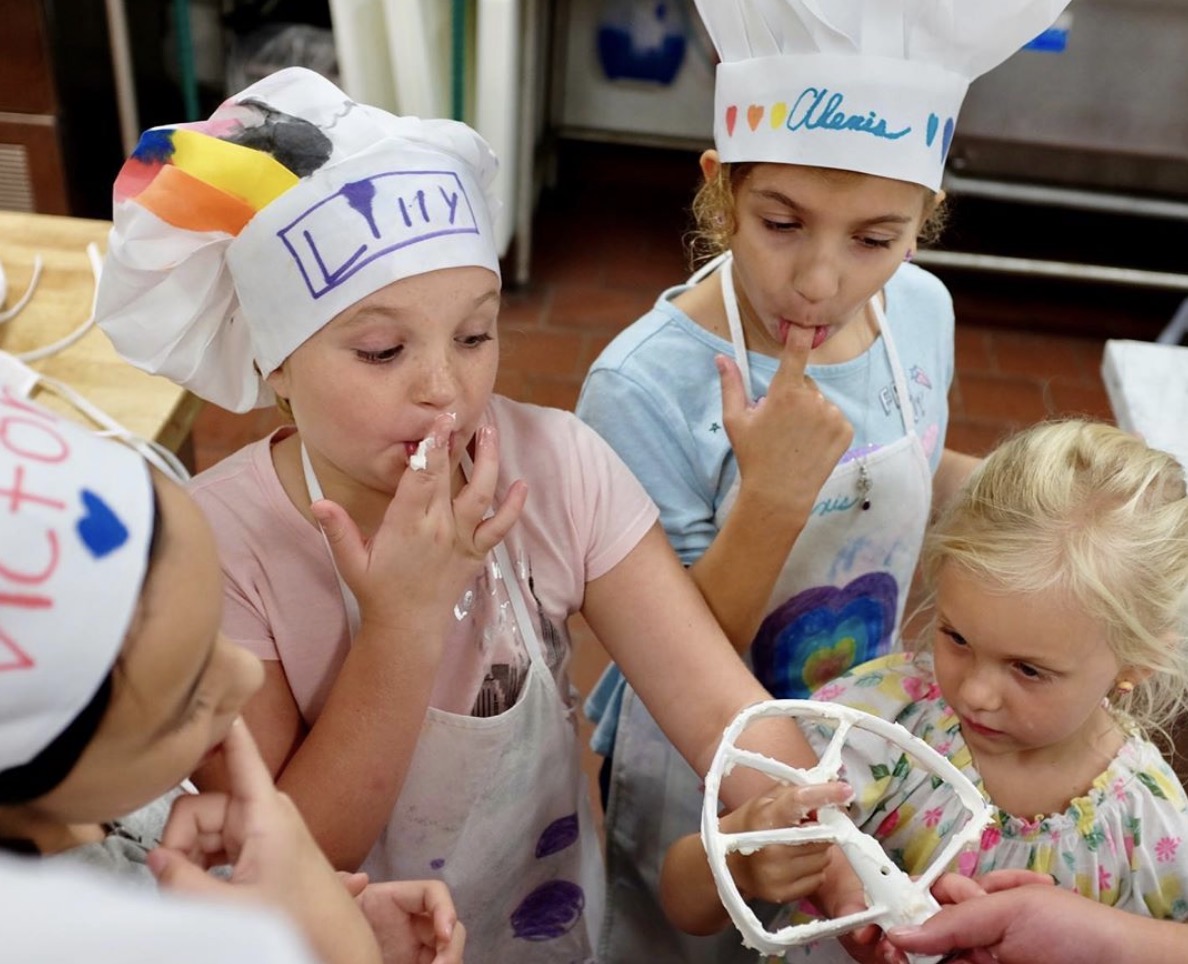 The goal of this concept is to be able to match or exceed the employee salaries in surrounding and like-sized school districts. To do that, we will have to more closely match the underlying working conditions in those districts. One of those conditions would be having secondary classroom teachers instruct six periods of students each day. Included in the resources on this webpage is a graphic that shows how many instructional periods secondary teachers are teaching within each Florida school district. It shows that secondary teachers in 70% of Florida school districts instruct students for at least six periods each day. All of our surrounding and like-sized districts are included in that percentage.
There is no denying that secondary teachers will be taking on additional students, and the work that goes along with that. We want to make sure that the increase in salary that comes along with the increased workload properly compensates them for that additional work. We also are committed to identifying sufficient time before or after the student day for teacher planning and collaboration. In the coming days, weeks, and months, stakeholders will be given ways to offer their feedback and ideas for implementation. At this point, many of the details of the plan have been left intentionally undecided so that staff can work with teachers, administrators, and USEP to formulate the details in a way that we hope will be acceptable to the impacted parties. By implementing the secondary teaching day changes in 2020-2021, we can take the time needed to build a well-thought-out plan. If we do not implement this change, Pasco teacher salaries likely will continue to lag behind our neighboring and like-sized districts.
Plan Specifics
Two-Year Salary Plan
For 2019/2020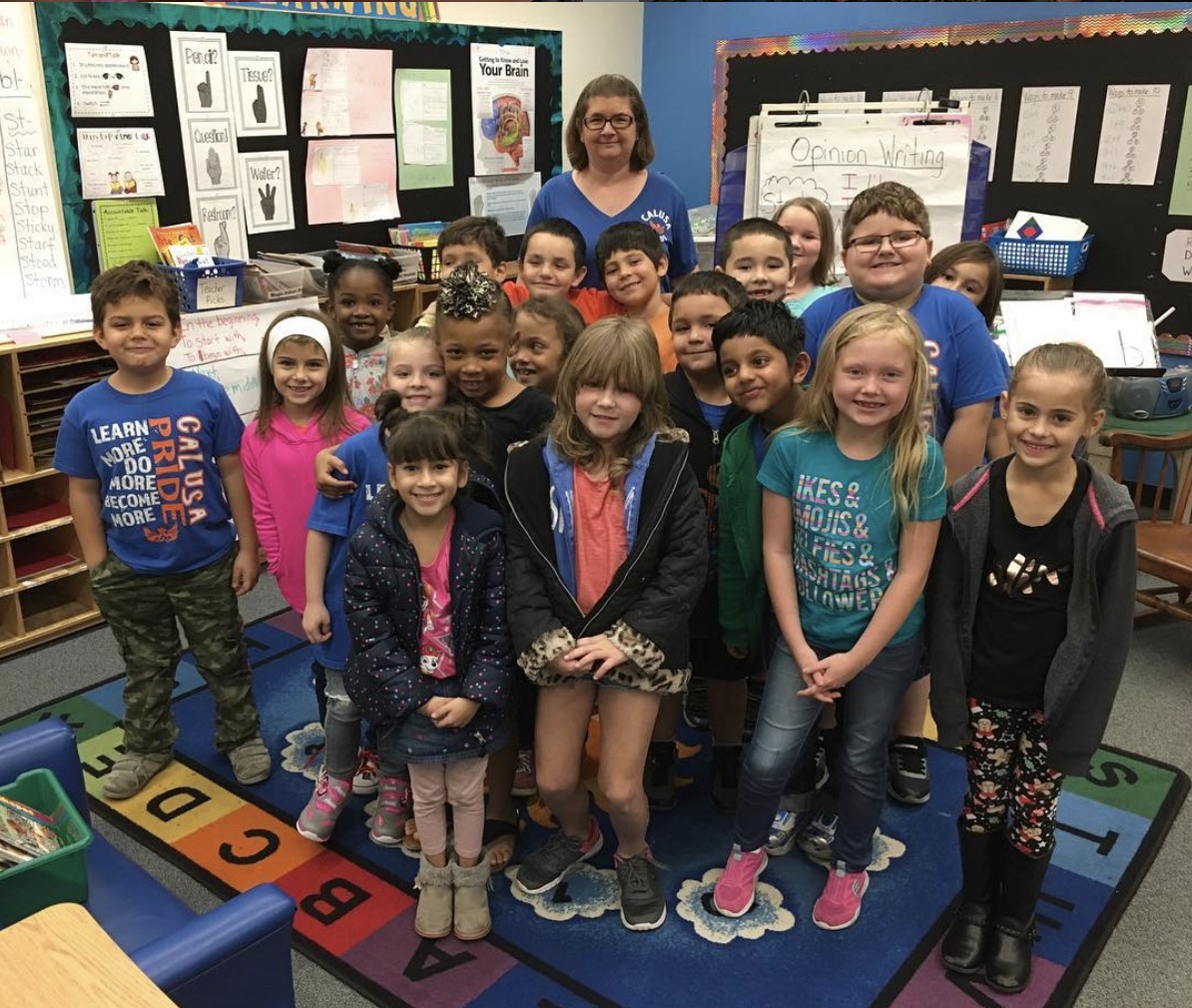 Maximize state and local FEFP funds to provide an average salary increase of 3% to all employees.
For 2020/2021
Maximize state and local FEFP funds to provide an average salary increase of 2%-5% for all employees.
Revise and revisit the six-period instructional workday plan for secondary schools to generate an estimated 5%-8% increase for teachers.
Two-Year Employee Group Initial Salary Targets
Instructional Employees
Raise teacher salaries by approximately 12% over two years.
Increase starting teacher salary to be competitive with surrounding and like-sized school districts.
SRP/NNB/Administrative Employees
Increase salaries by an average of approximately 8% for these remaining groups over two years.
Final distribution of salary dollars for teachers and SRP is subject to the collective bargaining process with USEP.
Funding the Goal
Current Estimate
Total cost is approximately $43,000,000.
2019/2020 state/local salary funding need is estimated to be $13,500,000 from all funding sources.
We would need a similar amount ($13,900,000) from the state for 2020/2021.
We would also need to generate approximately $15,600,000 from implementing a six-period instructional workday at the secondary level.
Six-Period Instructional Workday and How It Saves Money
Secondary classroom teachers would teach six periods instead of five.
The number of needed teachers at the secondary level would decrease by approximately 200 allocations.
The salary and benefits currently being expended on these 200 allocations would be re-invested into instructional salaries.
Lessons Learned
No longer proposing extending the teacher workday to eight hours for elementary and secondary teachers.
Working to ensure salary increases to secondary teachers meet or exceed the current value of the .2 additional period supplement.
Superintendent and staff have engaged USEP leadership to bring them into the conversation early.
Six Instructional Periods and Impact on Teachers
No anticipated large-scale changes to workload or student load at elementary level.
Also negligible changes to workload of non-classroom teachers at either elementary or secondary level.
Secondary classroom teachers would pick up an additional period of instruction and the students that go along with it. Secondary teacher planning would then occur before and/or after the student day.
Lots of Details to Work Out
Secondary school schedules and lunches
Alternative scheduling options to create planning time for secondary teachers
Additional need for substitutes
Maintain individual planning time and PLC/collaborative planning time
Impact to intervention time at secondary level
Negotiating salary specifics for teachers and SRP with USEP
Impact to grants and grant-funded positions
If and how to differentiate increases between and among employee groups
Administrator Thought Exchange Feedback
Importance of preserving PLC and individual planning time (overwhelming majority of comments focused here)
Focus on substitute pool and improving substitute coverage
Need for competitive salaries with surrounding and like-sized school districts
Need to communicate that most other Florida school districts have secondary teachers providing 6 periods of instruction
State Map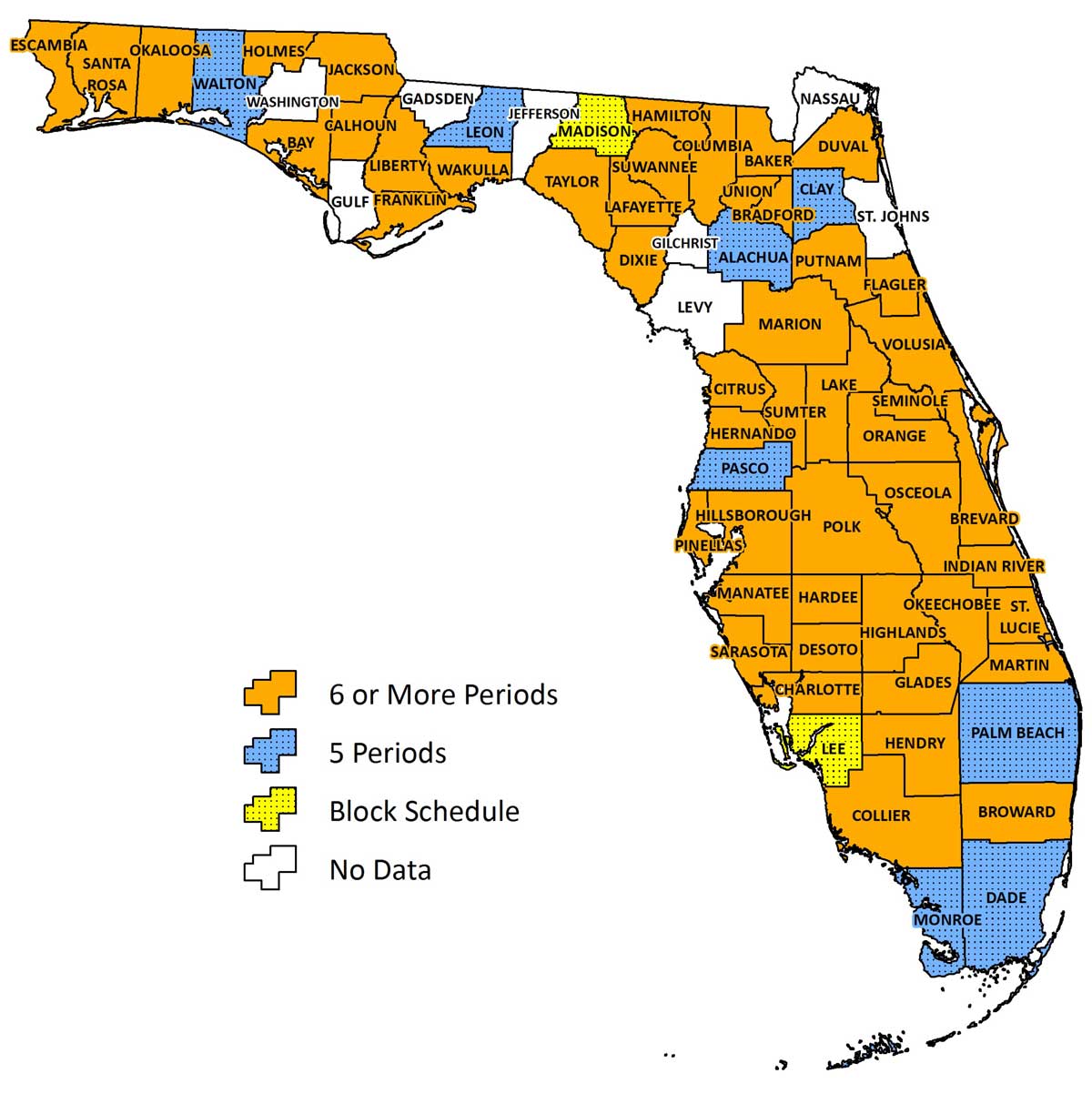 Are the salary increases being proposed in the District's plan just for teachers, or are other categories of employee included as well? The District's two-year salary plan contemplates salary increases for all categories of employees, not just teachers. While the salaries of instructional and SRP employees are a subject of collective bargaining with the United School of Employees of Pasco, and the distribution of funds may be allocated differently through that process, the District's two-year salary plan identifies sufficient funding to provide an average teacher salary increase of approximately 12%, and an average salary increase of approximately 8% to all other categories of employees.


Many other Districts, including Hillsborough County, have secondary teachers instructing for six periods, but have students taking seven periods of coursework. Why didn't the District propose increasing the student course load from six to seven courses to provide teachers a planning period during the student day? This option was identified, however when students are assigned an additional course, the District then needs more teachers to provide that instruction. Even with the savings from secondary teachers teaching six periods, the increased number of teachers needed to provide that seventh period of coursework to students reduces the savings to the District from approximately $15.6 million to $2.9 million.
To achieve the maximum savings and still build in planning time, the District has identified alternative scheduling options that could reduce the length of the student day without sacrificing the current level of instructional contact time, and therefore increase the amount of before- and after-school time available to schools for planning and collaboration. Some of these same options would provide the equivalent of a first or seventh period planning period to secondary teachers, with the main difference being that students would not be on campus during this time. The goal of many of these options is to keep the total amount of planning time as close as possible to what teachers have now, just during different portions of the teacher workday and without increasing the mandatory teacher workday beyond 7.5 hours (which many districts, including Hillsborough county, have done).
What is meant by "alternative scheduling options?" Currently the District's secondary schools have an average student school day of 6 hours and 20 minutes (some may have a little more and some may have less), leaving 1 hour and 10 minutes before or after school for arrival, dismissal, teacher planning, and other non-student contact activities. Included in the student day is all instructional time, lunch time, homeroom time, intervention time, and passing time.
Alternative schedules are designed to reduce the number of classes students take (and teachers teach) each day, and in some cases each semester, by providing longer but fewer classes each day. These schedules still provide an equivalent amount of instructional contact time with students but reduce the amount of time spent on activities like passing between classes and stand-alone intervention activities. While the implementation of alternative scheduling does change the way master scheduling is completed and does require some modification of instructional practices by teachers, there are many benefits that make it worthy of consideration. By reducing the length of the student day, the District can increase the amount of time available to secondary teachers before and after school for planning and collaboration activities.
An additional benefit of alternative scheduling is that secondary teachers are required to see fewer students each day (and depending on the model, each semester). In addition, the increased length of the individual instructional periods allows for intervention activities to occur within the scheduled instructional period (instead of a separate intervention period) for those students needing additional support.
Hillsborough County just passed a tax referendum. Why doesn't Pasco do the same? Hillsborough's sales tax referendum was for capital projects like air conditioning and was not directed toward employee salaries. Pasco has already passed the "Penny for Pasco" sales tax initiative for school construction and renovation projects, and these funds, like Hillsborough's, cannot be used for employee salaries. Pinellas county does have a property tax referendum for teacher salaries; however, such initiatives must be renewed by the voters every 4 years, and they are therefore not considered to be a permanent increase to teacher salaries. Furthermore, referendums for employee salaries are done through levying additional property taxes and because the property values in Pinellas County tend to be higher than those in Pasco, the amount of money generated per teacher would be significantly less in Pasco County than it is in Pinellas County.


Has the district considered reducing other positions to generate salary savings for employee raises? Yes, the District is always looking for ways to become more efficient with its funds, whether it is staff, programs and services, or materials and supplies. The District currently expends over 92% of its budget on school level services like school employee salaries, student services supports (guidance, psychological services, health services, etc.), facility maintenance, and community services. In addition, non-school department budgets were reduced by almost $900,000 going into the 2019/2020 school year to help generate funds for employee salary increases. It costs the District nearly $4.4 million to provide a 1% salary increase to all District employees, with approximately $3.7 million of those funds coming from the District's general operating fund (and the balance coming from grants and other alternative revenue streams). In order to generate any meaningful amount of revenue for employee salaries, a large number of positions have to be identified for reduction. It is also important to note that several position categories (like intervention teachers, learning design coaches, instructional trainer coaches, etc.) are funded with restricted revenue sources that cannot simply be redirected to other employees' salaries. Cutting these types of positions does not help direct new funding to employee salaries in general.