This post was published on 05/26/2021.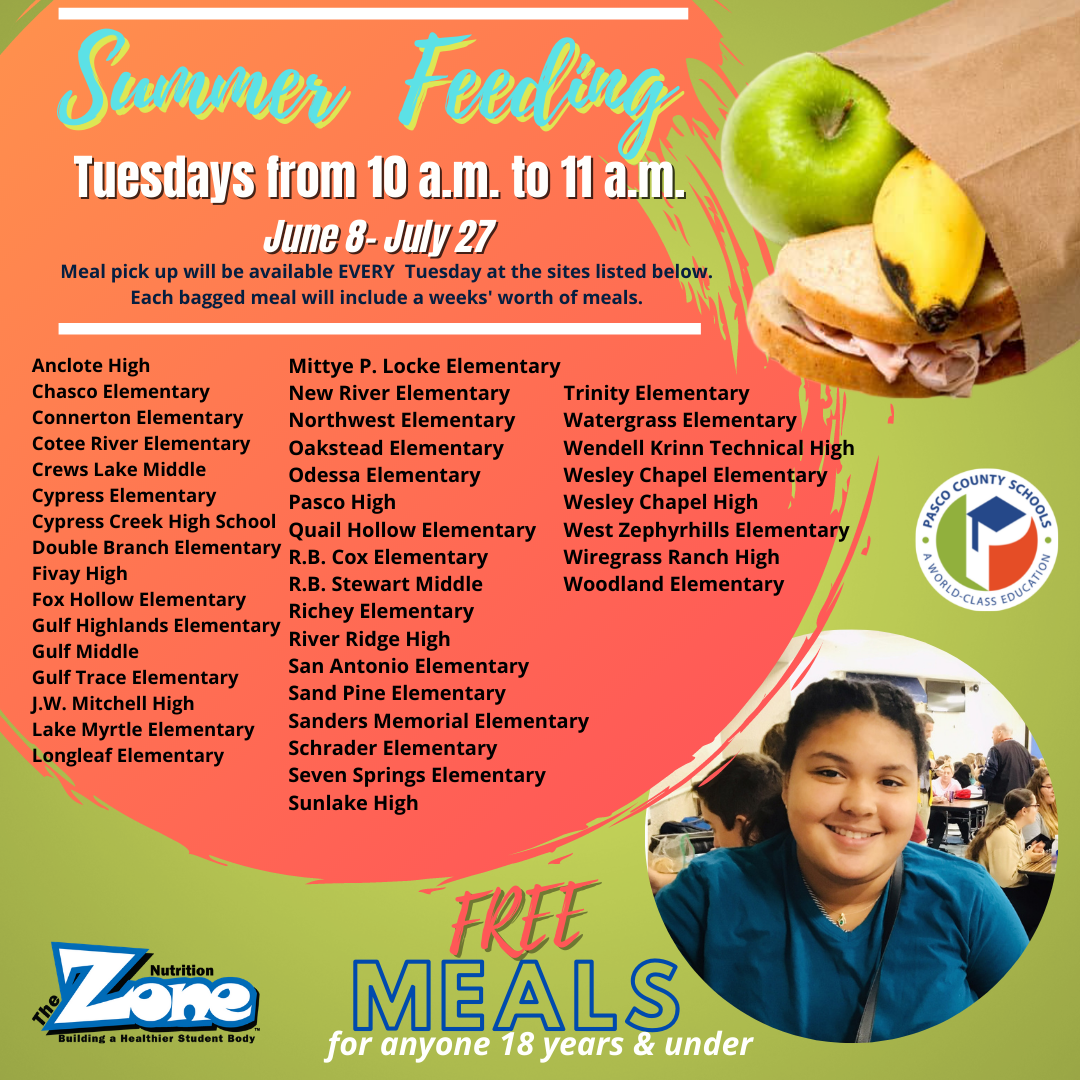 Pasco County Schools Food and Nutrition Services is offering free meals for anyone 18 years and under. Meals can be picked up on Tuesdays from 10 a.m. to 11 a.m., from June 8 through July 27. Each bagged meal will include a weeks' worth of meals. For more information and to complete a meal reservation form visit https://connectplus.pasco.k12.fl.us/do/fns/?page_id=6886.
Meal pick up will be available EVERY Tuesday at the sites listed below.
Anclote High
Chasco Elementary
Connerton Elementary
Cotee River Elementary
Crews Lake Middle
Cypress Creek High
Cypress Elementary
Double Branch Elementary
Fivay High
Fox Hollow Elementary
Gulf Highlands Elementary
Gulf Middle
Gulf Trace Elementary
J.W. Mitchell High
Lake Myrtle Elementary
Longleaf Elementary
Mittye P. Locke Elementary
New River Elementary
Northwest Elementary
Oakstead Elementary
Odessa Elementary
Pasco High
Quail Hollow Elementary
R. B. Cox Elementary
R. B. Stewart Middle
Richey Elementary
River Ridge High
San Antonio Elementary
Sand Pine Elementary
Sanders Memorial Element
Schrader Elementary
Seven Springs Elementary
Sunlake High
Trinity Elementary
Watergrass Elementary
Wendell Krinn Technical High
Wesley Chapel Elementary
Wesley Chapel High
West Zephyrhills Elementar
Wiregrass Ranch High
Woodland Elementary