This post was published on 10/23/2019.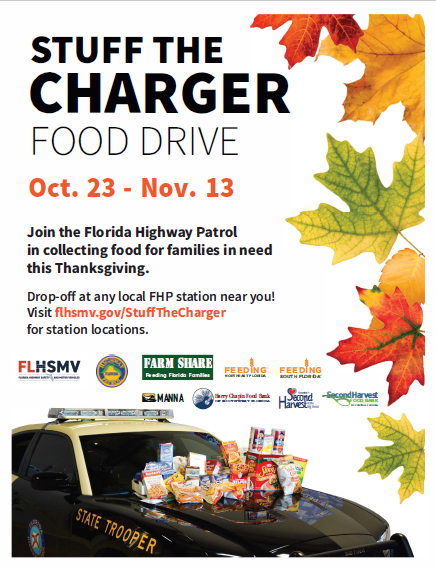 The Florida Department of Highway Safety and Motor Vehicles (FLHSMV) and its division of the Florida Highway Patrol (FHP), are partnering with a network of local resources to deliver food and educate the community in the fight against hunger. FHP's goal is to conduct a successful food drive to make a difference throughout Florida.
The following items are needed:
Canned goods: canned meats (ham, chicken, tuna), canned potatoes, carrots, corn, green beans, canned fruits, vegetables, and soup
Dried goods: stuffing, boxed potatoes, rice, cornbread mix, grits, cereal, and oatmeal
Other goods: nuts, peanut butter, evaporated milk, bottled water, and broth
Individuals wishing to donate food can bring their contributions to any local FHP station.