This post was published on 12/16/2020.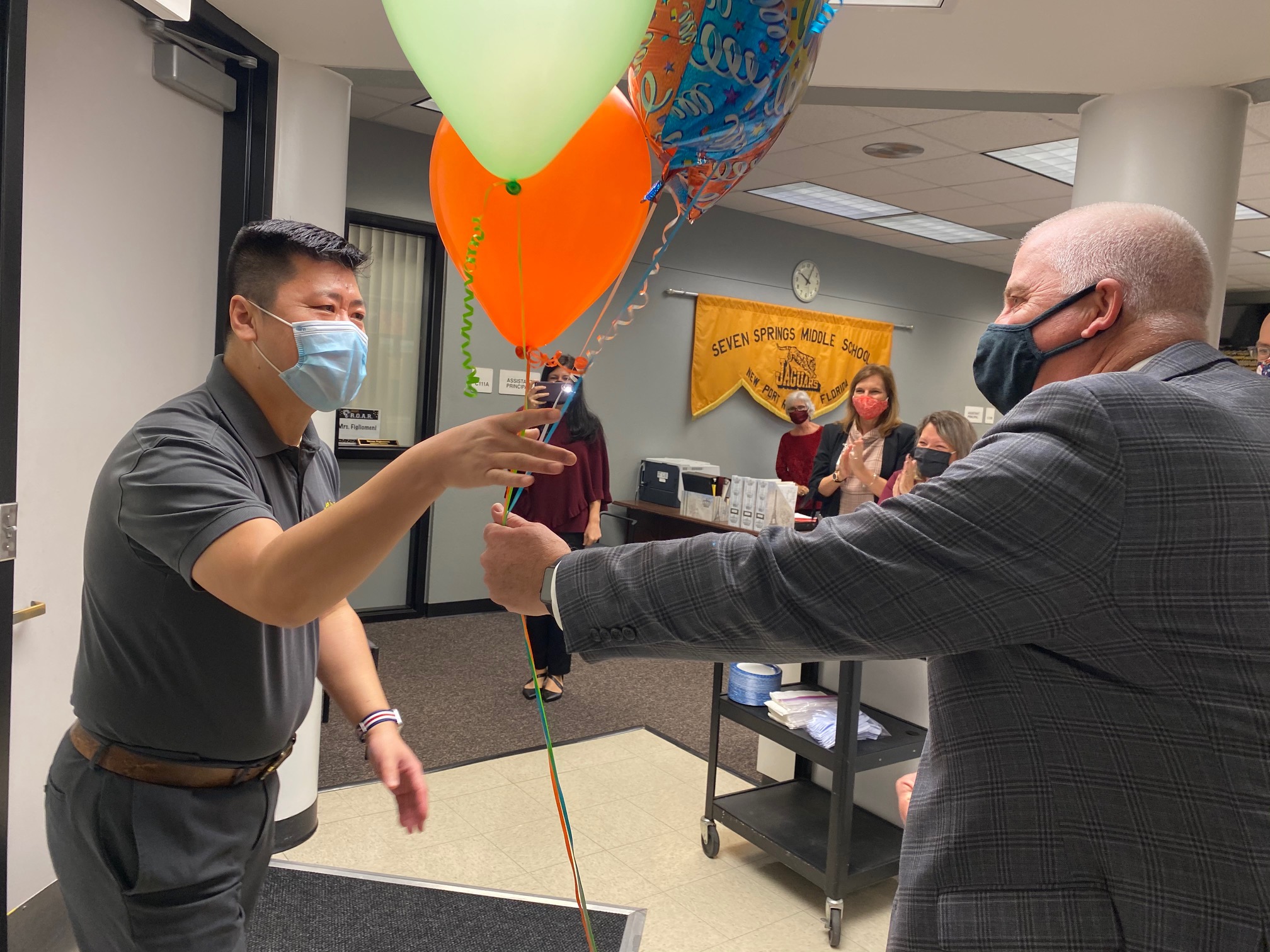 Land O' Lakes, FL – (December 16, 2020) – Seven Springs Middle School foreign Language Teacher Yan Li Gazda got a big surprise today, as Superintendent Kurt Browning, School Board members Colleen Beaudoin and Megan Harding, and Education Foundation Executive Director Stacey Capogrosso paid a surprise visit to announce that he is Pasco County Schools 2021 Teacher of the Year.
It was a day full of surprises and gifts of balloons, baked goods, and flowers. Instructional Assistant Pam Paone at River Ridge Middle School was announced as School Related Personnel of the year. At San Antonio Elementary School, Plant Manager Joseph Zollo was named Non-Bargaining Employee of the Year.
Yan Li Gazda (who goes by Mr. Li) is a Chinese immigrant who has been teaching for six years, all in Pasco County Schools. During the surprise visit, Mr. Li made some spontaneous comments about how he believes the honor is shared with all the other amazing teachers in Pasco County, and expressed gratitude at all the opportunities he has had in his adopted country.
"So many teachers do so many great things in their own classrooms,'' Mr. Li said. "I do hope I can represent … so many other teachers who didn't have this opportunity to be recognized because we are teachers in our rooms. We don't get to see … the great job that other teachers are doing in their classrooms."
Pam Paone has worked for Pasco County Schools for 23 years. Beyond her work in the classroom, she has served as a coach, class and club sponsor, and has been a driving force in the use of therapy dogs with students.
Joe Zollo has been with Pasco County Schools for 20 years. He takes great pride in his campus and makes it clear that his top priority is the safety and well being of all students and staff on campus.
First Photo at top of page: Yan Li Gazda
Below: Joseph Zollo, Pam Paone