< Previous | Contents | Next >
ENTERPRISE FUND
The 2021-2022 budget for the Enterprise Fund is $8,850,299 an increase of $1.1 million or 13.97% above the 2020-2021 budget.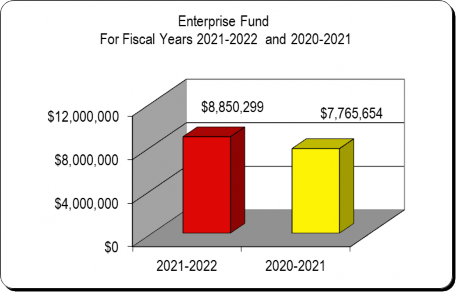 The Enterprise Fund is a completely self-supporting activity that does not receive funding from property taxes or any other District fund. It is used to account for the operations of the Office for After School Enrichment Programs (ASEP) including PLACE, Beyond the Bell, and STAR Academy.
ASEP was awarded four 21st Century Community Learning Center Grants which enabled them to continue funding programs at Quail Hollow Elementary School, RB Cox Elementary School, Fox Hollow Elementary School, and Northwest Elementary School during the 2020-2021 fiscal year.
ASEP operated in 26 elementary schools during the regular 2020-2021 fiscal year. Despite a significant reduction in enrollment at every site, due to the COVID 19 pandemic, ASEP is expecting to serve approximately 2,169 students during the school year and summer months.
The Enterprise funds also reflect the Vending program which operates food and beverage machines throughout the District.