Transportation News
Pasco disaster drill prepares responders, hospitals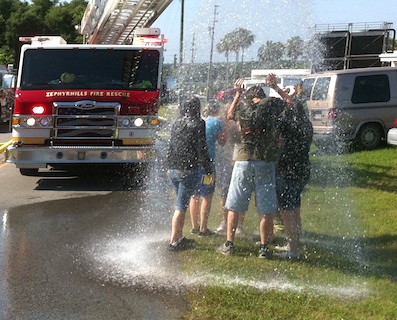 By GEOFF FOX | The Tampa Tribune Published: April 22, 2011 ZEPHYRHILLS - One by one, they emerged from a small van and were showered with a hose before being led through a large, blue tent – their last stop on the path toward decontamination.
From the triage tent, a group of 32 Zephyrhills High School drama students were divided into three categories: the "walking wounded;" those who needed "delayed care;" and one in critical condition. Hospital staff placed the victims on green, yellow or red triage mats, the colors signifying the degree to which they were injured.
Although school was out Friday, the students had volunteered to participate in a "major bus decontamination drill" at Florida Hospital Zephyrhills. The drill brought together personnel from the hospital, as well as the Pasco County Sheriff's Office, Pasco Fire Rescue, Pasco County Emergency Management and the Zephyrhills Fire Rescue .
Last year, the school's drama students participated in a tornado drill at the Zephyrhills Police Department, said Tyanne Moxley, 18, a senior.
"We didn't know what to expect," she said of Friday's drill, which went from roughly 9 a.m. to noon.
Brihkel Jaeger, 16, was a key figure in the mock disaster, as it was her science project – a rocket – that had exploded on the bus, spraying her peers with white powder and a greasy residue.
The most seriously "wounded," Jaeger was "unconscious" when taken from the bus and placed on the ground, where she was met with a real-life issue: fire ants. Sporting what looked liked dozens of bites on her arm, Brihkel said afterward that the experience likely would have been more than harrowing had it actually happened.
"I'd probably be in the morgue," she said.
The drill itself mimicked the chaos that can unfold in emergency situations. While on the ground, acting unconscious, Jaeger held her eyes closed, but could hear people screaming her name. Unlike the others, she was eventually placed on a stretcher and whisked inside the hospital.
DaniMarie Stoughtenger, 16, was three seats away from Jaeger when the "rocket" went off. Her pretend symptoms included a burning sensation on her skin and in her throat.
Once off the bus, she said, emergency workers had students wait near the bus, where each was identified.
"They took us to the fire truck to get the chemicals off us," Stoughtenger said. "We had to stand still and not touch our (burns). We had to hold our arms up (while we were sprayed) so the water could get through and into our clothes. They checked our pulse and heart rate."
She said it seemed to take five or six minutes for emergency personnel to arrive after the rocket went off.
Doug Duffield, president and CEO of Florida Hospital Zephyrhills, said the hospital typically does two disaster drills a year, often focusing on hurricanes, tonradoes and other major storms
"The primary reason we drill is to stay in a constant state of readiness," he said. "What impressed me most is you had (several) agencies represented and role-playing. It was not just an individual response to the event, but out logistical and communications issues that can exist when you have so many agencies interacting with their core expertise.
"This was a good one. Being prepared to handle a large surge of patients is important."
gfox@tampatrib.com
(813) 259-8116
Transportation participates in Joint Emergency Response Training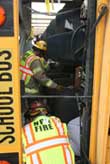 In March of 2009, the District and local emergency response agencies participated in a joint emergency response training activity in the parking lot of Gulf High School. The exercise simulated a mass causality accident involving a school bus that had rolled over. Students from James W. Mitchell High School and the Sheriff's Explorers participated as injured "students" inside the rolled bus. The responding agencies each performed their assigned duties and left the exercise having learned from the experience. Training such as this allow the District and our county emergency response agencies to be better prepared in the event an accident such as this ever happens.