Welcome to Resource Recovery!
Department News
Shady Hills Elementary Arbor Day Celebration
It takes teamwork from the Shady Hills Elementary Earth Patrol students to help Sumter County, Arthur Clothier properly plant one of two oak trees near one of the schools playgrounds.
To help celebrate Arbor Day, the students from Shady Hills assisted in site preparation and eventual placement of the oak into its new home. The trees, donated by Pine Lake Nursery in Lutz, will provide much needed shade to students for many years to come.
As students, parents, and staff listened, Mr. Clothier spoke about proper planting and care of the oak tree and the importance of trees in the environment. After the ceremony, Mr. Clothier commented that "The staff and students did an excellent job putting the Shady Hills Elementary Arbor Day celebration together" and that he was "impressed with the school, the grounds, the staff and the students."
"It was indeed a pleasure to see the students so active and involved in this event," Steve Luikart, District 5 School Board Member, said. "The program was a very nice tribute to Arbor Day and we appreciate the Florida Forest Service for their help with the program and the tree donations from Mr. Ivan Martinez."
"Thanks to the administration and staff at Shady Hills Elementary for putting on an excellent program," Luikart said.
I couldn't agree more. Great Job, Shady Hills Lions!!
Please do your part - RECYCLE! For more information on the District School Board of Pasco County's recycling program please visit our website at http://www.pasco.k12.fl.us/conservation or contact Tony Bartenope, Recycling Coordinator at abarteno@pasco.k12.fl.us.
Posted by Richard MacLemale on 02/13 at 03:40 PM
Recycle • Permalink
2011/2012 Annual Battery Recycling contest results
Conservation and Recycling Operations would like to extend a big THANK YOU to all the schools that participated in the Annual Battery Recycling Contest sponsored by Pasco County Utilities and the District School Board of Pasco County. Thanks to the combined efforts of the students, families, and school staff from seventy schools, we were able to collect more than 27,600 pounds of household batteries and divert the toxic items from the landfill.
To recognize their commitment to the environment, all participating schools received Certificates of Appreciation with the Top 10 schools receiving monetary awards, as well, thanks to money generated from the Districts recycling efforts. The following is the Top 10 list of schools and the total weight of the batteries they collected:
West Zephyrhills Elementary – 2295 lbs.
Richey Elementary – 2175 lbs.
Schrader Elementary – 1387 lbs.
Pine View Middle – 1227 lbs.
Wesley Chapel Elementary – 1226 lbs.
Charles S. Rushe Middle – 1212 lbs.
Lake Myrtle Elementary – 1045 lbs.
Gulfside Elementary – 1003 lbs.
Mittye P. Lock Elementary – 997 lbs.
Double Branch Elementary – 827 lbs.
Again, thanks to all the schools that participated in this year's contest and congratulations to the Top 10 schools.
If you'd like more information about Battery Recycling or any other District Recycling/Energy programs, please visit the Conservation and Recycling Operations website at http://www.pasco.k12.fl.us/recycle/ or contact Tony Bartenope @ 794-7936.
Posted by on 08/01 at 07:25 AM
Recycle • Permalink
Earth Day 2012
The threat of rain didn't dampen the mood at this year's Earth Day celebration at Crews Lake Park. More than 1000 people showed up on Saturday, April 21st to celebrate the yearly event hosted by Covanta Energy, with the cooperation of the District School Board of Pasco County and Pasco County's Department of Parks & Recreation.
Originally observed on April 20, 1970, Earth Day is a great opportunity for the community to learn more about the earth and their environment by participating in hands-on fun activities and exhibits. Conservation and Recycling Operations shared in the celebration by offering arts and crafts, along with literature related to the Districts ongoing commitment to reducing, reusing, and recycling. \
A special thanks goes out to the JROTC students from Hudson and River Ridge High Schools for their support and dedication to this year's event. "They're professionalism, enthusiasm, and willingness to help out wherever needed, truly helped make this year's event so successful", praised Lottie Kelley of Covanta Pasco.
Posted by Richard MacLemale on 04/24 at 10:25 AM
Recycle • Permalink
Coca-Cola Supports Sustainability
Sustainability, now this is a term that you hear a lot lately. The District School Board of Pasco County has empowered its students and employees to be environmentally conscious through its environmental education centers, recycling, energy management and water conservation efforts.
Recently, the students at Seven Springs Middle School had an opportunity to participate in the Coca-Cola Corporate Responsibility and Sustainability (CRS) Day. Students competed within their school to create projects that featured air quality and water conservation themes. The winning students from Mrs. Tehan and Mrs. Ulrich's class were invited to attend a special Corporate Responsibility and Sustainability Day sponsored by Coca-Cola. John Soler, Energy Coordinator and Karen Bryant, Recycling Coordinator served as chaperones. The day featured guest speakers from the Southwest Florida Management District, the Tampa Beautification Program, and the Environmental Protection Commission (EPC) of Hillsborough County.
Select students were selected to travel to the Tampa Coca-Cola bottling plant to demonstrate their projects and learn about other air quality and water conservation measures. The following students participated in the event: Paige Farina, Jillian Martin, Kiana Mohr, Storm Schenk, Zach Anderson, Olivia Batshon, Alyx Depagter, Julie Cavallaro, Michelle Ordax, Melanie Mercado, Phillip Phillips, Cason Murdoch, Celena Heesch, and Madison Shafer. The students were given front row seats to hear all of the guest presentations. When it was their turn, each group of 2-3 students presented their projects to the audience. The projects were amazing and imaginative, such as dehumidifying plants, water collection systems, the water cycle, and more. Some were hands-on demonstrations, videos, and posters. The students were very professional and knowledgeable and even answered audience questions.
The day concluded with a unique tour of the bottling plant. It was so interesting to see the several varieties of products being made. It made the students appreciate all of the hard work that goes into making their favorite Coca-Cola products. The facility uses high-efficiency lighting, skylights, and some hybrid vehicles to distribute products, so the students were able to see actual energy-efficiency measures that have been taken at the facility.
The Coca-Cola CRS Day gave the Seven Springs MS students a chance to learn about major companies in their local community that are involved in energy management, water conservation, and protecting our resources. Seven Springs Middle School is proud to help educate young minds on the importance of sustainability.
Posted by on 10/20 at 08:37 AM
Recycle • Permalink
Pasco Takes Home Two Statewide Awards for Environmental Efforts
The District School Board of Pasco County has recently been honored as a recipient of the Governor's Serve to Preserve: Green School Award. Pasco has won this prestigious award in two separate categories: the Student Award and the District Award. This program, co-sponsored by the Florida Department of Environmental Protection and Progress Energy, recognizes the outstanding efforts of students, teachers, classrooms, schools and school districts in "creating healthy, efficient and productive places for learning."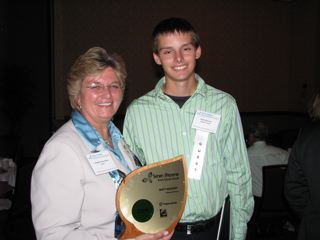 Matt Mooney, a junior from Land O' Lakes High School's International Baccalaureate Program, has won the Student Award in recognition of his work with the Cans for Habitat program. Matt serves as a Recycling Team Leader and has raised over $15, 000 by recycling nearly 1.1 million aluminum cans. The proceeds will help to build a home for a deserving family through the East Pasco Habitat for Humanity Program. Matt's ultimate goal is to collect the 4.2 million cans necessary to pay for an entire home. The Pasco County School District has been named as the District-level winner for its comprehensive environmental programs. In addition to providing a variety of instructional programs designed to provide meaningful hands-on learning experiences for students that emphasize the importance of environmental protection, the District was recognized for its ongoing efforts to promote sustainable resources and establish green processes for a variety of operations. These combined efforts have yielded substantial financial savings and are making a long-lasting positive impact on the environment.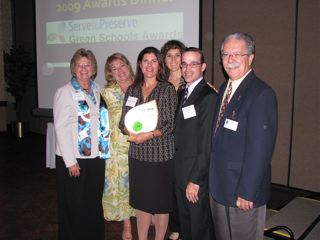 "This award recognizes our commitment to environmental education, energy and water conservation, green cleaning practices and recycling. It is a distinct honor for Pasco County Schools to receive this award for the every day sustainable practices of our students, employees and administrators," said Karen Bryant, Pasco's Recycling Coordinator. "We are proud of the collaborative efforts of our entire team," stated Board Chairman Frank Parker. "Students, teachers and staff members are making our schools greener places while generating significant financial savings for our school district. Their efforts extend beyond these exciting projects, as they are equipping our future generation with an understanding of how they can protect and preserve our precious natural resources," he added.
Posted by Richard MacLemale on 10/08 at 08:24 AM
Recycle • Permalink
Navigation