Bullying and Harassment
Bullying and Harassment
Harassment or bullying of students or staff is an extremely serious violation of the Student Code of Conduct. It can also be a violation of criminal law. The District will not tolerate unlawful bullying and harassment in schools or school campuses, school sponsored buses, school-related or school-sponsored events, or through the use of data or computer software that is accessed through a computer, computer system, or computer network of the district. The physical location or time of access of a computer-related incident cannot be raised as a defense in any disciplinary action initiated pursuant to this policy. "Harassment" means any threatening, insulting, or dehumanizing gesture, use of data or computer software, or written, verbal or physical conduct directed against a student or employee that:
Places a student or employee in reasonable fear of harm to his or her person or damage to his or her property
Has the effect of substantially interfering with a student's educational performance, opportunities, or benefits
Has the effect of substantially disrupting the orderly operation of school
"Bullying" means systematically and chronically inflicting physical hurt or psychological distress on one or more students or school employees. It is unwanted and repeated written, verbal, or physical behavior, including any threatening, insulting, or dehumanizing gesture, by an adult or student, that is severe or pervasive enough to create an intimidating, hostile, or offensive educational environment; cause discomfort or humiliation; is carried out repeatedly and is often characterized by an imbalance of power; or unreasonably interfere with the individual's school performance or participation; and may involve but is not limited to:
Unwanted teasing or taunting
Social exclusion
Threat
Intimidation
Stalking
Physical violence
Theft
Sexual, religious, or racial/ethnic harassment
Public humiliation
Destruction of property
Violations of this policy should be immediately reported to the principal or designee as soon as possible after the alleged incident. The principal or designee will promptly investigate reports of bullying or harassment. If the investigation finds an instance of bullying or harassment has occurred, it will result in prompt and appropriate remedial and/or disciplinary action.
See Something, Hear Something:
Report alleged bullying, harassment, or intimidation that occurred on school property; at a school-sponsored activity or event off school property; on a school bus; or on the way to and/or from school. If you are a student victim, the parent/guardian of a student victim, a close adult relative of a student victim, or a school staff member and wish to report an incident of alleged bullying, harassment or intimidation, speak to the Principal at the student victim's school. Contact the school for additional information or assistance at any time.
Navigation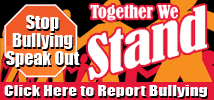 Students in Transition Program/Homeless Students: Please contact Erika Remsberg, Homeless Liaison for Pasco County Schools
813-794-4980




Visit Florida Virtual Campus for your "one stop" shopping for high school and post secondary academic career explanation, decision-making, and planning.