Welcome to the 2015-2016 school year! I am looking forward to this year and I truly believe that we are in our best position since I've been superintendent to have a successful school year.
We have settled contract negotiations with the union earlier than we have in a decade, and we've agreed on an average three percent raise for teachers and staff. We also have approved our strategic plan, known as the District Success Plan, which sets goals and strategies for meeting those goals, and includes a quarterly scorecard to keep track of our progress toward meeting them.
Something else I think will help us achieve success this year is the addition of 8,800 new laptops and iPads that will bring our computer to students ratio down from 1:6 to 1:4. Ideally, we would have a 1:1 ratio, but I'm pleased that we've been able to narrow the gap as much as we have. Another positive note related to technology is the addition of 31 technology services technicians in schools. I realize that schools must have specialists dedicated to supporting the equipment and devices students and teachers need for engaging, relevant lessons.
In the following pages, you'll learn about other initiatives and upgrades that we hope will result in continued improvement and success. I hope all of our students have a spectacular school year!
Sincerely,
Transportation Call Center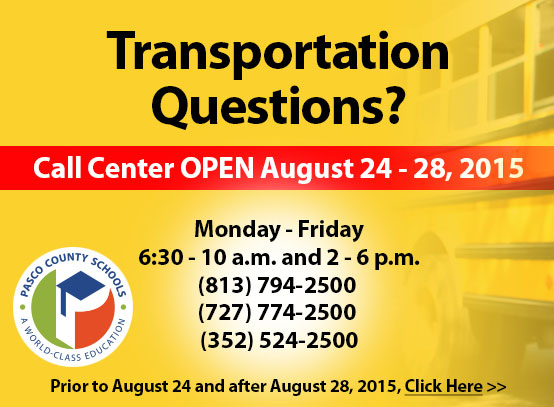 The District is operating a call center during the first week of school. Customer Service Reps will be available during the morning and afternoon during regular transportation hours. This staff is equipped to provide you with basic transportation information.
School Safety
School safety is our top priority. For that reason, Pasco County Schools and the Pasco Sheriff's Office work together to keep students and staff safe every day. We train together for crisis situations and we work as a team if law enforcement is needed at a school.
This year, we have established Facebook, Twitter, and Instagram sites where parents and students should go if they hear about a lockdown, controlled campus, or other incident at a school. We will coordinate our message and provide up-to-date, accurate information about what is happening. There is no other source that you can be sure is telling the true story – not your student, and not the media.
We have developed an information card for parents with links to each site and information about what is expected of parents if the sheriff's office responds to a school. The message we are sending to parents is that students are safe inside schools. The cards provide definitions of lockdown and controlled campus, and they explain why no one is allowed on campus and why parents should not call a school during a critical incident. It's for the students' safety as well as the parents' and law enforcement officers'.
Parent Involvement
Parent engagement builds an important bridge between schools and families. Our children's success and development depend on that productive partnership that begins before kindergarten and continues through high school graduation. Parents are their children's first teacher. As their teacher, parents have myriad opportunities to provide their children with everyday instruction.
We encourage all parents to actively work with their students' teachers, coaches, and administrators to make sure we all are meeting their needs. Also, make it a point to talk to your student so you know if he or she is getting everything possible out of the school experience and if you might need to take a more hands-on role.
If you know parents who aren't active in their child's education, please make an effort to get them involved. Education entails so much more than it used to, and schools, the school district, and most importantly – your children – need all of us to work as a team in order for them to succeed.
For information about the calendar, contacts, programs and more, check out Families First.
Website Redesign
Richard Mac Lemale, our District's webmaster, has been redesigning the district homepage and department pages. The new website was designed to work on all screen sizes. It's optimized for smart phones, tablets, computers, and large screen computers. That means that it will look virtually the same, and will contain all the same information, on all screen sizes, so try it on your desktop, iPad and phone. In addition, we have new landing pages for students, parents, employees, and the community, replacing the dropdown menus. This will make it easier to provide specific information to specific groups, and to add new items as necessary.