May 9, 2018
<!— main body —>
Women's Health Week
May 13-19
National Women's Health Week begins on Monther's Day each year. It is a reminder to women to take care of themselves, and to make their health a priority. Below are some tips from the Centers for Disease Control (CDC) women can use each day to improve their health (2017).

Get Recommended Screenings and Preventive Care
Protect your health by getting the care you need to prevent disease, disability, and injuries. Preventive care can keep disease away or detect problems early, when treatment is more effective. Talk to your health care provider to learn more about what screenings and exams you need and when
Click here for a check list of what you can do before your next appointment.
Get Moving
Physical activity is one of the most important things you can do for your health and has many benefits including lowering your risk for heart disease - the leading cause of death for women.
Click here for more information on the benefits of physical activity, and how to incorporate movement to support your lifestyle goals.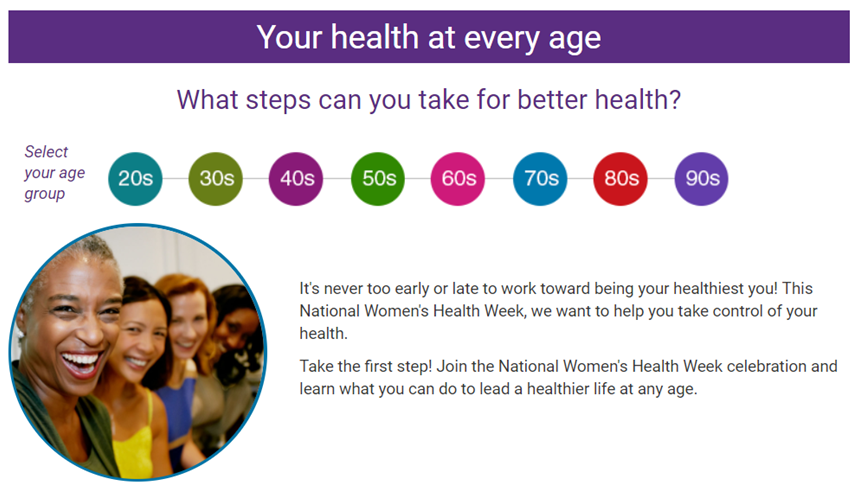 Enjoy Healthy Foods
Nutrition is an essential part of a healthy lifestyle. Learn the basics by clicking on the topics below:
Prioritize Mental Health
Research shows that postivie mental health is associated with improved health overall.
Click here to learn more about the District's Employee Assistance Program (EAP) and what services are available to you!

Practice Healthy Behaviors
Daily decisions influence overall health. Small actions can help keep you safe:
Reduce your risk of skin cancer - Wear sunscreen and take steps to protect yourself ultraviolet (UV) radiation.
Be smokefree - More than 170,000 American women die of diseases caused by smoking each year.

Click here for a list of available resources to help you quit.
Centers for Disease Control and Prevention
(2017). National Women's Health Week. Retrieved from https://www.cdc.gov/features/nwhw/
Employee Benefits and Risk Management, HREQ
Visit our new Pasco County Schools Wellness website! www.pascogohealthy.net
Florida Blue - Patty's Points
Do you have questions about what women's preventive services are covered by Florida Blue? Click here to learn more!