April 4, 2018
<!— main body —>
Arthritis Awareness Month
What is Arthritis?
According to the Centers for Disease Control and Prevention (CDC), Arthritis includes more than 100 disease and conditions that affect the joints, tissues surrounding the joint, and other connective tissue. Specific symptoms vary depending on the type of arthritis, but usually include joint pain and stiffness (2017). Types of arthritis include:
Click here to learn the facts about arthritis.

What are the Risk Factors?
Age - The risk of developing most types of arthritis increases with age.
Gender - Most types of arthritis are more common in women. However, gout is more common in men.
Genetic - Specific genes are associated with a higher risk of certain types of arthritis.
Overweight and Obesity - Excess weight can contribute to both the onset and progression of knee osteoarthritis.
Joint Injuries - Damage to a joint can contribute to the development of osetoarthritis in that joint.
Infection - Many microbial agents can infect joints and potentially cause the development of various forms of arthritis.
Occupation - Certain occupations involving repetitive knee bending and squatting are associated with osteoarthritis of the knee.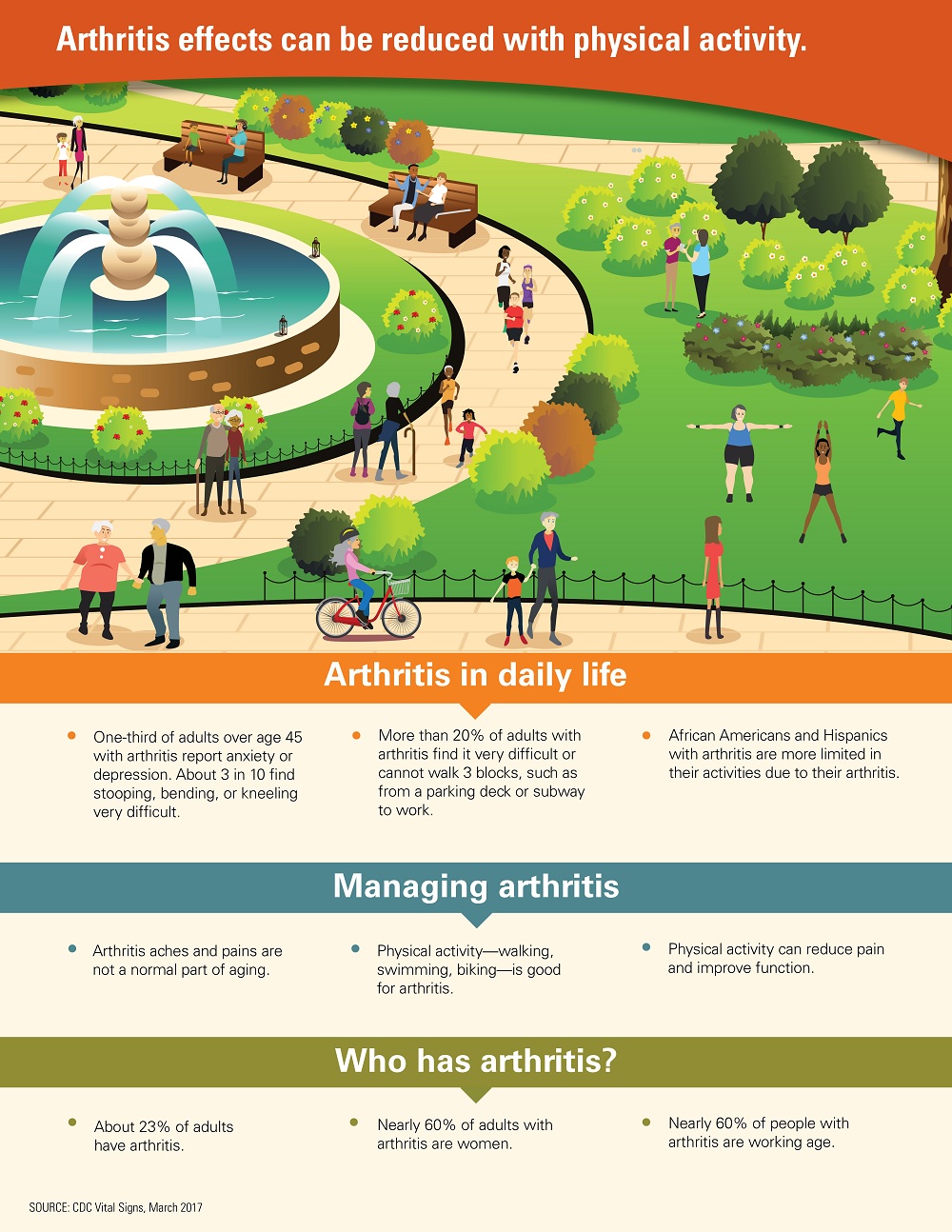 What Can I Do to Manage Arthritis?

If you are covered by the District's group medical plan, the CareHere Health and Wellness Centers can help you manage your arthritis. Call 877-423-1330 or visit www.CareHere.com to log in and schedule an appointment.
For more information about CareHere, click here.
Centers for Disease Control and Prevention
(2017) Arthritis Basics. Retrieved from https://www.cdc.gov/arthritis/basics/index.html
Employee Benefits and Risk Management, HREQ
Visit our new Pasco County Schools Wellness website! www.pascogohealthy.net