April 3, 2019
<!— main body —>
My Health Onsite
New Wellness Programs Coming Soon!
Beginning April 8, 2019, Health and Wellness Center (HWC) patients will have access to all new wellness programming through My Health Onsite! Patients will work one-on-one (telephonically, electronically, or face-to-face) with a member of My Health Onsite's wellness team, which includes an onsite Nurse, Registered Dietitian, Nurse Educator, and Health Coach. Click here to learn more!
Accessing the New Patient Portal - No Code Required!
To access your new paitent portal, simply follow the instructions in the email invitation sent from "no-reply@eclinicalmail.com" which includes your user name and temporary password. Click here for more information.
If are currently covered under the District's group medical plan and you have not received the email invitation, please call 1 (888) 644-1448 to update your email address.
National Physical Fitness & Sports Month
Did you know that regular physical activity increases your chances of living a longer, healthier life? It also reduces your risk for high blood pressure, heart disease, and some types of cancer.

Physical Activity Guidelines
The Physical Activity Guidelines for Americans recommend that adults:
Aim for 2 hours and 30 minutes of moderate aerobic activity each week. Moderate activity includes things like walking fast, dancing, swimming, and raking leaves.

Do muscle-strengthening activities – like lifting weights or using exercise bands – at least 2 days a week.

Types of Physical Activity
Aerobic activities (meaning "with oxygen") increase your heart rate and make you breathe harder. Common aerobic activities include running, jogging, brisk walking, bicycling, and swimming.

Muscle-strengthening activities also help bones and joints. The most common example is weight training, but working with resistance bands (stretch bands), climbing (rope climbing, rock climbing), and certain exercises all contribute to overall strength. These activities also help with posture and injury prevention.

Physical Activity Resources
Check out some of these valuable resources for additional information:
Ready to get started? Here are a few free resources to help you begin and keep track of your progress: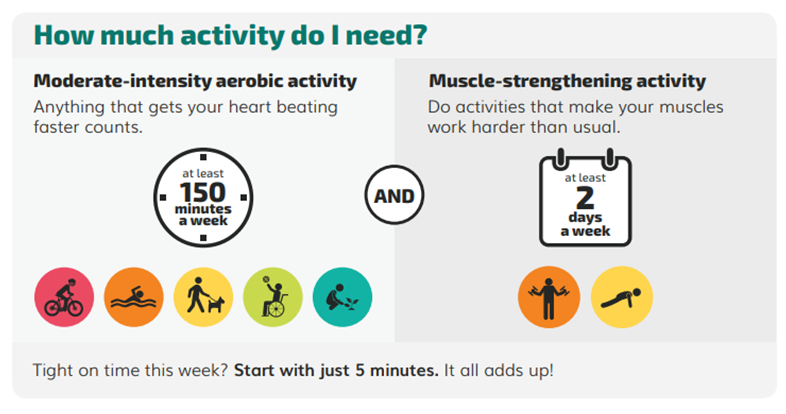 You should check with your healthcare provider prior to starting any exercise program and check out the physical activity guidelines issued by the U.S. Department of Health and Human Services.
Patty's Points!
Fitness Deals
Click here for information on fitness deals you can take advantage of as a Florida Blue member through the Blue365 Discount Program.
Resources:
3. U.S. Department of Health and Human Services. (2017, August). Walk. Run. Dance. Play. What's your move? Retrieved March 26, 2019, from https://health.gov/moveyourway/
Employee Benefits and Risk Management, HREQ
Visit our new Pasco County Schools Wellness website! www.pascogohealthy.net
Monthly Challenge
PHYSICAL ACTIVITY!
There are many benefits to being physically active. According to the CDC, physical activity not only improves fitness and prevents weight gain, it can also help improve mental health, cognitive function and quality of sleep.
This month, set a goal to do some type of physical activity most if not every day of the week!