This post was published on 12/03/2019.
Land O' Lakes, FL – (December 3, 2019) – Gulf High School social studies teacher Jennifer Dixon was surprised in her classroom today when Superintendent Kurt Browning and an entourage of supporters burst in and announced that she is the Pasco County Schools 2020 Teacher of the Year. (Video)
Ms. Dixon has been teaching in Florida since 2003 and was hired in Pasco in 2009. She currently teaches 1) Economics & Financial Literacy and 2) Psychology. She is certified to teach Art K-12, Exceptional Student Education (ESE) K-12, Business Education 6-12, and Social Studies 6-12. She earned her Master's in Education from Eastern New Mexico University and is currently pursuing a Ph.D. in Educational Leadership Policy from Texas Tech University.
For six consecutive summers she has traveled to China to conduct professional development workshops for teachers, with an emphasis on multi-modal and student-centric pedagogy. Advocating for students with diverse learning styles is a new and unique concept in many parts of the world. Ms. Dixon is particularly interested in educating teachers regarding students with learning disabilities, an issue that has multi-tiered and cross-cultural implications. Always eager to remind students that "doors can be opened" as they further their education, she works closely with the Student Support Assistance Program in order to help high school seniors meet all of their graduation requirements.
Ms. Dixon has been the sponsor of the GHS junior and senior classes and also has been the sponsor of Teen Court. She is the co-coordinator for both the Inaugural Title 1 Literacy Project with Marlowe Elementary School and the annual Gulf High School Veterans Day panel discussion. She recently traveled to India where she studied Jainism and Gandhi's philosophy of peace and global understanding.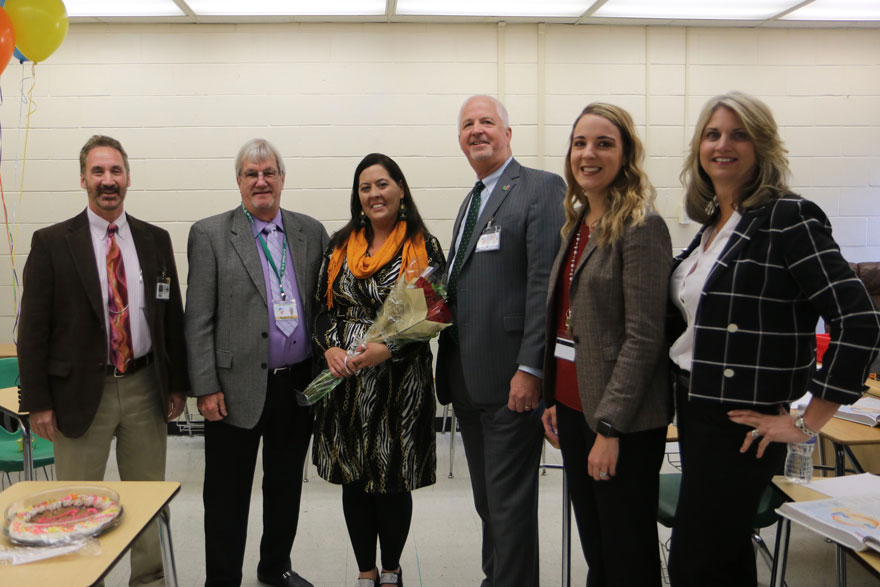 GHS Principal Jeff Morgenstein, United School Employees of Pasco President Don Peace, Teacher of the Year Jennifer Dixon, Superintendent Kurt Browning, School Board Member Megan Harding, and Pasco Education Foundation Executive Director Stacey Capogrosso.