Instructional Vacancies
Note: Applicants must call to be considered. Email, US mail, and faxed letters will not be accepted.
IMPORTANT INFORMATION FOR ALL APPLICANTS:
As of October 1, 2013, all applicants must have a teaching certificate or a statement of eligibility issued by the state of Florida in order to complete the application process and proceed to apply for instructional positions. Applicants will be required to submit proof of certification by attaching a scanned copy of the documentation to the submitted application. If you do not have either of these documents, please visit
fldoe.org/cert
to apply for educator certification before submitting your application for employment to the Pasco County School District.
*Exception to the above rule will be made for applicants who graduated from college within the last six months, or anyone who is specifically interested in teaching in a critical shortage area and is eligible for certification in that area. For a list of the current critical shortage areas, please click here.
DEADLINE
POSITION
LOCATION
12/12/2014
SPEECH/LANGUAGE PATHOLOGIST
Full- and part-time positions available. Bachelor level and CFY applicants encouraged to apply. Mentoring and CCC-level supervision available. Various schools throughout the district. Previous applicants will be considered and need not reapply. Readvertisement
All District Schools


(727) 774-2602, (813) 794-2602 or (352) 524-2602
Contact: Glennda McCallister
12/12/2014
SCHOOL NURSE
Must hold RN license
Multiple positions available
Office for Student Support Programs & Services
7227 Land O Lakes Blvd
Land O' Lakes, FL 34638
(727) 774-2360, (813) 794-2360 or (352) 524-2360
Contact: Lisa Kern
12/5/2014
MATHEMATICS TEACHER
Must be certified and Highly Qualified. correction
Hudson Middle School
14540 Cobra Way
Hudson, FL 34669
(727) 774-8200, (813) 794-8200 or (352) 524-8200
Contact: Joseph Musselman
12/3/2014
TEACHER OF LANGUAGE ARTS (7th Grade)
Mini Contract 1/5/15 - 3/2/15
Must be certified and Highly Qualified.
Raymond B. Stewart Middle School
38505 Tenth Avenue
Zephyrhills, FL 33540
(727) 774-6500, (813) 794-6500 or (352) 524-6500
Contact: Shae Davis
12/3/2014
ELEMENTARY TEACHER
Effective Date 1/5/15
Must be certified and Highly Qualified.
Northwest Elementary School
14302 Cobra Way
Hudson, FL 34669
(727) 774-4700, (813) 794-4700 or (352) 524-4700
Contact: Nicole Reynolds
12/3/2014
COACH (Assistant Boys' Basketball)
Supplement Only
Must be available by 2:15 pm. All applicants must have a completed and approved employment application and a Florida Athletic Coaching Certificate or Florida Educator's Certificate. Previous applicants will be considered and need not reapply. Readvertisement
Sunlake High School
3023 Sunlake Blvd.
Land O'Lakes, FL 34638
(727) 246-1000, (813) 346-1000 or (352) 526-1000Tobacco Free Campus
Contact: Steven Williams
12/3/2014
BAND/MUSIC TEACHER
Must be certified and Highly Qualified.
Seven Springs Middle School
2441 Little Road
New Port Richey, FL 34655
(727) 774-6700, (813) 794-6700 or (352) 524-6700
Contact: Dr. Christopher Dunning
12/3/2014
ELEMENTARY TEACHER (Kindergarten)
Mini Contract 1/9/15 - 2/23/15
Must be certified and Highly Qualified.
Calusa Elementary School
7520 Orchid Lake Road
New Port Richey, FL 34653
(727) 774-3700, (813) 794-3700 or (352) 524-3700
Contact: Kara Merlin
12/2/2014
LANGUAGE ARTS TEACHER
Must be Certified and Highly Qualified.
Wiregrass Ranch High School
2909 Mansfield Blvd.
Wesley Chapel, FL 33543
(727) 246-6002, (813) 346-6002 or (352) 526-6002Tobacco Free Campus
Contact: Robyn White
12/2/2014
TEACHER OF EXCEPTIONAL STUDENT EDUCATION (Autism Spectrum Disorders)
Must be Certified and Highly Qualified.
Thomas E. Weightman Middle School
30649 Wells Road
Wesley Chapel, FL 33545
(727) 774-0200, (813) 794-0200 or (352) 524-0200
Contact: Brandon Bracciale
12/2/2014
TEACHER OF COMMUNITY, CAREER AND TECHNICAL EDUCATION (Engineering)
Required qualifications: Florida Certification in Technology Education OR a Bachelor's Degree in Engineering with an emphasis in high dimensional modeling, automation and simulation design Cancellation
River Ridge High School
11646 Town Center Road
New Port Richey, FL 34654
(727) 774-7200, (813) 794-7200 or (352) 524-7200
Contact: Maria Swanson
12/2/2014
ART TEACHER
Must be certified and Highly Qualified.

Hudson Elementary School
7229 Hudson Avenue
Hudson, FL 34667
(727) 774-4000, (813) 794-4000 or (352) 524-4000
Contact: Tracy Graziaplene
12/2/2014
INFORMATION COMMUNICATION TECHNOLOGY LITERACY COACH
Must be in current pool. Previous applicants will be considered and need not reapply. Readvertisement
Hudson Elementary School
7229 Hudson Avenue
Hudson, FL 34667
(727) 774-4000, (813) 794-4000 or (352) 524-4000
Contact: Tracy Graziaplene
12/2/2014
ELEMENTARY TEACHER (Intermediate 4th Grade - Gifted)
Must be certified and Highly Qualified. Previous applicants will be considered and need not reapply. Readvertisement
Oakstead Elementary School
19925 Lake Patience Road
Land O' Lakes, FL 34638
(727) 246-1500, (813) 346-1500 or (352) 526-1500Tobacco Free Campus
Contact: Tammy Kimpland
12/2/2014
TEACHER OF EXCEPTIONAL STUDENT EDUCATION (Varying Exceptionalities)
Must be certified and Highly Qualified.
Gulf Highlands Elementary School
8019 Gulf Highlands Drive
Port Richey, FL 34668
(727) 774-7700, (813) 794-7700 or (352) 524-7700Tobacco Free Campus
Contact: Judith Cosh
12/2/2014
TEACHER OF (Prekindergarten - Headstart)
Grant funded position
Position located at Gulf Highlands Elementary
Must be certified and Highly Qualified. Previous applicants will be considered and need not reapply. Readvertisement
Early Childhood Programs
7227 Land O' Lakes Blvd.
Land O' Lakes, FL 34638
(727) 774-2730, (813) 794-2730 or (352) 524-2730
Contact: Angela Porterfield
12/2/2014
ELEMENTARY TEACHER (3rd Grade)
Must be certified and Highly Qualified. Previous applicants will be considered and need not reapply. Readvertisement
Gulf Highlands Elementary School
8019 Gulf Highlands Drive
Port Richey, FL 34668
(727) 774-7700, (813) 794-7700 or (352) 524-7700Tobacco Free Campus
Contact: Judith Cosh
12/1/2014
DRAMA TEACHER

River Ridge Middle School
11646 Town Center Road
New Port Richey, FL 34654
(727) 774-7209, (813) 794-7209 or (352) 524-7209
Contact: Marcy Maxwell
12/1/2014
BEHAVIOR SPECIALIST
Must be certified and Highly Qualified
Previous applicants will be considered and need not reapply. Readvertisement
Ridgewood High School
7650 Orchid Lake Road
New Port Richey, FL 34653
(727) 774-3900, (813) 794-3900 or (352) 524-3900
Contact: Angie Murphy
12/1/2014
AVID TEACHER
Reading Endorsement preferred
Ridgewood High School
7650 Orchid Lake Road
New Port Richey, FL 34653
(727) 774-3900, (813) 794-3900 or (352) 524-3900
Contact: Angie Murphy
12/1/2014
BUSINESS EDUCATION TEACHER
Ridgewood High School
7650 Orchid Lake Road
New Port Richey, FL 34653
(727) 774-3900, (813) 794-3900 or (352) 524-3900
Contact: Angie Murphy
12/1/2014
TEACHER OF EXCEPTIONAL STUDENT EDUCATION (Varying Exceptionalities)
Must be certified and Highly Qualified. Previous applicants will be considered and need not reapply. Readvertisement
Gulf Highlands Elementary School
8019 Gulf Highlands Drive
Port Richey, FL 34668
(727) 774-7700, (813) 794-7700 or (352) 524-7700Tobacco Free Campus
Contact: Judith Cosh
12/1/2014
PHYSICAL EDUCATION TEACHER
Mini contract immediate - 12/19/14
Crews Lake K-8 School
15144 Shady Hills Road
Spring Hill, FL 34610
(727) 246-1600, (813) 346-1600 or (352) 526-1600Tobacco Free Campus
Contact: Thomas Barker
12/1/2014
TEACHER EXCEPTIONAL STUDENT EDUCATION (Intellectual Disabilities)
Must be certified and Highly Qualified.
James W. Mitchell High School
2323 Little Rd.
New Port Richey, FL 34655
(727) 774-9200, (813) 794-9200 or (352) 524-9200Tobacco Free Campus
Contact: Jim Michaels
12/1/2014
ELEMENTARY MUSIC TEACHER
Mini contract 12/5/14 - 1/28/15
Must be certified and Highly Qualified.
Veterans Elementary School
26940 Progress Parkway
Wesley Chapel, FL 33544
(727) 246-1400, (813) 346-1400 or (352) 526-1400Tobacco Free Campus
Contact: Gretchen Rudolph-Fladd
12/1/2014
TEACHER (Prekindergarten)
(Headstart)
Mini Contract 1/22/2015 - 3/5/2015
Must be certified and Highly Qualified. Previous applicants will be considered and need not reapply. Readvertisement
Moon Lake Elementary School
12019 Tree Breeze Drive
New Port Richey, FL 34654
(727) 774-4600, (813) 794-4600 or (352) 524-4600
Contact: Elise Landahl
12/1/2014
SCIENCE TEACHER
Must be certified and Highly Qualified. Previous applicants will be considered and need not reapply. Readvertisement
Anclote High School
1540 Sweetbriar Drive
Holiday, FL 34691
(727) 246-3000, (813) 346-3000 or (352) 526-3000Tobacco Free Campus
Contact: Michelle Williams
12/1/2014
SCIENCE TEACHER (Biology)
Mini contract 1/5/15 - 3/13/15
Must be certified and Highly Qualified.
Wiregrass Ranch High School
2909 Mansfield Blvd.
Wesley Chapel, FL 33543
(727) 246-6002, (813) 346-6002 or (352) 526-6002Tobacco Free Campus
Contact: Robyn White
12/1/2014
COACH (Assistant Football)
Supplement Only
Must be available by 3:15 pm. All applicants must have a completed and approved employment application and a Florida Athletic Coaching Certificate or Florida Educator's Certificate. Previous applicants will be considered and need not reapply. Readvertisement
Fivay High School
12115 Chicago Avenue
Hudson, FL 34669
(727) 246-4000,(813) 346-4000 or (352) 526-4000Tobacco Free Campus
Contact: Angela Stone
12/1/2014
ELEMENTARY TEACHER (4th Grade)
Must be certified and Highly Qualified.
Moon Lake Elementary School
12019 Tree Breeze Drive
New Port Richey, FL 34654
(727) 774-4600, (813) 794-4600 or (352) 524-4600
Contact: Elise Landahl
12/1/2014
TEACHER (Varying Exceptionalities)
Must be certified and Highly Qualified.
Sunlake High School
3023 Sunlake Blvd.
Land O'Lakes, FL 34638
(727) 246-1000, (813) 346-1000 or (352) 526-1000Tobacco Free Campus
Contact: Steven Williams
12/1/2014
SPEECH/LANGUAGE PATHOLOGIST

Denham Oaks Elementary School
1422 Oak Grove Boulevard
Lutz, FL 33549-8606
(727) 774-1600, (813) 794-1600 or (352) 524-1600
Contact: Mardee Kay Powers
12/1/2014
SOCIAL STUDIES TEACHER
Must be certified and Highly Qualified.
River Ridge High School
11646 Town Center Road
New Port Richey, FL 34654
(727) 774-7200, (813) 794-7200 or (352) 524-7200
Contact: Maria Swanson
12/1/2014
ELEMENTARY TEACHER (3rd Grade)
Must be certified and Highly Qualified.
Connerton Elementary School
9300 Flourish Drive
Land O'Lakes, FL 34639
(727) 246-1800, (813) 346-1800 or (352) 526-1800Tobacco Free Campus
Contact: Aimee Boltze
12/1/2014
ELEMENTARY ART TEACHER (.6 ODES/.4 CRES)
Must be certified and Highly Qualified. Previous applicants will be considered and need not reapply. Readvertisement
Odessa Elementary School
1874 Ketzal Drive
New Port Richey, FL 34655
(727) 246-3700, (813) 346-3700 or (352) 526-3700Tobacco Free Campus
Contact: Teresa Love
Navigation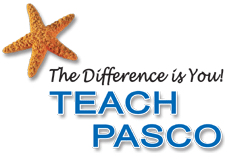 Pasco County Schools Promotes Equal Educational and Employment Opportunities