Educator Passport Program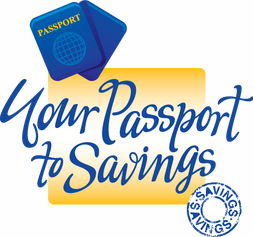 This program was established to connect you with local businesses that have generously agreed to offer special discounts to Pasco County employees
To receive the discount or special offer from a participating business, simply show your employee ID badge or EZStub pay stub.
As you take advantage of the discounts offered by these local businesses, please express your appreciation for their participation in the Educator Passport program. Also, if you learn of other businesses that would be interested in participating, please contact Debbie Hebert at 727-774-2717 or email her at dhebert@pasco.k12.fl.us. Thank you very much and enjoy the savings!
Link to DOE Justforteachers program
Special Notice for Ongoing Phone Bill Discounts
VERIZON
To update your discount, please go to www.verizonwireless.com/discount and enter your work email address. An email will then be sent to that address with a link that says "Get Started" click there and then "Register Your Line" and enter the account information, make sure everything entered mirrors the account information. You will only need to enter the primary phone number only on Family Share plans.
If you would like to possibly order new service and do not have an existing account, you would also go to www.verizonwireless.com/discount and enter your email address. You will also receive an email back at that address and you would select "New to Verizon". This will allow you to see all of the updated discounts available to you through your employer's relationship with Verizon.
AT&T
Visit the following link and enter your email address to view your options: http://www.att.com/governmentemployees. Employees can visit any local store and show proof of employment with an ID badge or pay stub to receive the discounts. Mention Code # 370171 to receive your 17% monthly discount and waived activation and upgrade fees. To find a store: www.wireless.com/find-a-store. To make an appointment at a store go to: www.att.com/storeappointment
If you are already an existing ATT customer, visit the link above to register for the discount.
SPRINT
VISIT: www.evpdiscount.com/Pasco
CONTACT: Brian Sutton 888-457-6294 or via email brian.sutton@evpdiscount.com
Faculty and staff receive 19% off monthly rates, free activation with new service, free shipping on all orders, $25 off select smartphones and 20% off accessories when ordering through the Employee Value Program (EVP). Visit www.evpdiscount.com/Pasco to shop/order online (enter your work email address on the right to access the online store). If you do not have a work email address, please contact us for assistance. Have Questions? Call Brian Sutton at (888) 457-6294 or via email brian.sutton@evpdiscount.com. Please note that EVP offers not available in stores.
T-Mobile
T-Mobile offers school board employees a 15% discount on monthly service charges. To qualify for a discount, send the following information to T-Mobile.
1. Your name
2. T-Mobile phone number
3. A note that you are an employee of "Pasco County Schools – State of Florida" and that you are applying for a discount on your personal account.
4. Your work email address
5. Your personal email address
6. A copy of a recent pay stub or employee identification.
You can fax this information to 1-877-214-5937 or email it to
mcsamigrations@T-Mobilesupport.com
Within 24 hours you should receive an email to your personal email account to confirm your discount. The discount should show up on your next month's bill.
If you have any questions you can call T-Mobile Customer Service at 800-937-8997 and say "Representative" for further assistance.
Navigation
Linda Cobbe, Director
(813) 794-2717
(727) 774-2717
(352) 524-2717
Department Publications
Additional Documents