Health and Wellness Centers
New Lab Hours: Refer to the schedule below or the online appointment scheduler for more information.
Employees, retirees and dependents covered by Pasco County School District's group health plan (Florida Blue formerly Blue Cross and Blue Shield of Florida) can receive medical services that will include treatment for primary care, lab work, medication, x-ray and more, all at no out-of-pocket cost at your onsite CareHere Health Center located near Gulf High School, Land O Lakes High School, and Centennial Middle School.
Contacting CareHere
Employee and Family Health and Wellness Center
CareHere Health Coach
Phone: (877) 866-6430 | Email: .(JavaScript must be enabled to view this email address)
Wellness Incentive questions?
Please email .(JavaScript must be enabled to view this email address)
LATE ARRIVALS:
Please arrive at least 5 minutes before your scheduled appointment. In consideration of others, if you arrive after your scheduled appointment time, you may be rescheduled for another time and/or day if the Health and Wellness Center is unable to work you in among the other scheduled appointments.
NO SHOW POLICY:
Effective April 1, 2013 for those employees and their dependents who fail to cancel a scheduled appointment at least one-hour before the scheduled time, the employee will be charged a no-show fee. Click here to download No-Show Policy
Health and Wellness Center Documents
CareHere Formulary (medication available for dispensing at HWC)
Registration & Appointment Scheduler Instructions (english) (spanish)
Frequently Asked Questions (english) (spanish)
CareHere Wellness Team (print)
HWC Hours of Operations (print)
How to Access and Answer Your Health Risk Assessment (HRA) Questions (print)
How to Access CareHere Connect (print)
Health and Wellness Center in the News
Schools Health and Wellness Centers: Diagnosis Positive The Pasco County School District provides free medical services for its employees.
| | | |
| --- | --- | --- |
| Land O' Lakes HWC | 20360 Gator Lane, Bldg. 14 | Land O' Lakes, FL 34638 |
| Centennial HWC | 38503 Centennial Road | Dade City, FL 33525 |
| Gulf HWC | 5117 Madison Street | New Port Richey, FL 34652 |
| Hudson HWC | 14730 Cobra Way | Hudson, FL 34669 |
Health and Wellness Centers Hours of Operations
Lab Services Only (Health Risk Assessments, Blood Draws, Drug Tests, etc. )
| | | |
| --- | --- | --- |
| Land O' Lakes HWC | Monday, Tuesday, Thursday, Friday | 6:00 am – 11:00 am |
| Centennial HWC | Monday, Tuesday, Thursday, Friday | 6:00 am – 11:00 am |
| Gulf HWC | Monday, Tuesday, Thursday, Friday | 6:00 am – 11:00 am |
| Hudson HWC | Monday, Tuesday, Thursday, Friday | 7:00 am – 11:00 am |


Medical Services
Monday, Thursday, Friday
8:00 am - Noon
1:00 pm – 5:00 pm
Tuesday
7:00 am - Noon
1:00 pm – 4:00 pm
Wednesday
10:00 am – 2:00 pm
3:00 pm - 7:00pm
Saturday
8:00 am – 1:00 pm
Refer to Saturday schedule below for details.
Sunday
Closed
Saturday Schedule
| | |
| --- | --- |
| Land O' Lakes HWC | Open Every Saturday |
| Centennial HWC | Open 1st and 3rd Saturday |
| Gulf HWC | Open 2nd and 4th Saturday |
| Hudson HWC | Open 1st and 3rd Saturday |
Health and Wellness Centers Updates
Health and Wellness Center - Update # 1
Health and Wellness Center - Update # 2
Health and Wellness Center - Update # 3
FREE Medical Care!
No deductibles!
No co-pays!
No out-of-pocket costs to you.
What Are The Benefits To You?
No more long stays in a waiting room!
No out of pocket expense at the health center
Increased convenience and access!
More one-on-one time with the doctor!
On-site dispensing of generic medications!
What Can Be Treated At The Health Center?
Colds, Flu, Sore Throats, Flu Shots
High Blood Pressure
High Cholesterol
Diabetes
Annual Physicals
School Physicals
Lab work
X-Ray available at the Land O Lakes location
Electrocardiogram (ECG / EKG) and more!
Wellness Services
Registered Nurse
Registered Dietician
Exercise Physiologist
Social Worker
Life Style Program Samples
Diabetes Class
Smoking Cessation program
How to Eat Right
Weight Loss Program
More programs will be announced in the near future.

How To Schedule an Appointment?

Employees may find it easier to register for access to online services (e.g., appointment scheduler, lab results, and Health Risk Assessments).

The online appointment scheduler is quick, easy and can be accessed from your personal computer. You have the opportunity to review the online appointment scheduler for available appointments and schedule your next doctor's appointment at a time that is convenient for you. Instructions to register for online access or schedule an appointment is available below under Health and Wellness Center Documents. If you are being seen as a first time patient, please schedule two back to back appointments to allow enough time for the Center to establish you as a new patient.

Employees who do not have access to a computer may call CareHere at 877-423-1330 for scheduling assistance.

Annual Health Risk Assessment!

The CareHere annual Health Risk Assessment (HRA) is an in-depth analysis of 26 key lab panels plus other health measures indicating high cholesterol, diabetes, liver functions, chemistry levels, nutrition, prostate cancer, hypertension and more. From a blood draw and health questionnaire, you will receive a detailed report which explains your results through color-coded graphs to help you better understand your results. Armed with this powerful tool, you will be encouraged to discuss your health risks with the CareHere medical team in detail, prepare a plan of action, and track trends that are essential to healthy living. During the Employee Orientation Presentations the HRAs locations, dates and times will be announced.

What about Privacy?

You will enjoy complete privacy and confidentiality (HIPAA/Privacy compliant) at your CareHere Health Centers! Your private health information and visit activity will never be shared with anyone at the School District.

Helpful Links
CareHere Health and Wellness Center | Group Health Plan Providers | Florida Blue | Behavioral Health & Substance Abuse: Aetna Behavorial Health | Pharmacy: Envision Rx Options | Delta Dental | Minnesota Life | Davis Vision | Flexible Spending Account: TASC | Authorized 403(b) Investment Companies | TSA Administrator: TSA Consulting Group | Florida Retirement System | Student Accident Insurance | Employees in Transition: Community Resources
Navigation
Benefits Mailing List
Enter your email address in the field below to receive important District wellness program updates!
A Message from Patricia Howard
Employee Benefits and Risk Management wants all employees to be healthy, in mind and body, so they can be ready every day to do their best for our students, employees and community.
As you access healthcare services, please remember that the District is self-insured for all medical, pharmacy and behavioral health services. Therefore, spend wisely, whenever you can use generics, see a primary care doctor instead of a specialist. Consider utilizing the services of the onsite Employee and Family Health and Wellness Centers, which includes primary care, lab, x-rays, and generic medications. Co-payments are waived for services provided by the Health and Wellness Centers and generic medications provided at no cost.
Also, visit our wellness page to learn more about the District's Health and Wellness Initiatives (HWI). HWI include programs to help you lose weight, stop smoking, start exercising, maintain proper nutrition and understand your health and medications. This is all good for the mind, body and wallet.
Be Healthy, Be Well
Patricia D. Howard
Pasco County Schools Named 2014 Healthiest 100 Workplaces Award Winner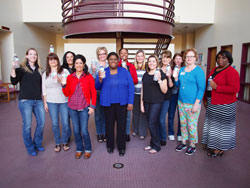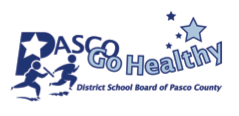 &nbsp
Land O' Lakes (Jan. 24, 2014)—Healthiest Employers, the leader in employee health analytics, best practices and benchmark data, has announced the induction of the District School Board of Pasco County into the 2014 Healthiest 100 Workplaces in America. Every one of these employers has achieved remarkable and sustainable success through a broad range of corporate wellness programs and employee wellness initiatives.
The District School Board of Pasco County attained this recognition as the culmination of a year-long, highly selective two-stage assessment process spanning the United States to include companies of all sizes from all regions and industries.
"One of our priorities is to create a culture of wellness throughout our district that both decreases the risk of disease and enhances the quality of life of our employees. Our wellness program builds upon our continuing efforts to help students reach their highest potential by enhancing the health, happiness, and motivation of our employees and community," said Kurt Browning, Superintendent of Schools, Pasco County, Florida.
These state and national awards recognize employers who have comprehensively incorporated the most effective employee wellness programs and practices. The Healthiest 100 have successfully implemented practical, effective and continuously improving corporate wellness strategies for creating a sustainably healthy workplace.
Rod Reasen II, President of Healthiest Employers, notes that "This highly selective award recognizes employers who demonstrate exceptional leadership in using wellness as a strategy to drive workplace productivity, employee health, and community wellbeing. As these employers demonstrate, every organization has a path to the Healthiest 100, regardless of size, industry or geography."