Bencor Special Pay Plan
The BENCOR 401(a) and 403(b) Special Pay Plan print brochure

Employees who enter DROP and are eligible for 100% of their terminal sick leave in accordance with the School Board Meritorious Attendance Incentive Program shall have their accumulated terminal sick leave paid into the BENCOR 401(a) Special Pay Plan.
Your terminal sick leave will be paid into the BENCOR Special Pay Plan subject to annual contribution limits each June 30th following your DROP begin date anniversary.
The BENCOR Special Pay Plan helps you take maximum advantage of Federal tax laws. You will permanently save the 7.65% Social Security and Medicare Tax on plan contributions. Contributions are made on a pre-tax basis resulting in a deferral of income taxes until the deposited amount is withdrawn.
BENCOR, Inc. and Diversified Investors Securities Corp. (DISC) sponsor the BENCOR Special Pay Plan. The administrative Trustee is Wachovia Bank. BENCOR Administrative Services administers the Plan.
The BENCOR Special Pay Plan requires a portion of your sick leave payout to be paid directly into the Plan. The required contribution into the Special Pay Plan is an amount not to exceed 100% of fiscal year to date gross salary (July 1 – June 30), sick leave payout or $50,000, whichever is less.
You may elect to invest your BENCOR Special Pay Plan contributions among numerous investment options including a fixed or guaranteed account (default choice unless previously changed). IRS rules do not allow access to Plan contributions until you terminate your employment at the end of DROP other than through the loan provisions. There is no 10% IRS penalty on cash distributions if you are at least age 55 in the year of separation from employment. Please consult your tax advisor for information regarding the taxability of Plan distributions.
DROP participants' Annual Leave/Terminal Sick Leave pay will be processed as follows:
Annual Leave:
Employees participating in DROP subject to employer policy have the option to (1) receive their annual leave as a lump-sum distribution at the time of enrollment in DROP or (2) receive a lump-sum payment at the end of the DROP period. If option (1) is chosen (wait until end of DROP period), this dollar amount will be included in the employee's compensation for retirement benefit calculation purposes (FRS). If option (2) is chosen (wait until end of DROP period), this dollar amount is not included in the FRS benefit calculation.
Under option (1) or option (2) above, annual leave will be placed into the "BENCOR NATIONAL PLAN" subject to contribution limits. Any annual leave in excess of Plan contribution limits will be paid to the participant subject to Federal tax and related payroll taxes (Social Security and Medicare). The participant does not have access to Plan contributions until the end of the DROP – other than through loan provisions.
Terminal Sick Leave Pay:
An employee participating in DROP will have a percentage of their accumulated sick-leave pay balance deposited into their account at the end of each year of DROP. The percentage is determined by the participant's DROP year. EXAMPLE: An employee participating in DROP for a period of five (5) years will have terminal-sick-leave pay deposited as follows:
Year Balance of Terminal Sick Leave Deposited in to BENCOR
1…..................................23.3%
2…..................................25.6%
3…..................................36.0 %
4…..................................50.8%
5…..................................86.1%
6…..................................100.0% in year of separation
EXAMPLE: An employee participating in DROP for a period of two (2) years will have terminal-sick-leave pay deposited as follows:
Year Balance of Terminal Sick Leave Deposited in to BENCOR
1…..................................50.0%
2…..................................100.0% in year of separation
If the yearly sick-pay contribution exceeds the amount of the contribution limit (see Contribution Limits above) the excess amount will be rolled into the next Plan year. Employees terminating prior to their pre-selected DROP end date will have 100% of their remaining eligible sick-leave balance paid into the Plan, subject to contribution limits. Any excess amount will be paid in cash, subject to all applicable taxes. This method of payment allows employees to take maximum advantage of Federal tax law.
Contact BENCOR Administrative Services at 1-888-258-3422 for general plan information, plan balances, and the various investment choices available to you.
Related Retirement Topics
403(b)/457(b) Voluntary Retirement Savings
BENCOR Special Plan
Changing Plans - Is a 2nd Election Right for You?
DROP: Deferred Retirement Option Program
FRS Online Estimates
FRS Resources
Keys to Retirement Planning
Qualifying for Board-paid Retiree Health Insurance Premiums
Helpful Links
Volunteer: Pasco County Schools
Social Security Administration
Center for Medicare and Medicaid Services
Veterans Administration (TriCare)
America Association of Retired People
Florida Retired Educators Association
Navigation
Benefits Mailing List
Enter your email address in the field below to receive important District wellness program updates!
A Message from Patricia Howard
Employee Benefits and Risk Management wants all employees to be healthy, in mind and body, so they can be ready every day to do their best for our students, employees and community.
As you access healthcare services, please remember that the District is self-insured for all medical, pharmacy and behavioral health services. Therefore, spend wisely, whenever you can use generics, see a primary care doctor instead of a specialist. Consider utilizing the services of the onsite Employee and Family Health and Wellness Centers, which includes primary care, lab, x-rays, and generic medications. Co-payments are waived for services provided by the Health and Wellness Centers and generic medications provided at no cost.
Also, visit our wellness page to learn more about the District's Health and Wellness Initiatives (HWI). HWI include programs to help you lose weight, stop smoking, start exercising, maintain proper nutrition and understand your health and medications. This is all good for the mind, body and wallet.
Be Healthy, Be Well
Patricia D. Howard
Pasco County Schools Named 2014 Healthiest 100 Workplaces Award Winner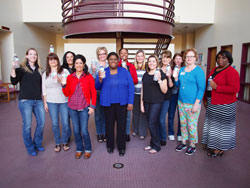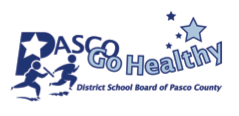 &nbsp
Land O' Lakes (Jan. 24, 2014)—Healthiest Employers, the leader in employee health analytics, best practices and benchmark data, has announced the induction of the District School Board of Pasco County into the 2014 Healthiest 100 Workplaces in America. Every one of these employers has achieved remarkable and sustainable success through a broad range of corporate wellness programs and employee wellness initiatives.
The District School Board of Pasco County attained this recognition as the culmination of a year-long, highly selective two-stage assessment process spanning the United States to include companies of all sizes from all regions and industries.
"One of our priorities is to create a culture of wellness throughout our district that both decreases the risk of disease and enhances the quality of life of our employees. Our wellness program builds upon our continuing efforts to help students reach their highest potential by enhancing the health, happiness, and motivation of our employees and community," said Kurt Browning, Superintendent of Schools, Pasco County, Florida.
These state and national awards recognize employers who have comprehensively incorporated the most effective employee wellness programs and practices. The Healthiest 100 have successfully implemented practical, effective and continuously improving corporate wellness strategies for creating a sustainably healthy workplace.
Rod Reasen II, President of Healthiest Employers, notes that "This highly selective award recognizes employers who demonstrate exceptional leadership in using wellness as a strategy to drive workplace productivity, employee health, and community wellbeing. As these employers demonstrate, every organization has a path to the Healthiest 100, regardless of size, industry or geography."