News Archives
Wednesday, September 19, 2012
The Arts at the 9/11 Memorial
On September 11, 2012, student artwork representative of the District School Board of Pasco County K-12 Visual Arts Programs was on display for all of the community to see in beautiful, downtown New Port Richey at Sims Park! During the Ceremony the audience was also able to hear four choral ensembles representing our K-12 Music Program. In addition, there were two students selected for singing the National Anthem as well as a special performance during a special dedication during the 9/11 Ceremony. Sidney Dorey and Madison Maring are current students of Seven Springs Middle School and former students of Jim Wanker, music teacher at Longleaf Elementary School.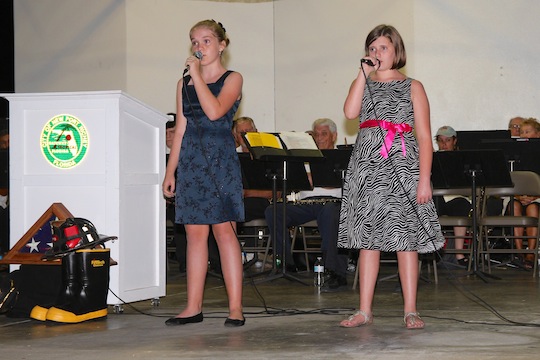 The following chorus programs had students involved in the chorus performances during the evening.
Cypress Elementary School
Music Teachers
Sharon Braman and Adam Lesko
Odessa Elementary School
Music Teachers
Lisa Grimsley and Monica Duquette
Seven Springs Middle School Chorus
Chorus Director
Thomas Viking
Wiregrass Ranch High School
Chorus Director
Dean Donataccio
Congratulations to these teachers and their students for a wonderful set of performances. Experiences in the arts such as this, strengthen our relationship with our community and create valuable connections for our students as they learn and reflect upon the significance of this day. We are so very proud of the beautiful display of reflective artwork and the well prepared vocalists who proudly represented our District and arts programs.
Pictures of the event can be found at http://bit.ly/911simspark
Navigation
Five Most Recent...
News Articles
Press Links