News Archives
Thursday, February 26, 2015
Pasco Culinary Arts Students Compete for Cinderella's Favorite Dessert
Who: Anclote, Fivay, Land O' Lakes and Wiregrass Ranch High and Fred K. Marchman Technical College (1 team from each school) Culinary Arts Academy Students, teachers and staff

What: Cinderella's Favorite Dessert Bake Off Competition

When: 5:30 p.m., Tuesday, March 3

Where: Land O' Lakes High School Academy of Culinary Arts, 20325 Gator Ln., in Land O' Lakes

Why: The winning team of culinary students will showcase their first prize dessert to all guests attending the Education Foundation's Cinderella's Ball annual Black Tie event on March 28. The top team will be required to prepare up to 250 servings of their dessert for the fundraising gala. These servings must match with what was originally presented and chosen by the panel of Bake Off judges.

How: A panel of local celebrity judges will select the winning entry based upon the criteria of originality (25%), taste (50%), and presentation (25%). Each team will have a student spokesperson give a verbal presentation to the judges including the name of the dessert, key ingredients, degree of difficulty, preparation time, and any other pertinent details. School leaders and community members will be in attendance to sample portions of each team's entry as well as view the presentations to the judges. For more information, contact Terry Aunchman, Director of Career and Technical Education, at taunchma@pasco.k12.fl.us.

CONTACT: Linda Cobbe or Spencer Pylant
Communications & Government Relations
(813)794-2717, (813)361-8349 or (813)794-2259, (813)388-0020
Tuesday, February 24, 2015
Pasco Students Go on Odyssey of the Mind
Who: 170 student teams from Pasco County Schools

What: Elementary and Secondary Odyssey of the Mind tournaments

When: 8 a.m. Saturday, February 28 (Secondary) and 8 a.m. Saturday, March 7 (Elementary)

Where: February 28, Rushe Middle School, 18654 Mentmore Blvd., Land O' Lakes and March 7, Weightman Middle School, 30649 Wells Rd., Wesley Chapel

Why: To teach students creative problem solving skills and teamwork.

How: Students indulge their creativity, think critically to solve new problems, and work with a team to build valuable respect for individual strengths. Teams of five to seven students develop solutions to one of six Long Term Problems over several months, while practicing for a Spontaneous Problem. Teams, problems, and competitions are organized into five divisions by age groups. The primary division problem is a demonstration problem that is not judged competitively. In the Long Term Problem, teams develop a theatrical and engineering solution to a specific situational problem over several months. For the Spontaneous Problems, the students develop brainstorming skills to solve problems given at the competition. Performances take place between 8 a.m. and 3 p.m. both days. On Feb. 28, awards are scheduled to begin about 4:30 p.m. On March 7, awards are scheduled to begin at 5 p.m.

CONTACT:
Linda Cobbe or Spencer Pylant
Communications & Government Relations
(813)794-2717, (813)361-8349 or (813)794-2259, (813)388-0020
Wednesday, February 18, 2015
Pasco Superintendent Details Concerns About FSA Testing
Land O' Lakes, FL – (February 18, 2015) – Pasco Superintendent of Schools Kurt Browning today notified Florida Education Commissioner Pam Stewart of his concerns about Pasco's schools', teachers', and students' preparedness for computer-based standardized testing.
The letter was attached as an addendum to the state's Readiness for Spring 2015 Computer-based Testing certification form, which also was accompanied by a spreadsheet detailing issues schools experienced during the district's Feb. 12 load test.
"After performing a load test last week and assessing our overall readiness, the district is not comfortable certifying that we can administer the FSA without significant technological and logistical problems," the superintendent wrote.
With concerns about administering the FSA on his mind, Superintendent Browning was encouraged by Governor Scott's proposal to reduce testing requirements and this afternoon's Florida Senate Education K-12 Committee's workshop with educators on the same issue.
"It gives me hope that students', parents', teachers', and school leaders' voices are being heard by lawmakers and the governor, and I look forward to working with them to arrive at consensus on a solution that retains accountability while giving students and teachers some much-needed relief," he said.
In addition to the executive order, the Senate committee's openness to educators' input on changes to testing and evaluation laws encouraged the superintendent that other concerns might be addressed.
"I am optimistic that the Governor and Legislature also will agree to use this year's test results as a baseline for measuring student achievement prior to issuing school grades or using scores for calculating teacher and principal evaluations and pay," said Browning.
Although the superintendent could not certify that all schools are ready for the spring FSA assessments, he assured the commissioner that the district will administer the tests.
To read the full letter click here, and click here to see the list of issues, causes, and resolutions experienced during the load test.
Monday, February 16, 2015
Wesley Chapel High to Host Annual College Night
Who: All area high school students (particularly 11th graders) and their parents are welcome, regardless of the high school they attend or county where they live

What: Annual College Night at WCHS

When: Monday, March 2, from 6 p.m. to 8 p.m.

Where: WCHS Gymnasium, 30651 Wells Rd., Wesley Chapel

Why: So students can get information about majors, sports, special programs, admission requirements including SAT/ACT/ASVAB testing, tuition, financial aid, scholarship availability, future career opportunities, etc.

How: USF, UCF, UF, FSU, and other state universities; Pasco-Hernando State College; other public and private colleges and universities from Florida to as far away as Maine; and U.S. Military representatives from the Air Force, Army, Coast Guard, Marines, and Navy will have admissions representatives present to assist potential students. Each college, university, and military branch will have a table "dressed" with a school cloth and displays of pamphlets, applications, business cards, and other helpful materials for students and parents to pick up. Schools also may have small giveaway items with school logos on them (e.g. pens, pennants, etc.) for potential applicants. Admissions representatives answer whatever is of interest or concern to a student or parent. For more information contact Timothy W. Durling, CPC, WCHS Career Specialist, at tdurling@pasco.k12.fl.us or 813-794-8833.

CONTACT:
Linda Cobbe or Spencer Pylant
Communications & Government Relations
(813)794-2717, (813)361-8349 or (813)794-2259, (813)388-0020
Tuesday, February 10, 2015
Marchman Dominates SkillsUSA Championships
Land O' Lakes, FL – (February 9, 2015) – Last Friday, Fred K. Marchman Technical College students earned nine gold, five silver and four bronze medals at the Region 4 SkillsUSA Championships.
A list of categories and medalists is below.
| | | | |
| --- | --- | --- | --- |
| Marchman Region 4 Skills | USA Championship Medalists | | |
| Category | Gold | Silver | Bronze |
| Cosmetology - Adult | Niniveth Guardado | Amanda Duris | - |
| Men's Haircutting - Adult | Courtney Lasater | Lana Batemen | - |
| Advertising Design - Adult | Haley Eberly | Austin Williamson | Chris Madrigal |
| Advertising Design - High School | - | Torrey Martinez | - |
| Automotive - High School | Tyler Knight | Justin Vaughn | - |
| Computers - Adult | Christian Pepitone | - | - |
| Computers- High School | Michael Fay | - | - |
| Job Demo - Adult | - | - | Jennifer Alfonso (Culinary) |
| Prepared Speech - High School | Amber Morgan (Early Childhood) | - | - |
| Electrical Wiring - Adult | Justin Howie | - | Evan Jamison |
| Electrical Wiring - High School | Brandon Matzke | - | Louis Clark |
Additionally, Fred K. Marchman Technical College will be sending the following students to the SkillsUSA State Championship.
| | | |
| --- | --- | --- |
| Cosmetology | Preschool Assistant | Team |
| Tiffany Gardner | Myranda Stauffer-Hunt | Courtesy Corp. Team |
| Mandy Kickliter | - | - |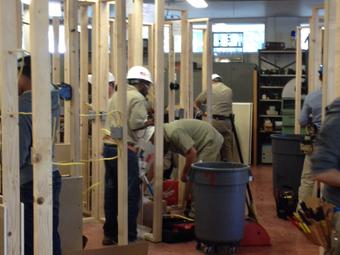 Navigation
Five Most Recent...
News Articles
Press Links