News Archives
Monday, June 29, 2015
Statement from Pasco Superintendent Kurt Browning on Governor's Vetoes
On the Educational Aerospace Partnership Center/Tampa Bay Region Aeronautics II:

"Let me start by saying that I am very grateful that we received $750,000 to continue operating the Tampa Bay Regional Aeronautics Academies partnership with Embry Riddle Aeronautical University and Tampa International Airport. However, I'm disappointed that Governor Scott has vetoed the capital funding for phase II of the STEM-oriented, tri-county aeronautics academy program serving Hillsborough, Pasco and Pinellas counties. I disagree that these programs don't have a statewide benefit, or return on investment. We believe this unique program embraces Governor Scott's platform to provide more jobs for Floridians, attract more businesses to our state, and prepare students to achieve success in college, career, and life.

The $1.5 million (line 109A) veto is a setback for our plans to build a partnership facility housing academics and industry. This facility would have empowered Tampa Bay Regional Aeronautics Academy students to exercise what they've learned in their studies through internships and advanced training in manufacturing, aeronautics, aviation mechanics, and unmanned aerial systems. This project was a partnership between Pasco County Schools, the City of Zephyrhills, which intended to provide the land for the building, and the Zephyrhills Municipal Airport, which would provide access to their facilities through internships.

Nevertheless, we still plan to move forward with the Aeronautical/Aviation training, Aviation Maintenance, and Unmanned Aircraft Systems (UAS) programs at Zephyrhills High School."

On the Digital Classrooms Standards, Assessment, and Gap Analysis

"I am vexed by the veto of the $3 million for the Digital Classrooms Standards, Assessment, and Gap Analysis (line 130). It is my understanding that the budget implementing bill requires districts to complete the analysis in order to receive Digital Classrooms funding for the 2015-2016 school year. This could affect distribution of the $60 million statewide Digital Classrooms funding to improve student performance through digital learning, professional development, and online assessments. With one stroke of his veto pen, the governor could potentially harm every school district and charter school family in Florida."
Wednesday, June 17, 2015
Fox Hollow Teachers Volunteer to Prevent Summer Slide
Land O' Lakes, FL – (June 17, 2015) – The school year ended on June 3, but learning continues at Fox Hollow Elementary School, which is hosting Summer Slide camp each Tuesday from 8:30 a.m. to 4 p.m. during the summer.

Teachers have volunteered their time to run the program designed to prevent the summer slide of academics. On the first day, 48 students attended. Using the American Reading program, the teachers conference with individual students, collect reading data, and set power goals so students have a purpose for reading. This practice is carried over from the regular school year, when teachers and students meet weekly.

Students also can check out books from the media center, have independent reading time, and complete 30 minutes of I-ready lessons. I-ready is an online learning program that offers personalized student instruction targeted to students' unique areas of need.

Students also are fed while they're at the school. Fox Hollow is one of the district's summer feeding program schools, serving breakfast and lunch Monday through Friday to children from birth to 18 years of age. Breakfast is available 8:30 a.m. to 8:45 a.m. and lunch is available noon to 12:15 p.m.
Monday, June 15, 2015
Pasco Outperforms State on 4 out of 5 State Tests
Land O' Lakes, FL – (June 12, 2015) – More Pasco County Schools students scored levels 3 – 5 on state end-of-course exams in Biology, Civics, Geometry, U.S. History, and 8th grade FCAT Science 2.0 than the state overall. Fifth grade Science scores fell two percentage points below the state average.

Several schools demonstrated significant improvement on FCAT 2.0 Science in 2015 compared to 2014. The following schools reported increases of at least 10 percentage points for students scoring at Achievement Level 3 (proficient) or higher:

Grade 5: Moon Lake, Pine View, R.B. Cox, Seven Springs, West Zephyrhills, Countryside Montessori, Florida Virtual Academy

Grade 8: Academy at the Farm, Countryside Montessori

The following schools showed overall improvement on the FCAT 2.0 Science exam:

Grade 5: Chasco, Cody River, R.B. Cox, Double Branch, Fox Hollow, Gulf Trace, Lake Myrtle, Long Leaf, Marlowe, Moon Lake, New River, Odessa, Pasco eSchool, Pine View, Richey, San Antonio, Sand Pine, Seven Springs, Trinity Oaks, West Zephyrhills, Countryside Montessori, Dayspring, Florida Virtual Academy

Grade 8: Centennial, Chasco, Crews Lake, Gulf, Hudson, John Long, Pasco, Rushe, River Ridge, Stewart, Academy at the Farm, Athenian, Countryside Montessori

These schools showed improvement on the Biology and U.S. History EOCs:

Biology EOC
Fivay improved by nine percentage points and Mitchell improved by two percentage points.

U.S. History
Anclote: 52 percent proficient to 56 percent proficient
Fivay: 78 percent proficient to 81 percent proficient
River Ridge: 73 percent proficient to 78 percent proficient
Wesley Chapel: 67 percent proficient to 70 percent proficient
Wiregrass: 82 percent proficient to 83 percent proficient
Zephyrhills: 62 percent proficient to 72 percent proficient

The district is not making comparisons of scores on the Civics EOC because standard setting occurred after scores were reported last year. A full report will be posted on the district's Accountability, Research, and Measurement web page, www.pascoschools.org/research.

"I'm pleased that we've made gains in some of the areas in which we've been concentrating, and that the district overall is outperforming the state average in several of the test subjects," said Superintendent Kurt Browning.
Thursday, June 11, 2015
Pasco Schools Provides Children with Free Summer Lunches
Land O' Lakes, Florida – (June 10, 2015) – Pasco County Schools is partnering with the U.S. Department of Agriculture, the Florida Department of Agriculture and Consumer Services (FDACS), and local agencies for the 2015 Summer BreakSpot summer meal program.

Authorized and funded by Congress and administered in Florida by the Department of Agriculture and Consumer Services Division of Food, Nutrition and Wellness, the Summer Food Service program was established to ensure that low-income children receive nutritious meals when school is not in session. The program provides meals and snacks at no charge to all children, ages 18 and under, when school is out for the summer. To implement the program, FDACS contracts annually with school districts and local agencies that sponsor the preparation, delivery, and serving of meals and snacks to children at no charge at approved feeding sites in low-income areas.

Last year, the district served 205,343 meals to children at its 70 sites, including five retrofitted school buses that are used as mobile feeding sites. Knowing that not all of the children are able to make it to a summer feeding site, 10,263 meals were delivered to Pasco County children. The fleet has been expanded this year, with one additional mobile unit to reach more children.

To learn more Florida's Summer BreakSpot sites across the state and to find a location near you, go to www.summerfoodflorida.org, dial 2-1-1, text "FoodFL" or 877-877, or download the mobile app "Nutrislice" on iOS and Android phones.

In accordance with federal law and U.S. Department of Agriculture (USDA) policy, this institution is prohibited from discriminating on the basis of race, color, national origin, sex, age, or disability. To file a complaint of discrimination, write USDA, Director, Office of Adjudication, 1400 Independence Avenue, S.W., Washington, D.C. 20250-9410 or call toll free (866) 632-9992 (Voice). Individuals who are hearing impaired or have speech disabilities may contact USDA through the Federal Relay Service at (800) 877-8339; or (800) 845-6136 (Spanish). USDA is an equal opportunity provider and employer.

Photo caption: Superintendent Kurt Browning volunteers on the 2014 Summer Lunch Bus.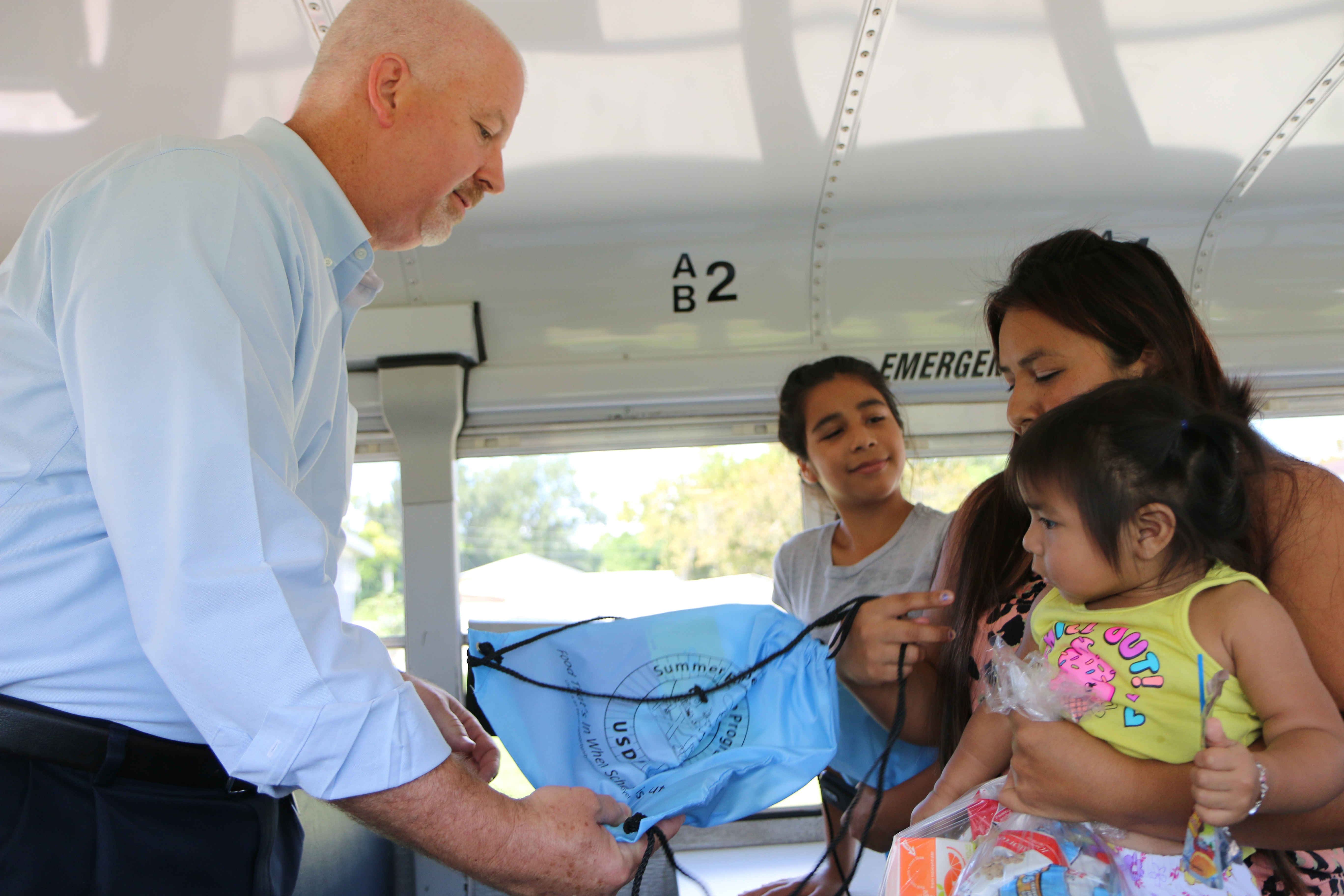 Wednesday, June 03, 2015
UPDATED - 7th Grader to Compete in World Dragon Boat Championships
The original post had an incorrect phone number - the following version has the correct number.
Land O' Lakes, FL – (June 2, 2015) – John Long Middle School 7th grader Kaitlyn Robinson recently was selected to join the U16 Youth Dragon Boat team that will represent the United States at the World National Dragon Boat Championships August 19 – 23 in Welland Ontario, Canada.
Kaitlyn has been a member of the Blade Runners Youth Dragon Boat Team of Tampa for two years. She attended her first dragon boat practice in 2013 with her Girl Scout troop, and her first race was in March 2014. She is excited to be competing against teams from around the world and has started a GoFundMe account to raise money to pay for expenses (www.gofundme.com/vgqr4c4c).
The competition will be held at the Welland International Flatwater Centre, www.wifc.ca
According to the World Championship website, the venue will be attracting up to 4,000 participants from 20+ countries. Known as Dragon Boat Niagara 2015 (DBN2015), it will be a combination of two (2) international dragon boat racing championships from August 12-23, 2015: Pan American Club Crew Dragon Boat Championships (August 14 – 16) and the International Dragon Boat Federation (IDBF) 12th World Dragon Boat Racing Championships (August 19-23). The action on the water is sure to be fast-paced, hotly contested, and will bring the crowd to its feet.
For more information or to arrange an interview with Kaitlyn, contact Dawn Robinson at 813-952-7042 or Dawneliserobinson@gmail.com.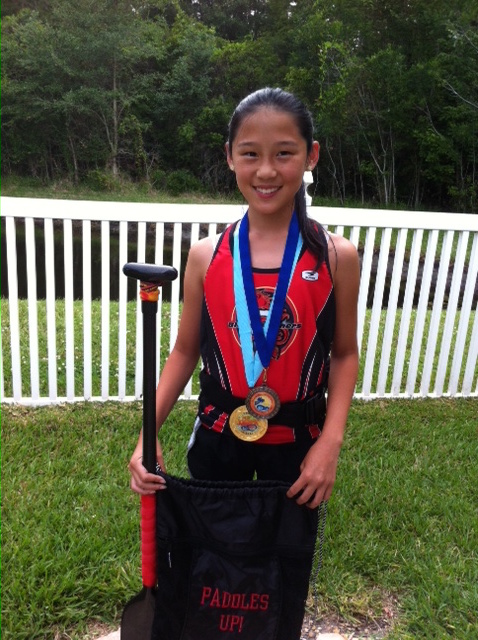 Navigation
Five Most Recent...
News Articles
Press Links