News Archives
Wednesday, October 29, 2014
EVERYDAY PREVENTION WORKS WHEN YOU DO YOUR PART
FOR IMMEDIATE RELEASE
October 29, 2014

Contact: Deanna Krautner, DOH-Pasco (727) 861-5250 ext, 162

Doug Tobin, Pasco County Government (727) 815-7177

Linda Cobbe, District School Board of Pasco County (813) 794-2717

PASCO – Local efforts are under way to encourage healthy habits to avoid illness. Everyday preventive actions can help slow the spread of germs that can cause many different illnesses and may offer some protection against the flu.

"While a flu shot is the most effective measure against getting the flu" said Kathleen Yeater, Executive Director of Nursing at the Florida Department of Health in Pasco County, "good prevention habits help reduce more than just the spread of flu."
The school district, county government and health department are pushing out reminders to practice healthy habits for prevention. "We are working closely with the Florida Department of Health in Pasco to help families stay healthy during this flu season." said Pasco School Superintendent Kurt Browning.

Pasco County Parks and Libraries have teamed up with characters they developed called, "Nate & Wendy" to get the message out about flu prevention. Thousands of people have watched the "Nate & Wendy" shows that address a variety of topics from Pasco County Government The latest episode will focus on school children washing their hands and covering their mouths when they cough. The video can be seen at http://youtu.be/nPHV5mesjMY
.

The messages are the same for adults. "If you do catch the flu it's important that you stay home and fight the illness," said Randy TeBeest, Pasco County Assistant County Administrator for Public Safety and Administration. "We encourage our County employees not to spread the illness around by coming to work. Stay home, get better, then come back."

We encourage everyone to take the following everyday preventative actions.
Stay home when you are sick. If possible, stay home from work, school, and errands when you are sick. You will help prevent others from catching your illness. Avoid close contact with people who are sick.
Cover your nose and mouth with a tissue when you cough or sneeze. Throw the tissue away after use and wash your hands. If a tissue is not available, cover your mouth and nose with your sleeve, not your hand.
Wash your hands often with soap and water, especially after you cough or sneeze. If soap and water are not available, use an alcohol-based hand rub.
Avoid touching your eyes, nose, or mouth. Germs spread this way.
Clean and disinfect surfaces or objects. Clean and disinfect frequently touched surfaces at home, work or school, especially when someone is ill.

For more information http://www.pasco.k12.fl.us/ssps/health on healthy prevention habits visit http://www.cdc.gov/flu/protect/habits.htm or http://www.floridahealth.gov/programs-and-services/prevention/flu-prevention/index.html
Wednesday, October 22, 2014
Scavenger Hunt Will Lead to Mystery Book
Who: Charles S. Rushe Middle School's We Be Book'N! book club

What: Mystery book reveal

When: 5 p.m. to 8 p.m. Tuesday, November 11

Where: Wiregrass Barnes and Noble

Why: To reveal the mystery book that will be used for their school-wide reading incentive.

How: Anticipation for the title of the book has been building since mid-October with videos, book talks and books wrapped in brown paper labeled "Top Secret" and "Confidential." On the reveal night, students will be led through the store via a scavenger hunt to find clues that will lead to the final reveal of the title. Students will read the book through mid-February, while participating in activities that support the content of the book. The ending incentive for reading the entire book and participating in each activity successfully will be a Lock-In held at Rushe Middle School.

Community members are invited to support the students in this literacy experience. Donations to the We Be Book'N! book club can be made to Charles S. Rushe Middle School, 18654 Mentmore Blvd., Land O' Lakes, in care of David Salerno. For more information, contact David Salerno, Kelli Rapaport, or Dawn Gilliland at 813-346-1200


CONTACT:
Linda Cobbe, (813)794-2717, (813)361-8349
or Spencer Pylant, (813)794-2259, (813)388-0020
Communications & Government Relations Department
Monday, October 20, 2014
Woodland Elementary Students are Going to College
Land O' Lakes, FL – (October 20, 2014) – For the fourth year, Woodland Elementary School will take more than 500 students in grades 2 through 5 to tour four college campuses, as follows:

2nd Grade – Saint Leo University – November 5 (10:30 a.m. to 12:30 p.m.)
3rd Grade – University of South Florida – November 6 (10:30 a.m. to 12:30 p.m.)
4th Grade – University of Central Florida – November 14 (noon to 3 p.m.)
5th Grade – University of Florida – November 7 (noon to 3 p.m.)

Woodland Elementary promotes a goal-oriented mindset through their motto and vision of "Planning ahead, aiming high, college bound!" This theme is visible throughout the Woodland campus and school culture.

At Woodland, they believe that all students can achieve great things in life, including attending college and securing a successful career. Even though most of the school's 900 students come from impoverished homes, their possibilities are endless if they decide to dedicate themselves to their education in elementary school.

Visiting these college campuses gives students a first-hand glimpse into what is possible in their future. The goal is to continue these trips each year so that eventually, every Woodland student will visit four college campuses before leaving for middle school at the end of fifth grade. This year's fifth grade class is the first to have visited all four campuses.

For more information, or if you would like to cover one or more of these trips, contact Woodland Principal Kimberly Poe at 813-794-6400, or at kpoe@pasco.k12.fl.us.
Thursday, October 09, 2014
Horace Mann Insurance to Donate Bikes to 15 Schools
IMPORTANT - The schedule for delivery has been adjusted since this information was originally posted! The new times are listed below.
Land O' Lakes, FL – (October 8, 2014) – On Tuesday, October 14, Horace Mann Insurance Agency Owner Gary Cucchi and his team are delivering two bikes to each of 15 Pasco County Schools Title I schools to be used as reading incentives.

The district's Title I office has partnered with Horace Mann Insurance this year to help students improve their reading skills. One boy and one girl from each of these schools will be selected to receive a new bicycle. Mr. Cucchi will donate two bikes to each school to present as reading incentives in the second semester, as well.

The team will be delivering the bikes to the schools as follows:

1. Mary Giella Elementary 8:20 am
2. Moon Lake Elementary 8:40 am
3. Northwest Elementary 9:00 am
4. Hudson Elementary 9:20 am
5. Gulf Highlands Elementary 9:40 am
6. Bayonet Point Middle 10:00 am
7. Schraeder Elementary 10:20 am
8. Fox Hollow Elementary 10:40 am
9. Chasco Elementary 11:00 am
10. Calusa Elementary 11:20 am
11. Cotee River Elementary 11:40 am
12. Gulf Middle School 12:00pm
13. Anclote Elementary 12:20 pm
14. Gulfside Elementary 12:40 pm
15. Chester Taylor Elementary 2:00 pm
CONTACT:
Linda Cobbe or Spencer Pylant
Communications & Government Relations
(813)794-2717, (813)361-8349 or (813)794-2259, (813)388-0020
Pictures of Horace Mann Bike Deliveries: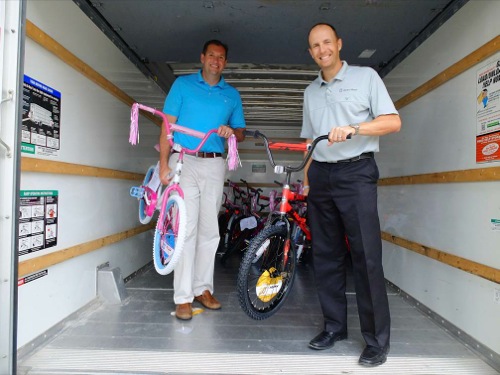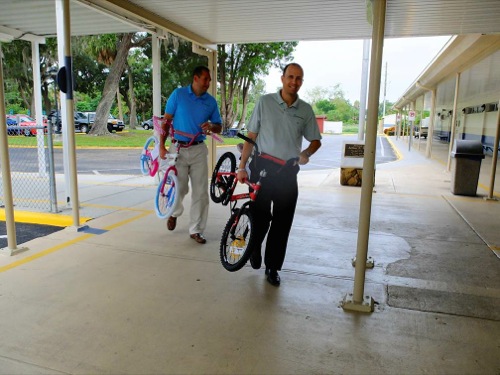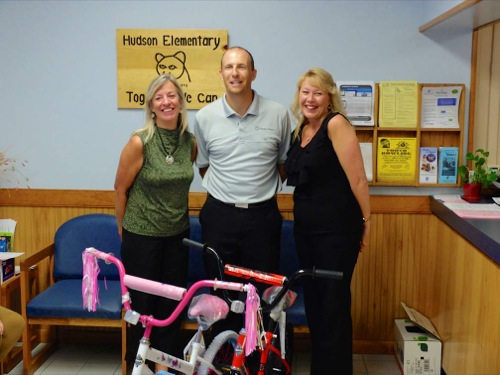 Tuesday, October 07, 2014
Wildcat Advanced Scholars Program Showcase October 7, 2014
Who: Wesley Chapel High School students, staff and Principal Carin Nettles

What: Showcase of the Wildcat Advanced Scholars Program

Where: Wesley Chapel High School, Room 328, 30651 Wells Rd., in Wesley Chapel

When: 6 p.m. Tuesday, October 7

Why: The use of technology is increasing active engagement among these students and this event will give them an opportunity to share their projects with attendees.

How: Wesley Chapel High will be displaying the exciting variety of projects and activities that their students have been able to accomplish through the Wildcat Advanced Scholars Program. The Wildcat Advanced Scholars Program is a rigorous schedule of Advanced Placement, honors and industry certification courses, which are infused with digital instruction. Every student uses an iPad in lieu of textbooks in their core classes, and blended learning in the others. For more information, contact Danielle Johnson at (813)794-8871.

Contact:
Linda Cobbe or Spencer Pylant
Communications & Government Relations
(813)794-2717, (813)361-8349 or (813)794-2259, (813)388-0020
Navigation
Five Most Recent...
News Articles
Press Links