News Archives
Friday, October 23, 2009
H1N1 Vaccine Available Soon to Pasco County Students
(
En Español
) Parents, H1N1/Swine Flu vaccinations will be available at your child's school within the next few weeks. In order to receive this vaccine, students will be required to present a signed consent form, which will be sent home with them over the next several days. Participation is optional, but encouraged. The first school vaccination clinics will be held at the elementary level and are expected to begin the week of November 2nd, so it is important that the signed permission forms be returned as early as possible. Middle school and high school clinics are scheduled to begin mid-November and continue through the middle of December. Please note that these dates are tentative, and subject to change based on vaccine availability from the federal government. For more information about the vaccine, please contact one of the county Health Department locations listed below: 10841 Little Road - New Port Richey - 727?861?5260 11511 Denton Avenue - Hudson - 727?861?5661 4135 Land O'Lakes Blvd. - Land O'Lakes - 813?558?5173 4717 Airport Road - Zephyrhills - 813?780?0740 13941 15th Street - Dade City - 352?521?1450 You may also find additional material on our
H1N1 information page.
The following is a written copy of a phone message that went home to parents on October 23:
Good evening, this is Dr. David Johnson, Director of the Pasco County Health Department. I am calling to inform you that the H1N1 swine flu vaccine will be made available at your child's school in the next few weeks. Vaccination is the most effective way to prevent illness due to influenza. Getting the vaccine is strictly optional. Your child should be receiving a consent form from the school in the next few days along with a letter of explanation about this vaccination opportunity. Only children with completed consent forms will be able to receive the vaccine. Should you have questions or need additional information, please do not hesitate to contact your school nurse or the Pasco County Health Department at one of the numbers listed in the information packet you will receive. We are committed to keeping our community healthy and safe and protecting your child's health. We need your assistance in this important matter. Thank you for your time and interest.
Wednesday, October 21, 2009
New Vegetarian Menu Choices Make the Grade at Paul R. Smith Middle
Following the FNS department's recognition as being in the top five
2009 Most Vegetarian-Friendly Public School Districts in the US
, FNS asked Paul R. Smith Middle School vegetarian students to sample a variety of new and existing menu offerings on Tuesday, October 20th. All the offerings were meatless, but taste similar to traditional favorites. Choices included the meatless BBQ rib sandwich, Morning Star Farms chick patties, Morning Star Farms veggie burger patties, pancakes with meatless sausage, veggie nachos and more. Many of the items are already featured on the middle school and high school menus, but FNS is always looking for ways to add healthy choices, while meeting the needs of our students. The overall favorite was the BBQ rib sandwich, which is already a part of our current menu offerings! The school is considering starting a "Veggie Zone" that features a variety of vegetarian choices at a dedicated serving line, along with the school's regular school lunch menu. It would be a pilot program that could expand to other schools if successful. Vegetarian items would be labeled with stickers identifying whether the choices were vegan, ovo-lacto, or lacto vegetarian choices. If the feedback is positive, the program could begin when the students return from the winter break in 2010. If you would like to provide us with your feedback, please
.(JavaScript must be enabled to view this email address)
.
Thursday, October 15, 2009
2009 Great American Teach-In: You Make The Difference!
Visit a Pasco County school during National Education Week, November 16-20, 2009, and especially mid-week on Wednesday, November 18 for the Great American Teach-In (GATI), and you are likely to see a myriad of visitors mesmerizing students with their careers, hobbies, and talents. Firefighters, chemists, electricians, actors, magicians, dog trainers, medical personnel, soldiers, bakers, and commercial fishermen are only a few of the community and parent volunteers who have shared their talents and stories with students. This is the eleventh year Progress Energy and Pasco Schools have partnered to present GATI, part of Pasco Schools' annual American Education Week celebration. It's a special opportunity for parents and community members to visit the public school of their choice and share talents and skills with a new generation. Your story can spark the imagination of students and excite them to explore new possibilities! This year's GATI event is scheduled for Wednesday, November 18, 2009. Opportunities are available from 8 a.m. to 3 p.m. Volunteers can stay for an hour or for the whole day! The amount of time is determined by the volunteers' schedules and what teachers want to accomplish. Whatever the length of the visit, volunteers make a difference! Thousands of previous Teach-In participants have discovered the experience is truly rewarding. Here are some Teach-In Tips:
Plan for 20-25 students per classroom.
Consider wearing attire appropriate to the occupation, hobby or topic you plan to discuss.
Keep the student's average attention span in mind: 10-15 minutes for elementary grades and 20-30 minutes for secondary grades.
When you arrive at the school, please check in at the front office to pick up your name tag. Someone will greet you and accompany you to the classroom.
If you plan to bring printed or audiovisual materials, please check with the teacher or school Teach-In Coordinator in advance.
Do not ask students for personal information, including telephone numbers, email addresses, or home addresses.
To get involved and register, please contact the school of your choice as soon as possible and by November 11, 2009. School names, locations, and contact information can be found on the Pasco County School District website. School personnel will be happy to help you to have a wonderful GATI Day! For general information, contact Randee Williams, Supervisor, Volunteer Programs, at
rcwillia@pasco.k12.fl.us
or 727-774-2203, 813-774-2203, or 352-524-2203. Please plan to join us for GATI. The kids will love you for it! Thank you in advance for your generous contribution of talent and time to help make GATI 2009 the best ever!
Thursday, October 08, 2009
Pasco Takes Home Two Statewide Awards for Environmental Efforts
The District School Board of Pasco County has recently been honored as a recipient of the Governor's Serve to Preserve: Green School Award. Pasco has won this prestigious award in two separate categories: the Student Award and the District Award. This program, co-sponsored by the Florida Department of Environmental Protection and Progress Energy, recognizes the outstanding efforts of students, teachers, classrooms, schools and school districts in "creating healthy, efficient and productive places for learning."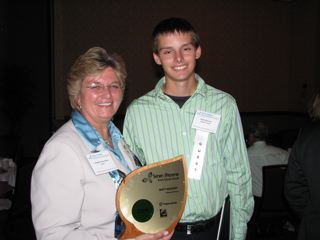 Matt Mooney, a junior from Land O' Lakes High School's International Baccalaureate Program, has won the Student Award in recognition of his work with the Cans for Habitat program. Matt serves as a Recycling Team Leader and has raised over $15, 000 by recycling nearly 1.1 million aluminum cans. The proceeds will help to build a home for a deserving family through the East Pasco Habitat for Humanity Program. Matt's ultimate goal is to collect the 4.2 million cans necessary to pay for an entire home. The Pasco County School District has been named as the District-level winner for its comprehensive environmental programs. In addition to providing a variety of instructional programs designed to provide meaningful hands-on learning experiences for students that emphasize the importance of environmental protection, the District was recognized for its ongoing efforts to promote sustainable resources and establish green processes for a variety of operations. These combined efforts have yielded substantial financial savings and are making a long-lasting positive impact on the environment.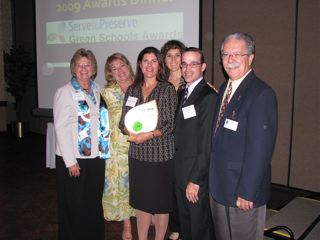 "This award recognizes our commitment to environmental education, energy and water conservation, green cleaning practices and recycling. It is a distinct honor for Pasco County Schools to receive this award for the every day sustainable practices of our students, employees and administrators," said Karen Bryant, Pasco's Recycling Coordinator. "We are proud of the collaborative efforts of our entire team," stated Board Chairman Frank Parker. "Students, teachers and staff members are making our schools greener places while generating significant financial savings for our school district. Their efforts extend beyond these exciting projects, as they are equipping our future generation with an understanding of how they can protect and preserve our precious natural resources," he added.
Tuesday, October 06, 2009
School Board Holds Town Hall Meetings to Discuss Five-Year Strategic Plan
The Pasco County School Board is hosting a series of Strategic Plan Implementation Town Hall Meetings throughout the district, and you're invited to attend! Each of the five Pasco County School Board members will co-host a meeting, along with superintendent Heather Fiorentino, in the portion of the school district they represent. These town hall meetings will serve as an opportunity for stakeholders to review the progress made in implementing the district's five-year strategic plan. As an active part of the planning process, participants will be asked to discuss the challenges facing Pasco schools, share suggestions for future improvements and generate solutions that can be incorporated into updates of the district's strategic plan. "We believe the Strategic Plan is a vital and necessary element in planning for the long-term sustainability of our district." said Superintendent Heather Fiorentino. "In order for us to maximize the plan's effectiveness, we must seek ongoing evaluation and feedback from all stakeholders. These town hall meetings are an ideal forum for engaging the public and building a strong partnership to facilitate the success of all students in Pasco County," she added. The first meeting will be held tomorrow, October 8. See below for a full list of event times and locations. Contact each school individually for further information:
-- La Junta Directiva Escolar sostiene reuniones con la comunidad para discutir su Plan Estratégico Quinquenal La Junta Directiva Escolar del Condado de Pasco está realizando una serie de reuniones con la comunidad para discutir su Plan Estratégico Quinquenal, ¡y usted está invitado a asistir! Cada uno de los cinco miembros de la Junta Directiva Escolar co-auspiciará una reunión, junto con la Superintendente de Escuelas Heather Fiorentino, en la región que representa. Estas reuniones servirán como una oportunidad para que todos los asociados en la educación puedan revisar el progreso hecho en la implementación del plan estratégico de cinco años del distrito. Como una parte activa del proceso de planificación, se pedirá a los participantes que discutan los retos que enfrentan las escuelas públicas de Pasco, compartir sugerencias para futuras mejoras, y generar soluciones que puedan incorporarse en las actualizaciones del plan estratégico del distrito. "Creemos que el Plan Estratégico es un elemento vital y necesario en la planificación del desarrollo sostenible de nuestro distrito a largo plazo", dijo la Superintendente Heather Fiorentino. "Para poder nosotros maximizar la eficacia del plan, debemos procurar su constante evaluación y las opiniones de todos nuestros asociados. Estas reuniones con la comunidad son un foro ideal para involucrar al público y desarrollar una fuerte relación que facilite el éxito de todos los estudiantes del condado de Pasco", añadió. La primera reunión se celebró el 8 de octubre. Vea abajo una lista completa de las fechas y horarios de estas reuniones. Usted puede contactar directamente a cada escuela para mayor información. Distrito 1: Auspiciada por el Vicepresidente de la Junta, Allen Altman. 6 pm, octubre 8, en la escuela intermedia Raymond B. Stewart, 38505 10th Ave., Zephyrhills. Distrito 2: Auspiciada por la miembro de la Junta, Joanne Hurley. 6 pm, octubre 19, escuela intermedia Charles S. Rushe, 18654 Mentmore Blvd., Land O' Lakes. Distrito 3: Auspiciada por la miembro de la Junta, Cathi Martin. 6 pm, noviembre 9, escuela superior Anclote, 1540 Sweetbriar Drive, Holiday. Distrito 4: Auspiciada por la miembro de la Junta, Kathryn Starkey. 6 pm, octubre 21, escuela elemental Trinity Oaks, 1827 Trinity Oaks Blvd., New Port Richey. Distrito 5: Auspiciada por el Presidente de la Junta, Frank Parker. 6 pm, noviembre 5, escuela elemental Gulf Highlands, 8019 Gulf Highlands Drive, Port Richey.
Navigation
Five Most Recent...
News Articles
Press Links