News Archives
Tuesday, July 22, 2014
Land O' Lakes High Special Olympians Selected for Team USA
Land O' Lakes, FL – (July 21, 2014) – The Land O' Lakes High School Gray soccer team received the news today via Skype that they are going to represent Team USA at the 2015 Special Olympics World Summer Games.

The unified 7-a-side team has trained since January and won a gold medal at the
Special Olympics Florida State Games in May at ESPN Wide World of Sports in Orlando. They will join more than 7,000 Special Olympics athletes from 170 nations to compete for international soccer gold July 25 through August 2, 2015, in Los Angeles.

Photos courtesy of Pasco Schools photographer Kristen Chavez are attached, and a video recorded by Pasco Schools photographer Andrew Dunn can be accessed here: https://www.youtube.com/watch?v=jldajKeCsVM
.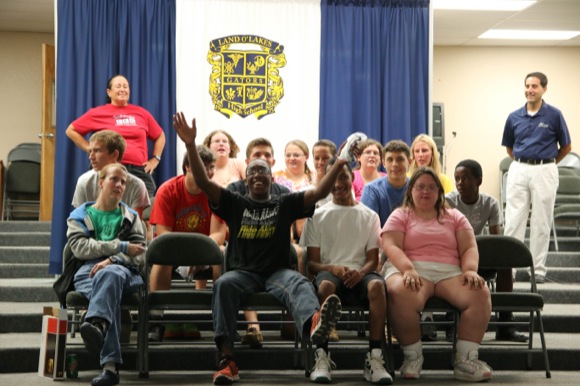 Wednesday, July 16, 2014
Pasco Schools to Hold Community Meetings to Solicit Input on Proposed After-School Programs
Land O' Lakes, FL – (July 16, 2014) – The District School Board of Pasco County is holding two community meetings to gather input on a grant proposal for a STEAM-focused after-school enrichment program (science, technology, engineering, arts, and mathematics) at select schools.
The two community meetings will be at 6 p.m. on Monday, July 21, at Hudson Middle School, and Tuesday, July 22, at R. B. Stewart Middle School. The community nights are to solicit input on a 21st Century Community Learning Centers grant to launch DELTA (Determination, Education, Leadership, Talent, Achievement) after-school enrichment programs. The proposed DELTA programs will offer hands-on, STEAM-focused enrichment opportunities. Services will be tuition-free for a limited number of children.
If awarded, the grant will fund DELTA after-school programs beginning in October 2014 at Lacoochee and Gulf Highlands elementary schools and Gulf, Hudson, and R.B. Stewart middle schools. Families from these schools are encouraged to attend the community meetings to offer input on what they would like to see offered.
Hudson Middle School is located at 14540 Cobra Way, Hudson, and R. B. Stewart Middle School is located at 38505 Tenth Avenue, Zephyrhills.
School Board Schedules Open Workshop, Closed Executive Session
Land O' Lakes, FL – (July 16, 2014) – The District School Board of Pasco County will hold a public workshop on the 2014-2015 budget at 4 p.m. on Tuesday, July 22, followed by a closed Executive Session to discuss collective bargaining at 4:30 p.m.
Both meetings will be held in Building 3, Training Room D, 7227 Land O' Lakes Blvd., Land O' Lakes.
Monday, July 14, 2014
Number of Pasco Students Taking AP Classes, Percent of Passing Scores Climb
Land O' Lakes, FL – (July 14, 2014) – The number of AP exam scores of 3 or higher and the percentage of Pasco high school students taking Advanced Placement courses increased significantly last school year.
In the 2014 school year, a total of 3,758 AP exams earned a 3 or above, an increase of 17.6 percent over 2013, and 4,030 students participated in at least one AP course and exam, a 6 percent increase from last year. The number of exams taken by Pasco students increased by 7.9 percent. At the same time, the percentage of Level 1 scores decreased by 8.5 percent.

| | | | | |
| --- | --- | --- | --- | --- |
| | Percentage of Exams Scoring a 3 or Higher | Percentage Increase in Number of Exams Earning a 3 or Higher | Percentage Decrease in the Number of Exams Scoring Level 1 | Percentage Increase in the Total Number of Exams |
| Pasco | 53.4% | 17.6% | - 8.5% | 7.9% |
| State | 49.4% | 5.9% | - 1.4% | 3.3% |

Gulf and River Ridge high schools had the highest percentage of 3 or higher exam scores. Gulf High led the district with 66.4 percent, followed by River Ridge High with 63.1 percent. Sunlake High School showed a significant increase in the number of Level 3 or higher scores (74.1 percent) while the number of students who took AP exams increased 63 percent.
Wesley Chapel High School had a 37.8 percent increase and Fivay High School had a 33 percent increase in Level 3 or higher exam scores. Zephyrhills High School increased the number of students taking AP exams by 40 percent.
Overall, 21.2 percent of the student population in Pasco high schools took an AP exam. Land O' Lakes High School had the highest percentage (31.3 percent) of their total school population taking at least one AP exam, followed by James W. Mitchell High School with 30.7 percent.
"These improvements can be attributed to our emphasis on encouraging more students to take challenging courses," said Superintendent Kurt Browning. "The results verify that teachers and administrators are working to give more students every opportunity to graduate ready for life, college, and the workplace and we will continue to offer them the resources they need to be successful," he added.
Community Feedback Nights for 21st Century Community Learning Centers Grant
The District School Board of Pasco County is preparing a grant proposal for an after school enrichment program for students attending select elementary and middle schools. The program's focus will surround STEAM (Science, Technology, Engineering, Arts, and Math). If awarded this grant, students will be provided an opportunity to attend a "hands-on" enrichment program. The District is holding this community night to gather input from stakeholders to identify the program's specific needs and it's potential offerings. If awarded, the program would begin in October of 2014. Please come out and assist us with developing the vision for this 21st Century Community Learning Center after school program.
Community Feedback Nights
Hudson Middle School
July 21, 2014,
6 pm in the Cafeteria
R.B. Stewart Middle School
July 22, 2014,
6 pm in the Media Center
Click to download the informational flyer for this event