News Archives
Wednesday, July 30, 2014
Pasco School Board Tentative Budget Reduces Property Taxes
Land O' Lakes, FL – (July 29, 2014) – The District School Board of Pasco County held its first public hearing on the 2014-2015 tentative budget, which will reduce property taxes rates by 0.208 mills.
The total tentative budget is $1,199,382,140, an increase of $119.9 million over last year's budget. It includes a General Operating budget of $544 million and a Capital budget of $335 million.
The General Operating Budget increased from $518.8 million to $544.4 million. The increase is due to changes in the base student allocation and increases in projected enrollment.
The total tax millage for the 2014-2015 fiscal year is 7.149, a decrease of 0.208 mills. Under the proposed rate, a homeowner of a $125,000 home, after the deduction of the $25,000 homestead exemption, would pay $20.80 per year less than last year.
The Operating Budget covers the cost of higher Florida Retirement System employer contributions rates; the new cost associated with 176.228 new allocations needed to meet Class Size; increases in health insurance and property premiums; Affordable Care Act annual fees and funds for professional development and curriculum mandates.
The budget also includes a modest salary increase for all employees and the use of roll forward funds from the 2013-2014 school year.
The Capital Budget is $334,609,467, an increase of $90 million over last year. The largest capital project appropriations are for the renovation/remodeling of existing facilities including campus re-development of Anclote, Pasco, Quail Hollow, Sanders Memorial and Shady Hills elementary schools, Bayonet Point Middle School, and Marchman Technical Education Center.
In addition, the budget includes a bond issue to finance the future construction of a new school and for major HVAC repairs at various schools.
The final public hearing on the 2014-2015 budget is at 6 p.m. Tuesday, September 16.
Wednesday, July 23, 2014
Superintendent to Serve Students on Lunch Bus Today

WHO: Pasco Schools Superintendent Kurt Browning

WHAT: Serving meals to children on the Hudson Elementary School summer lunch bus

WHEN: 10:30 a.m. to 1:30 p.m., Wednesday, July 23

WHERE: Hudson Elementary School, 7229 Hudson Ave., Hudson

HOW: The superintendent will meet the Food & Nutrition staff at the school, and distribute packaged meals to children at the school and at the sites listed below.
The Pasco County school district is partnering with the U.S. Department of Agriculture, the Florida Department of Agriculture and Consumer Services (FDACS), and local agencies on the 2014 Summer BreakSpot meal program. The program provides meals and snacks during the summer at no charge to all children up to age 18 at schools serving low-income students. Summer lunch bus mobile units operate out of the following schools and serve children at the listed locations:
Lacoochee Elementary - serves the children in Cypress Manor and Cypress Farms housing complexes.
Pasco Elementary - serves children at Arbor at Fort King, Dade Oaks, and Lake George housing complexes.
Hudson Elementary - serves children in a small mobile home park and in two housing authority complexes.
Gulf Middle - serves children from Sunny Dale and Bonnie Dale housing complexes.
Gulfside Elementary – serves children at apartment complex and may add a stop at another apartment complex in the Gulf Trace Elementary School area.

Last year, the district served almost 177,000 meals to children at 54 sites, including three retrofitted school buses used as mobile feeding sites. The district realized that not all of the children would be able to make it to a summer feeding site, so staff developed the program to take 4,249 meals to the Pasco County children. This summer, the fleet was expanded to five units to feed more Pasco County children.

To learn more Florida's Summer BreakSpot sites across the state and to find a location near you, please visit the website at www.summerfoodfl.org, dial 2-1-1, text "FoodFL" or 877-877, or download the mobile app "Nutrislice" on your iOS and Android phone. In accordance with Federal law and U.S. Department of Agriculture (USDA) policy, this institution is prohibited from discriminating on the basis of race, color, national origin, sex, age, or disability. To file a complaint of discrimination, write USDA, Director, Office of Adjudication, 1400 Independence Avenue, S.W., Washington, D.C. 20250-9410 or call toll free (866) 632-9992 (Voice). Individuals who are hearing impaired or have speech disabilities may contact USDA through the Federal Relay Service at (800) 877-8339; or (800) 845-6136 (Spanish). USDA is an equal opportunity provider and employer.
Tuesday, July 22, 2014
Land O' Lakes High Special Olympians Selected for Team USA
Land O' Lakes, FL – (July 21, 2014) – The Land O' Lakes High School Gray soccer team received the news today via Skype that they are going to represent Team USA at the 2015 Special Olympics World Summer Games.

The unified 7-a-side team has trained since January and won a gold medal at the
Special Olympics Florida State Games in May at ESPN Wide World of Sports in Orlando. They will join more than 7,000 Special Olympics athletes from 170 nations to compete for international soccer gold July 25 through August 2, 2015, in Los Angeles.

Photos courtesy of Pasco Schools photographer Kristen Chavez are attached, and a video recorded by Pasco Schools photographer Andrew Dunn can be accessed here: https://www.youtube.com/watch?v=jldajKeCsVM
.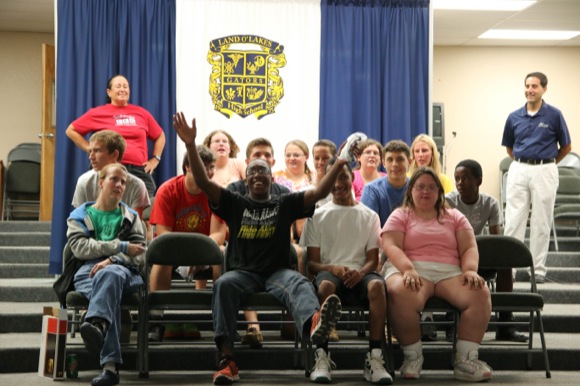 Wednesday, July 16, 2014
Pasco Schools to Hold Community Meetings to Solicit Input on Proposed After-School Programs
Land O' Lakes, FL – (July 16, 2014) – The District School Board of Pasco County is holding two community meetings to gather input on a grant proposal for a STEAM-focused after-school enrichment program (science, technology, engineering, arts, and mathematics) at select schools.
The two community meetings will be at 6 p.m. on Monday, July 21, at Hudson Middle School, and Tuesday, July 22, at R. B. Stewart Middle School. The community nights are to solicit input on a 21st Century Community Learning Centers grant to launch DELTA (Determination, Education, Leadership, Talent, Achievement) after-school enrichment programs. The proposed DELTA programs will offer hands-on, STEAM-focused enrichment opportunities. Services will be tuition-free for a limited number of children.
If awarded, the grant will fund DELTA after-school programs beginning in October 2014 at Lacoochee and Gulf Highlands elementary schools and Gulf, Hudson, and R.B. Stewart middle schools. Families from these schools are encouraged to attend the community meetings to offer input on what they would like to see offered.
Hudson Middle School is located at 14540 Cobra Way, Hudson, and R. B. Stewart Middle School is located at 38505 Tenth Avenue, Zephyrhills.
Monday, July 14, 2014
Number of Pasco Students Taking AP Classes, Percent of Passing Scores Climb
Land O' Lakes, FL – (July 14, 2014) – The number of AP exam scores of 3 or higher and the percentage of Pasco high school students taking Advanced Placement courses increased significantly last school year.
In the 2014 school year, a total of 3,758 AP exams earned a 3 or above, an increase of 17.6 percent over 2013, and 4,030 students participated in at least one AP course and exam, a 6 percent increase from last year. The number of exams taken by Pasco students increased by 7.9 percent. At the same time, the percentage of Level 1 scores decreased by 8.5 percent.

| | | | | |
| --- | --- | --- | --- | --- |
| | Percentage of Exams Scoring a 3 or Higher | Percentage Increase in Number of Exams Earning a 3 or Higher | Percentage Decrease in the Number of Exams Scoring Level 1 | Percentage Increase in the Total Number of Exams |
| Pasco | 53.4% | 17.6% | - 8.5% | 7.9% |
| State | 49.4% | 5.9% | - 1.4% | 3.3% |

Gulf and River Ridge high schools had the highest percentage of 3 or higher exam scores. Gulf High led the district with 66.4 percent, followed by River Ridge High with 63.1 percent. Sunlake High School showed a significant increase in the number of Level 3 or higher scores (74.1 percent) while the number of students who took AP exams increased 63 percent.
Wesley Chapel High School had a 37.8 percent increase and Fivay High School had a 33 percent increase in Level 3 or higher exam scores. Zephyrhills High School increased the number of students taking AP exams by 40 percent.
Overall, 21.2 percent of the student population in Pasco high schools took an AP exam. Land O' Lakes High School had the highest percentage (31.3 percent) of their total school population taking at least one AP exam, followed by James W. Mitchell High School with 30.7 percent.
"These improvements can be attributed to our emphasis on encouraging more students to take challenging courses," said Superintendent Kurt Browning. "The results verify that teachers and administrators are working to give more students every opportunity to graduate ready for life, college, and the workplace and we will continue to offer them the resources they need to be successful," he added.