News Archives
Thursday, January 29, 2015
Pasco School Choice Application Period Begins Feb. 1
Land O' Lakes, FL – (January 29, 2015) – The Pasco County Schools school choice application period begins Sunday, February 1. Parents can access applications by going to the district website, www.pascoschools.org, and clicking on the school choice banner at the top.

If a student currently is attending a school on school choice, parents do not need to reapply unless:
Their address changed after initial approval
They reside outside of Pasco County, OR
The student will be moving to the next school level (for instance, elementary to middle or middle to high).
Families who live in another county and wish to request assignment to a Pasco County school must submit a release from their home county within the open enrollment period. Applications that have not been completed in their entirety will not be considered. Families requesting choice enrollment for more than one child will need to complete separate applications for each child.

The application window runs from February 1 through March 1.
Wednesday, January 28, 2015
Chester Taylor Elementary is Looking for WATCH D.O.G.S.®
Land O' Lakes, FL – (January 28, 2015) – Chester W. Taylor Elementary School is holding a Dads and Kids Pizza Night at 6 p.m. on Thursday, January 29, to recruit WATCH D.O.G.S.® Dads and kids will enjoy free pizza and drinks when they arrive at the cafeteria, followed by a short introductory video, and then the students will move to a different room for some fun activities while the dads learn more about the program.

WATCH D.O.G.S.® (Dads Of Great Students) is the father involvement initiative of the National Center For Fathering. Inspired by one dad's desire to increase male involvement in his children's school, and with the help of the school's teachers and administration, WATCH D.O.G.S. ® was created in 1998 at George Elementary School in Springdale, AR.

Through this program, dads and male relatives volunteer to work at least one day per year in the school. They work alongside educators performing duties such as crossing guard, safety monitor, car/bus rider facilitator, hallway monitor, library assistant, lunchroom helper, classroom and homework tutor, and playground/gymnasium coach.

Pasco currently has WATCH D.O.G.S. programs at 14 schools – 13 elementary schools and one middle school. Taylor Elementary has 170 men signed up to attend the recruiting event, 80 of which are dads of current CWTES students.

Chester W. Taylor Elementary School is located at 3638 Morris Bridge Road in Zephyrhills.
Pasco Board to Meet in Executive Session
Land O' Lakes, FL – (January 28, 2015) – The District School Board of Pasco County has scheduled an executive session to receive an update on pending litigation immediately following the board meeting on Tuesday, February 3.
The board meeting begins at 9:30 a.m. in the board room, 7227 Land O' Lakes Blvd., building 3, Land O' Lakes. The executive session, which is not open to the public, will be held in training room D in the same building.
Kathy Browning Named Florida School Nurse of the Year
Land O' Lakes, FL – (January 28, 2015) – The Florida Association of School Nurses has selected Kathy Browning, RN, a district liaison and school nurse at Lacoochee Elementary School, as Florida's 2015 School Nurse of the Year.
Current and retired school nurses, along with staff from the Office for Student Support Programs and Services, surprised her with the announcement at the district office.
Kathy Browning has worked for Pasco County Schools since 1992, except for two years between 2007 and 2009. She is a registered nurse with a Bachelor of Science in Nursing from the University of Florida. This year, Mrs. Browning accepted the added role of district support liaison, with responsibility for orientation and mentoring of new school nurses.
Her nomination packet included letters from Deputy Superintendent Ray Gadd, Lacoochee Elementary Principal Latoya Jordan, Assistant Principal Sherri Dunham, School Health Services Supervisor Lisa Kern, School Social Worker Pamela Pepperman, and Lacoochee 5th grade student James Royal.
James wrote of Mrs. Browning, "Whenever I have a headache even if it's small, if she can't get in touch with someone at home who can help me, she stops whatever she's doing no matter what it is to find me a ride home or to a doctor." He also wrote that she collects food and clothing for his family and helps him get into programs that will benefit his health and learning.
Mrs. Browning will be recognized Friday evening, February 6, at the Florida Association of School Nurses annual conference kick-off reception at the Florida Hotel in Orlando.
Photos and her nomination packet are included below. Also pictured in the photo titled "Kathy Browning FSNOY on phone with KSB" is Melissa Musselwhite, director of the Office for Student Support Programs and Services. KSB is Superintendent Kurt S. Browning, Kathy's husband, who called while driving to Tallahassee to congratulate Kathy after she learned of the award.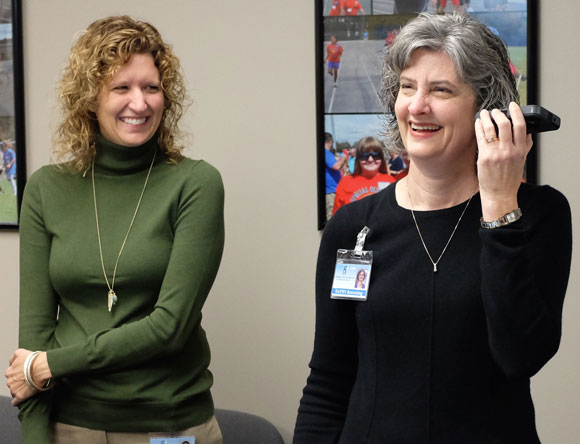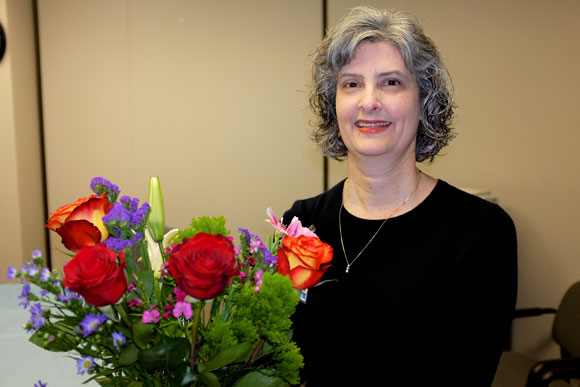 Sunlake High to Host Robotics Competitions
Who: Tampa Bay area high school robotics teams

What: VEX Robotics Competition, "Skyrise"

When: 9 a.m. Saturday, January 31

Where: Sunlake High School, 3023 Sunlake Blvd., in Land O' Lakes

Why: Students will test the environment bots they created by manipulating pre-determined courses to score points for performing certain tasks.

How: Robots are hand-built and hand-programmed by students, but all competitors are using identical parts. There are two types of competition, a skills competition in which each team will compete against the clock, and head-to-head competition in which teams compete against each other in the same arena. Admission to this robotics event is free. For more information, contact Terry Aunchman, Career and Technical Education director, at taunchma@pasco.k12.fl.us; Ryan Brady, assistant principal at Sunlake High School, at RBrady@pasco.k12.fl.us; or visit http://www.vexrobotics.com/wiki/Skyrise
.
CONTACT:
Linda Cobbe or Spencer Pylant
Communications & Government Relations
(813)794-2717, (813)361-8349 or (813)794-2259, (813)388-0020
Navigation
Five Most Recent...
News Articles
Press Links